Lake Tahoe Balloons was established in 1992 and has successfully operated flights above Lake Tahoe for well over two decades. They are committed to providing Lake Tahoe visitors, and locals alike, with a world class adventure by placing a very high emphasis on customer service, safety and quality.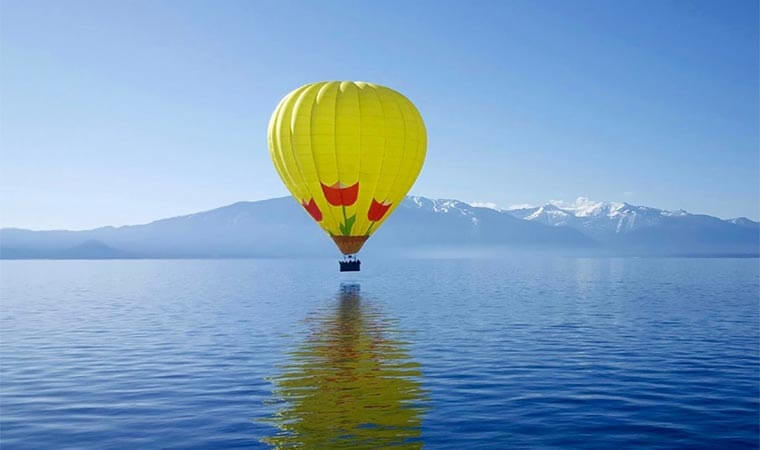 Hot Air Balloon adventures over Lake Tahoe (operates approximately May thru October) and the Carson Valley (operates approximately November thru April).
Sunrise flights offered seven days a week, weather permitting. Reservations are required. Come escape the confines of gravity and enjoy this once in a lifetime experience!
Book your Lake Tahoe Balloon Experience Today!
Their flights over Lake Tahoe start at an elevation of 6, 200 feet above sea level. They are able to obtain elevations up to 10,000 feet above sea level when conditions permit offering spectacular views of all of the Sierras and on a clear day even the peaks of Yosemite. If you have a fear of heights you need not be concerned. You will not experience any vertigo feelings because you are moving with the wind currents which mean there is no rocking or swaying or feeling of movement.
Lake Tahoe tends to be very cool in the early mornings so they suggest you dress in comfortable layered clothing with the expectation that you will be climbing into and out of the basket and standing for a length of time. Comfortable walking shoes and a hat are also recommended and of course don't forget you camera for the breathtaking scenery, your sunglasses to protect against the sun and for those more sun sensitive guests, bring some sunscreen as you are exposed to the elements during the entire flight.
Balloons vary in size however our largest balloon can carry up to 12 passengers. Fun fact: the envelope is large enough that it could fit approximately 240,000 basket balls inside of it and is nearly 100ft tall!
Enjoy the intimacy of an exclusive balloon flight for just you and your special guest (with a pilot of course). Our exclusive flights for two passengers are ideal for marriage proposals, anniversaries, special occasions or just as a special treat for you and your guest. Enjoy an approximately one hour flight with just you, your guest and your pilot.
All Classic Lake Tahoe balloon flights include:
a ride aboard the world's only balloon aircraft recovery vessel, the Tahoe Flyer
a 45 minute to 1 hour balloon flight
a full array of beverages and refreshments available on board the Tahoe Flyer
a post-flight sparkling wine toast
Lake Tahoe Balloons
2435 Venice Dr. (Tahoe Keys Marina), South Lake Tahoe, CA 96150