I took my girls (ages 3 years and 3 months) to the Kokanee Salmon Festival on Saturday. It was a lofty commitment on my end driving 1.5 hours, alone, from Reno with two little ones, but it was totally worth it, and I'd do it again. It definitely helped that I hyped it up with my toddler the night before as we talked about the exciting "fishie festival."
We pulled into the parking lot about two hours after the event started, and it was already packed with families. There were tons of representatives from the Forest Service Visitor Center and rangers from the California Department of Fish and Game. It was great having so many experts on hand to answer questions from those of us who know little about the Kokanee Salmon.
The Rainbow Trail, which wraps along Taylor Creek, is a paved path that is completely kid and stroller friendly. It's surrounded by aspens and is absolutely gorgeous. There are signs along the trail that give more detailed information about the landscape throughout the changing seasons. There are even benches along the path, saving graces for nursing mothers like me!
Being able to see the Kokanee Salmon spawn a mere two feet from you is quite an impressive sight. I'd never seen anything like this before. In fact, when I told a friend I was going to a salmon festival he said, "Salmon? But we live in Reno." One of the many perks of living so close to South Lake Tahoe.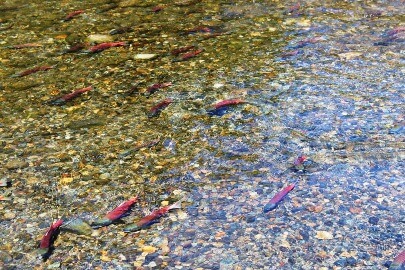 I learned that while there are 63 streams that flow into Lake Tahoe, 95 percent of Kokanee Salmon living in Lake Tahoe use Taylor Creek to spawn each year. The Kokanee Salmon lifecycle is an incredible story and worth exploring, even if you miss the yearly October event.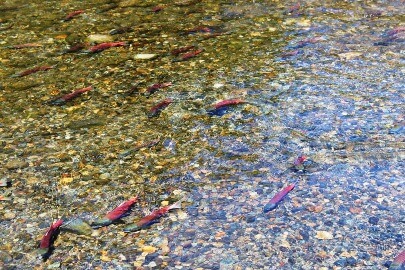 One of our favorite parts about the event was the profile chamber – the tunnel experience that puts you under water and face-to-face with the fish. It's such a great community resource and wonderful learning opportunity for the kids.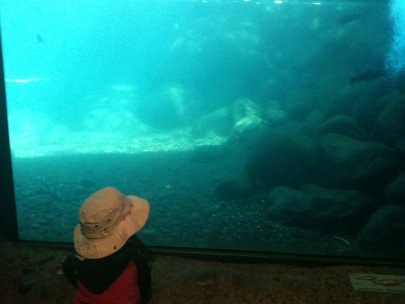 We spent between two to three hours at the event, and not once did my toddler say she was bored or tired!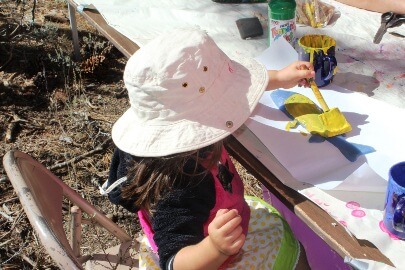 If you missed the big festival, you can probably still see the salmon spawn for at least one more week. Check out the U.S. Forest Service website for more information.
Vanessa Vancour is a blogger, Spanish translator and proud graduate of the University of Southern California's Annenberg School of Journalism. She is also an account manager at Noble Studios. Noble oversees the digital strategy for Lake Tahoe.