Winter Festival at the South Tahoe High School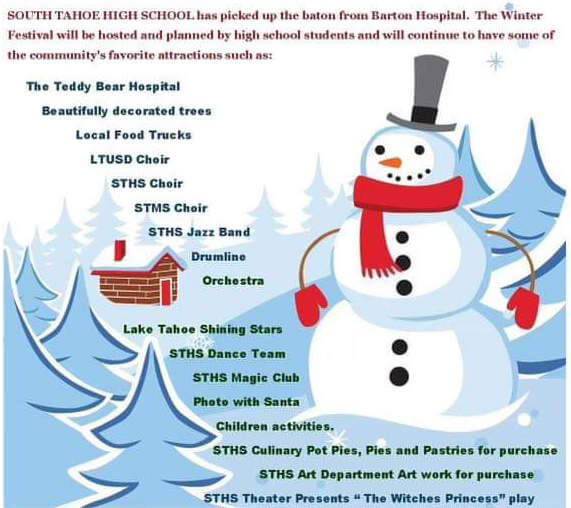 After the Barton Foundation decided to not have its annual Festival of Tree and Lights in 2021, South Tahoe High School stepped in and will host its first Winter Festival on December 3 and 4. The event will be from 4:00 p.m. to 8:00 p.m. each night.
The Winter Festival will be completely run by students and will feature many of the favorite Barton events around the school, student union, screening room, sports medicine therapy room, theater, and food trucks will be in front of the school in the Circle.
Featured activities:
STHS Drumline will be opening the Festival of Trees and Lights in Angora, Cascade, and Fallen Leaf room.
The Jazz Band and Orchestra will be playing in STHS Screening Room,
Teddy Bear Hospital provided by Sports Medicine students will be in the Sports Medicine Therapy room,
LTUSD choir, STMS, and STHS choir will be in the Festival of Trees and Light rooms,
Photo with Santa provided by Photography class
STHS Magic Club will be in the Festival of Trees and Lights room
Lake Tahoe Shining Stars and STHS Dance Team will perform in the Student Union.
STHS Theater will be opening with "The Witches Princess" play at 7:00 p.m.
Kids Activities
Children's Arts and Crafts Activities sponsored by STHS students and clubs will be in the Student Union:
U-Paint a Birdhouse is $10.00 Sponsored by S-Club
Face Painting is free
Photos with Santa
Letters to Santa
Color with STHS students
Create Reindeer food or Snowman poop bags are free
Items for sale all items are created by STHS students:
STHS Art Department has handmade ornaments for purchase.
The Science department has organic herbs for sale.
Food items that may be purchased are:
STHS Culinary homemade pot pies
STHS Pastry Class has snickerdoodles cookie bags
STMS Leadership class has hot chocolate and popcorn
STHS Softball team selling hotdogs
Food trucks will be a the front of the school in the circle to purchase dinner items to go. Food Trucks include Chicken in the Barrel, Sombreros Taco Truck.
Silent Auction
K2 Skis a $900.00 value of your choice
Home Again fully decorated Christmas Tree
The Idle Hour, Tahoe Bike Company, and Tahoe Cruises package
Most activities will be indoors; therefore, masks are required.