Village Ice Sculpture Contest - Heavenly Holidays
December 26
11:00 am - 7:00 pm
Village Ice Sculpture Contest – Heavenly Holidays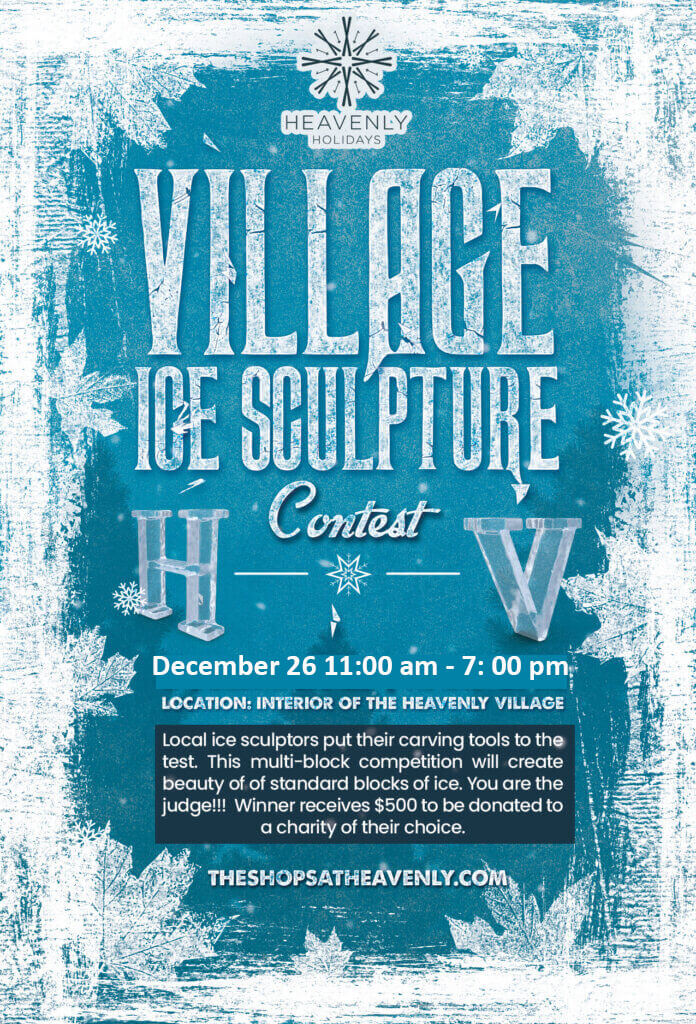 Wednesday, December 26, 2023, 11:00 am – 7:00 pm. Admission: Free.
Location: Interior of the Heavenly Village, Tamarack Lodge, Ski Run Marina, and The Crossing at the Y.
Local ice sculptors put their carving tools to the test. This multi-block competition will create beauty with multiple standard blocks of ice. Winner receives $500 to be donated to a charity of their choice.
Renowned ice carvers showcase their skills, carving intricate sculptures and designs. Interactive sessions where attendees can ask questions and learn basic techniques.
---
'Tis the Season
Enjoy South Lake Tahoe as your home away from home for the holidays. While snow-capped mountains, sparkling Christmas lights, and world-class skiing are staples of the regular South Lake Tahoe scene, believe it or not, things get even wilder and more festive during the holidays. Discover your new holiday tradition this season at Heavenly Holidays. Experience the best winter with music, food, and holiday activities! Give the gift of something they'll never forget.
Looking for a place to stay? Lake Tahoe offers hotels, motels, and casino resorts.
Discover Heavenly Holidays Events in South Lake Tahoe and learn more about this year's events on the Lake Tahoe events page.