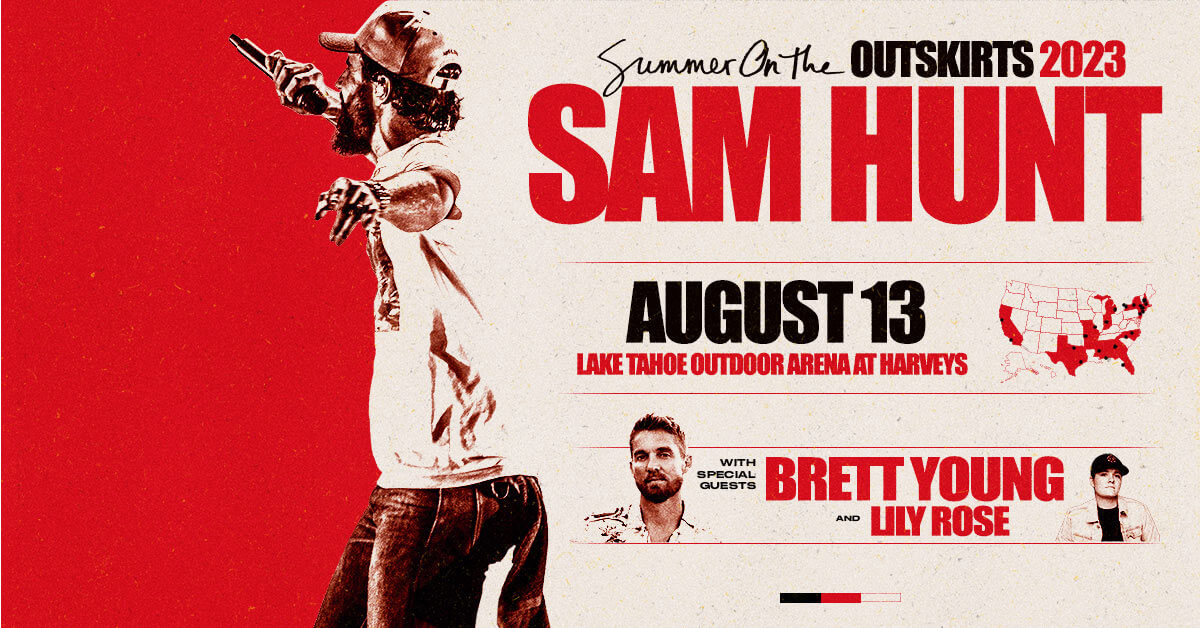 Sam Hunt: Summer on the Outskirts Tour at the Lake Tahoe Outdoor Arena at Harveys, Sunday, August 13, 2023
Sunday, August 13, 2023, 7:30 pm, Sam Hunt: Summer on the Outskirts Tour at the Lake Tahoe Outdoor Arena at Harveys. With special guests Brett Young & Lily Rose. Ticketmaster.com and ApeConcerts.com
Sam Hunt is a country music star known for his unique blend of country, pop, and R&B influences. He began his career as a songwriter, penning hits for other artists such as Kenny Chesney and Keith Urban before launching his solo career in 2014 with the release of his debut album, "Montevallo."
Since then, Hunt has become one of the most successful country artists of the past decade, with multiple chart-topping hits and numerous accolades to his name. His distinctive sound, which incorporates elements of electronic music and hip-hop, has earned him a loyal fanbase and critical acclaim.
Hunt's music often explores themes of love, heartbreak, and the struggles of everyday life, with lyrics that are both introspective and relatable. His live performances are known for their high energy and charismatic stage presence, with Hunt often engaging with the crowd and bringing a sense of fun and spontaneity to his shows.
In addition to his music career, Hunt is also known for his philanthropy, supporting a variety of charitable causes including St. Jude Children's Research Hospital and the Make-A-Wish Foundation.
Overall, Sam Hunt is a country music superstar known for his genre-bending sound and catchy, heartfelt songs. He continues to be a beloved figure in the world of country music and a driving force in shaping its evolution in the 21st century.
Lake Tahoe Outdoor Arena at Harveys is an all-ages venue. Everyone must have a ticket for both reserved and general admission shows, and we discourage infants from attending.
CLEAR BAG POLICY
No purses, bags, backpacks or fanny-packs will be allowed inside the Lake Tahoe Outdoor Arena at Harveys.
Medication, ID, credit cards or personal care items may be placed in a small cosmetic or privacy bag within the approved clear bag.
The following items are not permitted in the concert venue: backpacks, bags, coolers, poles, sticks, drones, laser pointers, weapons or projectiles, unauthorized cameras with removable lenses, monopods, tripods and selfie sticks, rigid framed bleacher and bench chairs, metal containers and beverage containers larger than 17oz. We appreciate your cooperation in keeping our events fun and safe for all of our guests.
Check out more Summer Concerts at Lake Tahoe