Alex Ramon Magic Show at Harveys Lake Tahoe
November 21
7:00 pm - 8:30 pm
Alex Ramon Magic Returns to Harveys Lake Tahoe with shows Tuesday – Saturday! Prepare for mind-bending illusions and jaw-dropping tricks! 7:00 pm nightly except Sunday and Monday through March 9, 2024.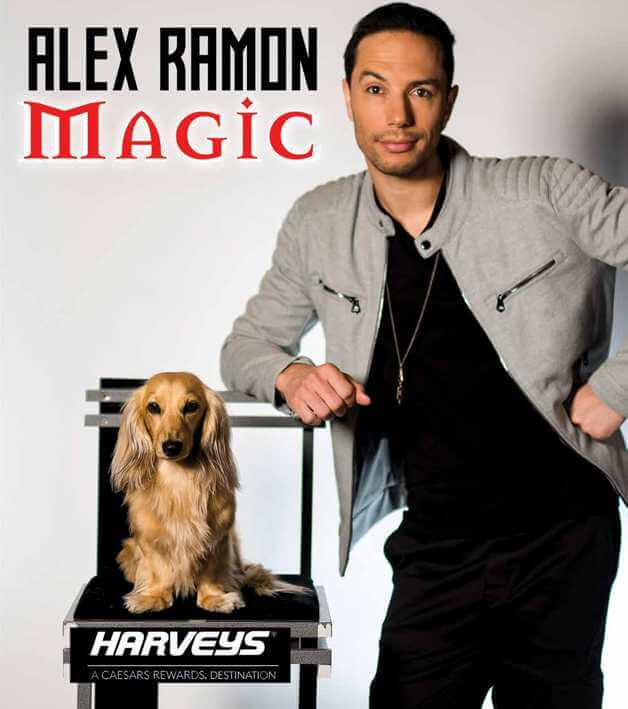 Alex Ramon has mesmerized millions around the world with his magic, which has been described as, "Mystifying" by The New York Times and "Mind-Bending" by the Los Angeles Times. For over 2 years Alex headlined his show 'Illusion Fusion,' at the Horizon Resort Casino in South Lake Tahoe. His show became the #1 attraction in Tahoe on both YELP and TripAdvisor.
Alex is a recipient of the Milbourne Christopher "Illusionist Award" becoming 1 of 20 magicians in history with this recognition. He was the "Magical Zingmaster" for Ringling Bros. and Barnum & Bailey circus, and is the first magician to be the star of The Greatest Show on Earth. Alex toured the globe as the star of Disney Live! "Mickey's Magic Show" performing on 4 continents in 14 countries. At age 18 Alex Ramon received the coveted Lance Burton Award and was named "National Stage Magic Champion" by the World Magic Seminar in Las Vegas. He's been seen on the CW's "Penn & Teller Fool Us" and has made Whoopi Goldberg levitate on ABC's "The VIEW."
Alex worked with Grammy Award Winner Taylor Swift creating a piece of magic featured in Taylor's ground-breaking world premiere performance of "Blank Space" on the American Music Award's. This piece of magic was featured on HollywoodReporter.com, Eonline, and BuzzFeed's top moments of the AMA's! Recently, internet celebrity and social media superstar Logan Paul was trained by Alex on an epic underwater escape for his webseries "Logan Paul Vs." The episode had millions of views within a day.
Alex Ramon is recognized for his contagious energy and innovative approach, which have reinvented the art of magic, bringing it to new audiences and devoted fans the world over.