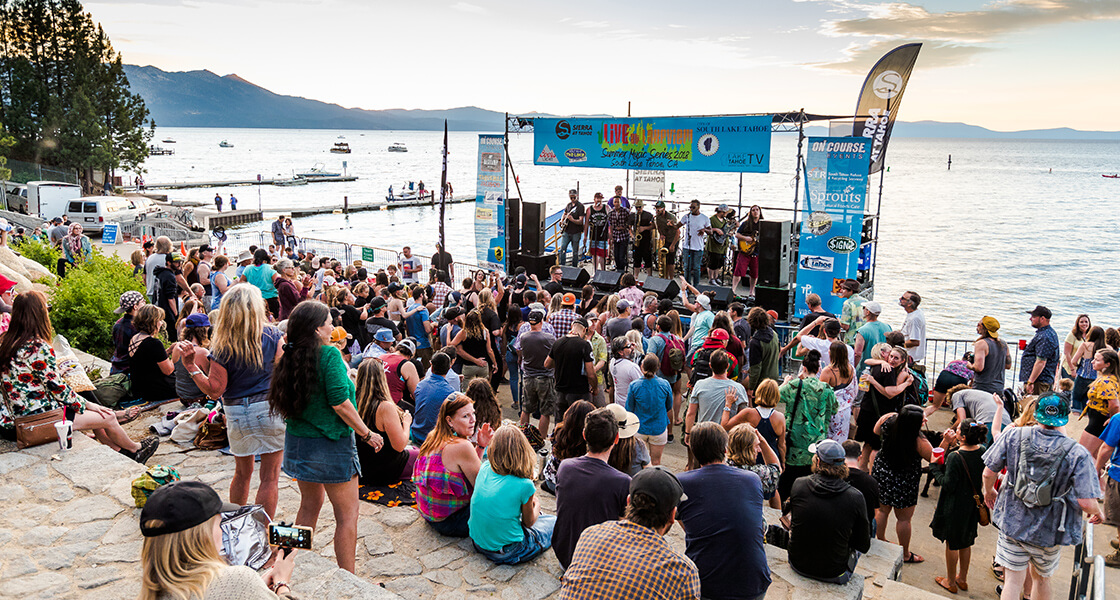 Live at Lakeview is a free weekly concert series hosted from 4:30 – 8:30 pm at Lakeview Commons, in the heart of South Lake Tahoe. Every Thursday June 29th through August 31st, the event hosts live music and art on the beach, along with a variety of local merchants and delicious food options plus amphitheater style seating and breathtaking views of Lake Tahoe from the beer garden. Proceeds from the beer garden will continue to support the Boys & Girls Club of Lake Tahoe.
Parking is limited around the venue; however, a complimentary bike valet service is offered every week. Biking (with proper lighting) and carpooling is strongly encouraged. Additional parking is available at the South Lake Tahoe Recreation Center (1180 Rufus Allen Blvd.) For details on the full summer lineup visit liveatlakeview.com and connect with @LiveatLakeviewCommons on Facebook and Instagram.
Dogs are not allowed.
On Course Events has partnered with MOPO to offer an official mobile app for the series to help locals and visitors find unique, meaningful, and local things to do. In the app's #LiveatLakeview channel, visitors can view the most up-to-date schedule, information on venues and artists, get directions, and more. Visit liveatlakeview.mopo.life to download.

Come enjoy live music, unique local vendors along the shoreline of beautiful Lake Tahoe! Stunning views, Stand up paddleboard rentals, a beautiful sandy beach, amphitheater seating, fun for the entire family!
Check out the Live at Lakeview Spotify Playlist with a collection of some of your favorite artists of the past and maaaaaybe a few teasers for what to expect in 2023!
About On Course Events
On Course, Events is an event production company based in South Lake Tahoe, California. With over 15 years of experience in event production specializing in event design, operations, marketing,
stage design, competition coordination, logistics, and staffing.