Circumnavigate Lake Tahoe for Science
June 20 - 26
All Day Event
Join the Tahoe Environmental Research Center and Circumnavigate Lake Tahoe for Science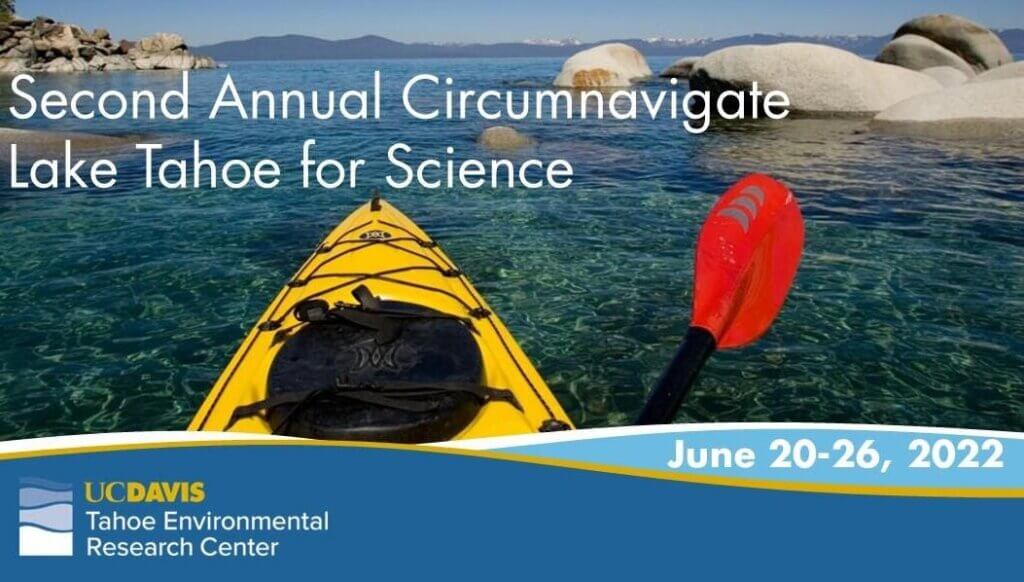 Join the UC Davis Tahoe Environmental Research Center to Circumnavigate Lake Tahoe for Science. This kayaking event, TERC CIRC 2, will take place over seven days, starting Monday, June 20 and concluding Sunday, June 26. Each day, we will meet at 7:30 am and depart by 8:00 am.
Many people have paddled Tahoe's shores, but this event is unique. In addition to each day's 6-13 miles of spectacular shoreline paddling, you will get to see, share and learn about Lake Tahoe's ecology, geology and emerging challenges. TERC's scientific experts will be there to accompany you and to illustrate the science being used to restore Lake Tahoe, to lead you in scientific measurements, and to help you steer clear of Tahoe Tessie.
More information or to sign-up to Kayak with TERC   June 20 – June 26, 2021
Come for just a day or two, or join the ranks of the epic few who have completed the entire circumnavigation. Space is limited!
Join for a day: $50
Join for two days: $100
Join for three days: $150
Join for four or more: $200
Note: Registration fees are non-refundable.
Paddlers will enjoy:
Complimentary snacks and drinks each day.
Shuttle service from takeout points back to put-in points to retrieve your car.
Pre-launch coffee/tea and pastries, with a basic strokes demonstration before the initial launch on Monday, June 20.
A celebratory party with your fellow paddlers to enjoy food, wine, beer, and other refreshments on Sunday afternoon June 26.
A custom kayaking hat to ward off harmful rays and to mark your achievement.
The unique camaraderie of joining like-minded paddlers in doing a good turn for the lake.