BackCountry Festival at the Corley Ranch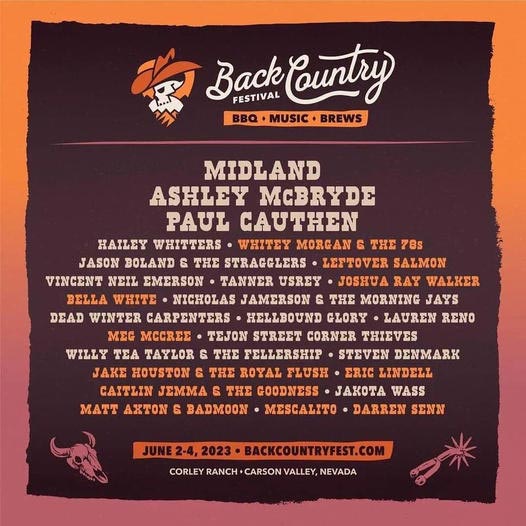 The inaugural BackCountry Festival is set to take place June 2-4 at the Corley Ranch in beautiful Carson Valley Nevada —a short drive from Tahoe or Reno. BackCountry Festival will focus on Outlaw/Alt Country and Americana style music, Barbecue Cuisine and Craft Beer. BCF will offer intimate live music experiences with 20+ performers on 3 outdoor stages. Come join us for a good time in the Eastern Sierras!
We hope you will Join us for an early entry party Thursday, June 1st at 7:00 pm featuring A special inaugural set from: Nicholas Jamerson & The Morning Jays and Jenni & Jesse (of Dead Winter Carpenters) .

We would love for everyone's entry to be smooth and fast. This is your guarantee! There will be plenty of vendors and staff onsite already so we figure a kick-off party is in order!
Early Entry and admission for Ranch Life & VIP is free.
Early entry tickets for GA attendees will be $25
Get Tickets!