As Glenn Frey's song from the Beverly Hills Cop movie bellows, "The heat is on, on the street." Summer's here in full effect, and we're all looking to beat that heat. One of the easiest ways to do that is by taking a dip in good ole Lake Tahoe. Here's a few tips as well as a rundown of the best places to swim in Lake Tahoe.
Average Lake Tahoe Water Temperature In Summer
A question that gets raised often when we talk about the sparkling waters of Tahoe is how cold or warm does it get? With it being one of the deepest and biggest alpine lakes in the United States, it never freezes in the winter. On the flip-side, it doesn't warm quickly like other lakes either. The surface water ranges from 40 degrees in winter to about 70 in summer. With that being said, July on average has the warmest waters. This is followed by August and September where they fluctuate between 65-70 degrees.
Is Lake Tahoe Too Cold To Swim In?
When the thermometer is reading in the upper 80s on the shore, those cool waters will feel like heaven, but they can often be shockingly cold! Should you stay out of the lake? Absolutely not. Rather, be prepared. If you're going kayaking, boating, or stand-up paddle boarding, wear a personal flotation device. And if you do go swimming in Lake Tahoe, wade into the waters, and don't cannonball into a deep pool.
The Best Places to Go Swimming at Lake Tahoe
Pope Beach
Great For Families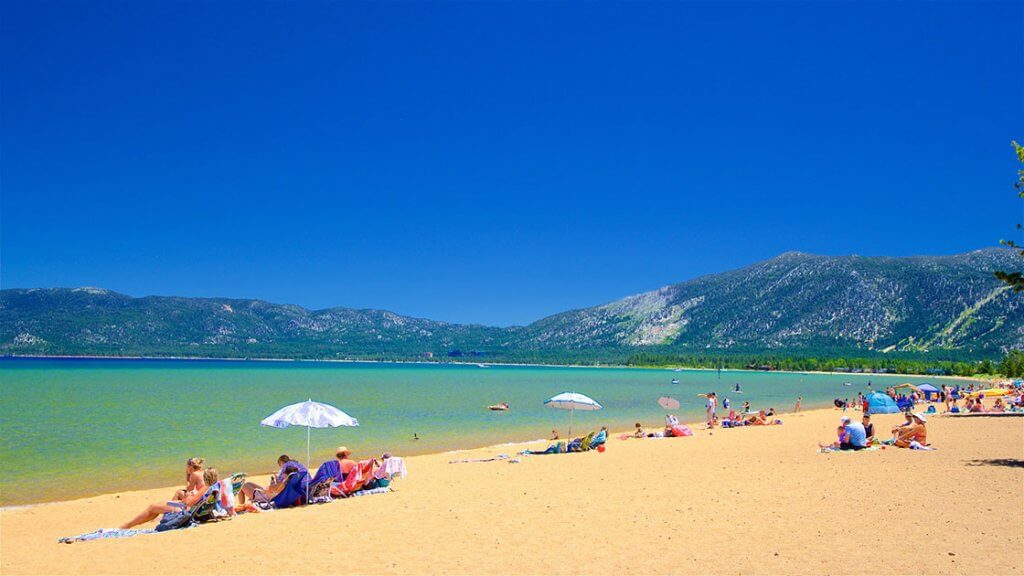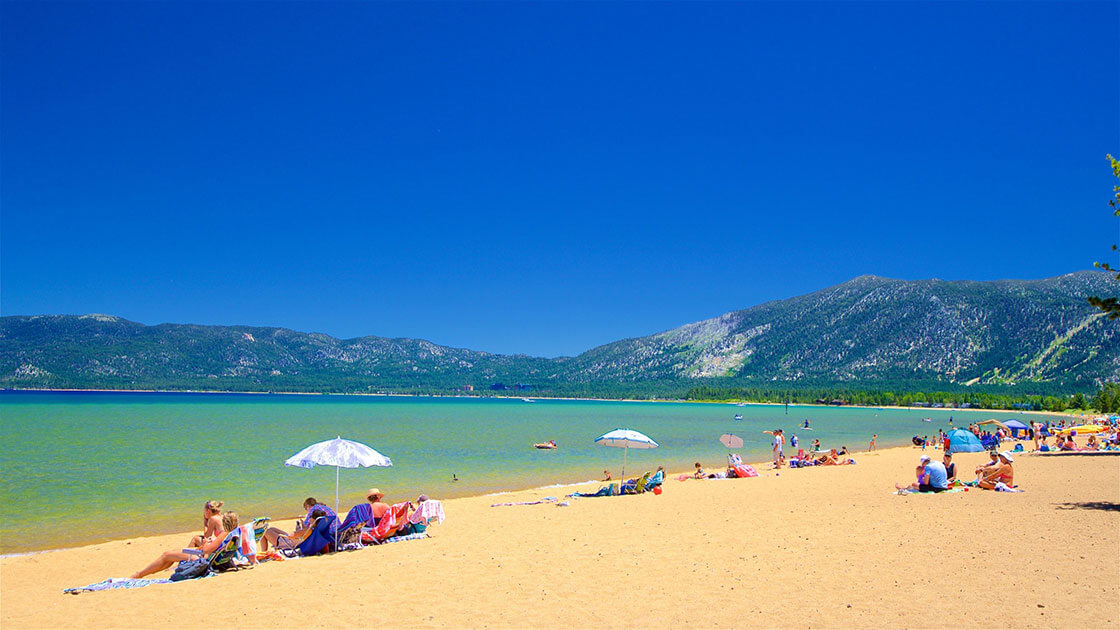 When it comes to places to go swimming in Lake Tahoe, the best option is to find a sandy beach that starts shallow. The waters will be warmer. You can acclimate to the cooler temps by wading in slowly. Pope Beach checks all those items and more. Be aware that during the warmer days of summer, everyone else has this idea too. Instead of driving to this beach, make it a day by riding the Pope-Baldwin bike path. The paved route is about 3.6 miles one-way AND you can award yourself with an ice cream at Camp Richardson.
Here's a few more ideas on family-friendly beaches or one that's a bit quieter.
Kiva Beach
For Dog Lovers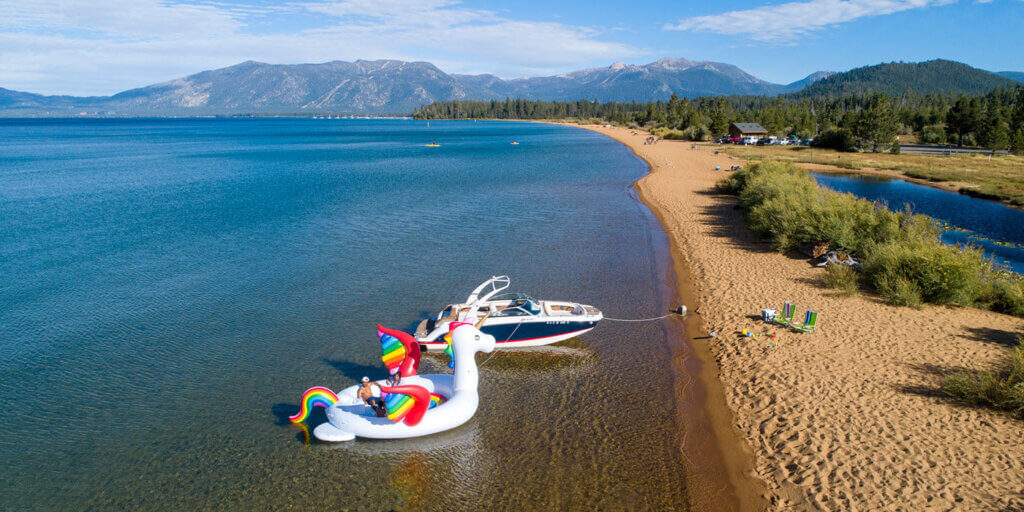 As you would expect, not ALL beaches in Lake Tahoe allow dogs. If you are traveling with your pooch, don't worry though, there are some that they can enjoy too. One of the most popular spots for you to take your dog swimming in Lake Tahoe is Kiva Beach. It's a bit rockier than our normal sandy beaches of Lake Tahoe so it's a good idea to throw on a pair of water shoes.
Fallen Leaf Lake
Great Alternative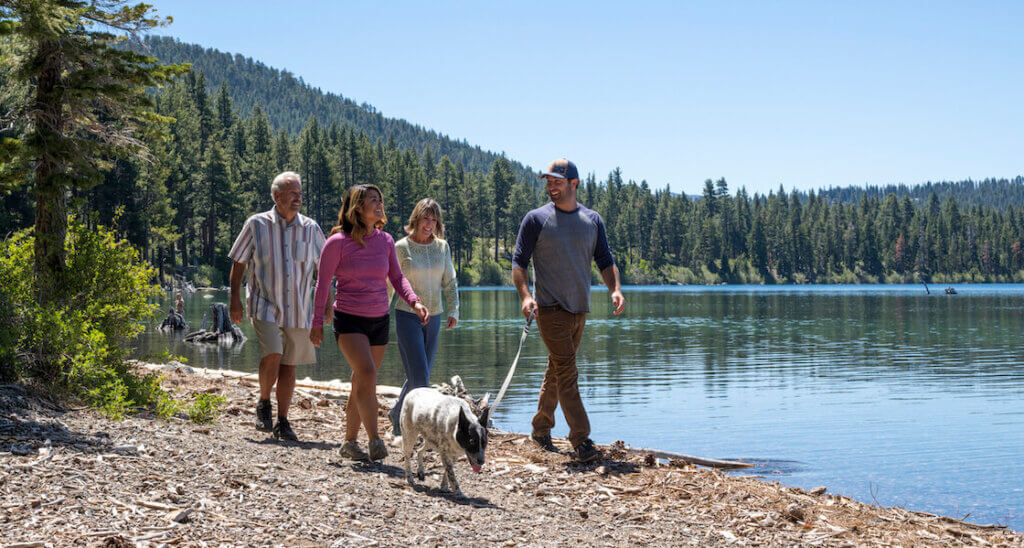 They say that variety is the spice of life. If you're looking for another alpine lake to go swimming in near Lake Tahoe, look no further than Fallen Leaf. Approximately three acres in size and nearly 450 feet deep, this treasure is a sight to behold in itself. Due to its smaller size and narrow route, the road to Fallen Leaf Lake can get quite congested on a weekend.
This is just a small sampling of all the places to swim in the Tahoe area, not just on the shores of Tahoe, but across the dozens of alpine lakes that dot the Sierra Nevada. If you want to learn more about the beaches available to you in Lake Tahoe, be sure to visit our Beaches page.
Check out Lake Tahoe Beaches on Instagram