White sands. Turquoise blue waves. Crystal clear waters. Nope… we aren't describing Hawaii or the Caribbean. We're talking about the beaches surrounding the Jewel of the Sierra. In our Lake Tahoe beach guide, we highlight some differences and similarities between South Lake Tahoe beaches & North Lake Tahoe beaches.
South and North Lake Tahoe Beaches Explained
South Lake Tahoe Beaches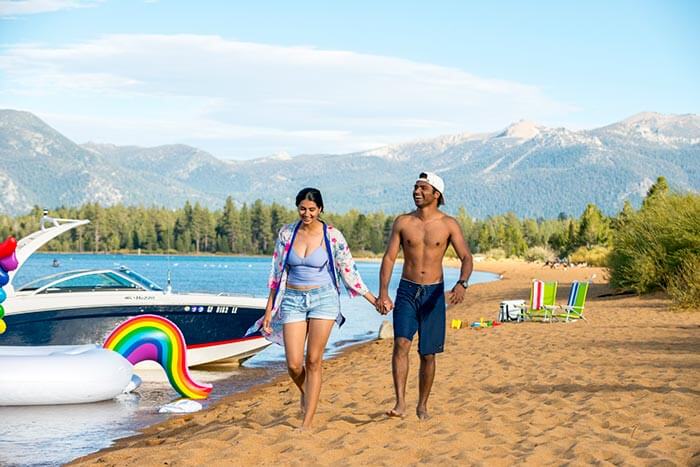 When it comes to summer and beachfront access, the south shore has the biggest assortment out there. Geographically speaking, Pope, Kiva, and Baldwin beaches are just one long massive stretch of sand. Add that to the miles and miles of beaches all the way around the south shore and you'll end up at the hidden gem known as Nevada Beach.
Pope Beach
Family Friendly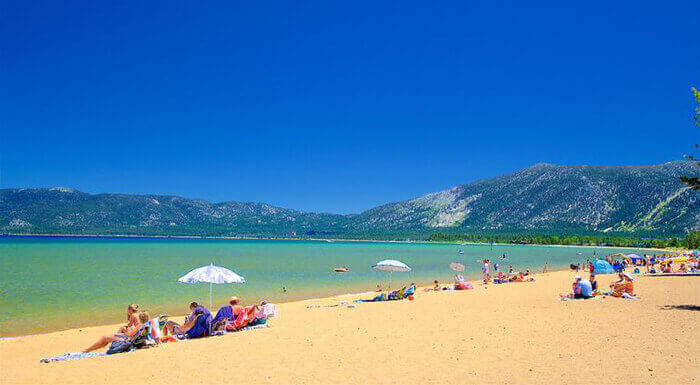 When it comes to a family-friendly beach, nothing compares to Pope Beach. This wide, well-shaded ¾ mile-long stretch of sand is a perfect spot to barbecue, picnic, or even take a dip in the shallow waters. It's also considered the longest beach in Lake Tahoe and provides a vast assortment of amenities like rentals for kayaks, paddleboards, and jet skis.
Tip: For dog lovers, head a bit further down the road to Kiva Beach or as residents like to call it, "the dog beach."
East Lake Tahoe Beaches
What it lacks in sand, it makes up for in natural beauty and jaw-dropping landscape with its rocky shoreline. It's also home to what is considered the most beautiful beach in the region and arguably in the country. We're talking about Sand Harbor.
Sand Harbor
Photogenic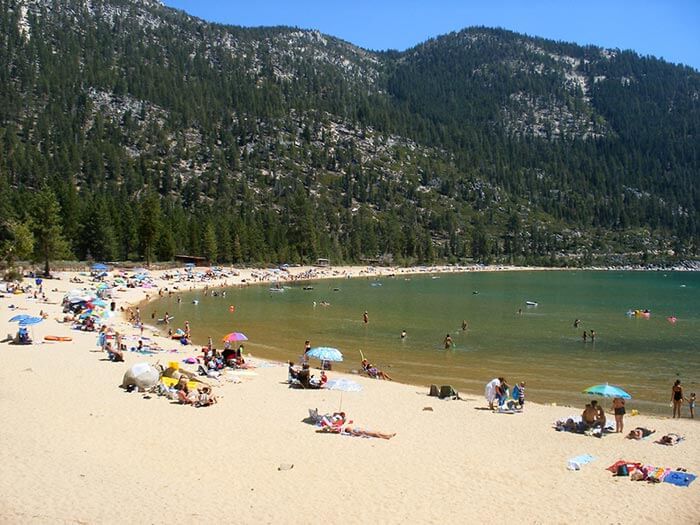 Ever wonder where all those amazing photos of people paddling through boulders & crystal clear waters come from? Most likely they were taken at Sand Harbor. Featuring a gorgeous crescent-shaped sandy beach, jaw-dropping coves, and a speckling of polished boulders, this heaven on earth provides some of the best scenery for sunrise/sunset shots anywhere.
Note: In mid-summer, the earlier you arrive, the better (like sunrise).
North Lake Tahoe Beaches
While the acreage is smaller, North Lake Tahoe beaches offer up some amazing options when it comes to sun-drenched "sandscapes" with views of the water. From secluded getaways to banana belts, North Lake Tahoe beaches are definitely some to consider. Here are some of the best beaches in North Lake Tahoe.
Moon Dunes
No frills beach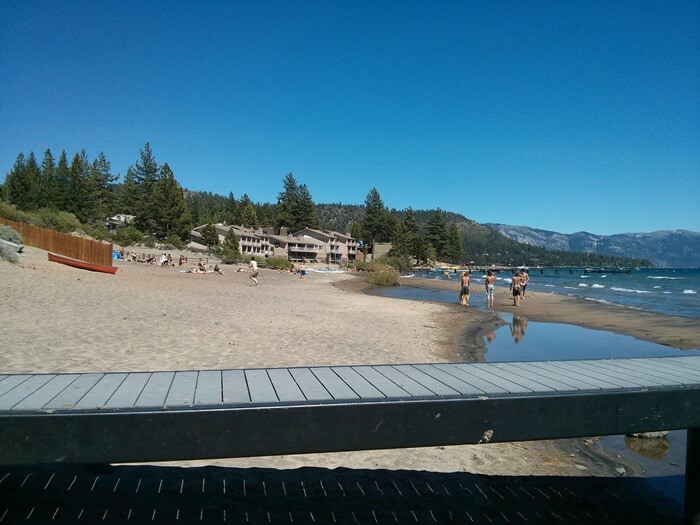 Amenities? None. Bathrooms? Nope. So, what does this stretch of shore offer? Well, Moon Dunes Beach is known for its fine white sand. And if you're a fisherman, this "hotspot" has a shoreline that drops off almost immediately, making it a perfect place to try and catch a brown trout, rainbow trout, or Kokanee salmon. Moon Dunes is one of the best North Lake Tahoe beaches.
King's Beach
Sun-drenched beach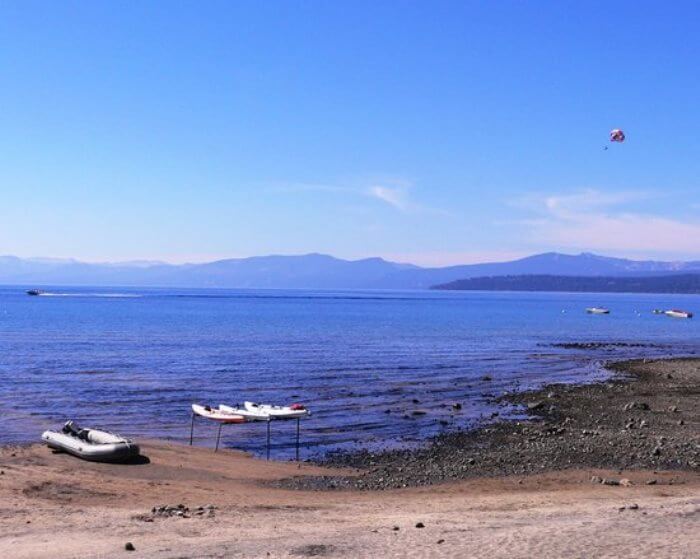 Named after card shark Joe King, he won the town nearly a century ago from land baron George Whittell. Situated in what is known as the "banana belt" of the North Shore, you'll get almost nonstop sunshine in this prime spot for those wanting to be in the sun all day long. Kings Beach is one of the sunniest North Lake Tahoe beaches and has dozens of family-run motels, cafes, and shops to buy an "I ♥ Lake Tahoe" t-shirt. Also, it's one of the few dog-friendly beaches in Lake Tahoe.
This is only a "grain of sand" in the bucket of all the amazing stretches of lakefront goodness surrounding "Big Blue." For a more in-depth look into ALL of the best beaches in North Lake Tahoe and the best beaches in South Lake Tahoe, check out our beach guide that lists and explains ALL the beaches of Lake Tahoe.
Check out Lake Tahoe Beaches on Instagram