The Top 6 Mountain Bike Trails in South Lake Tahoe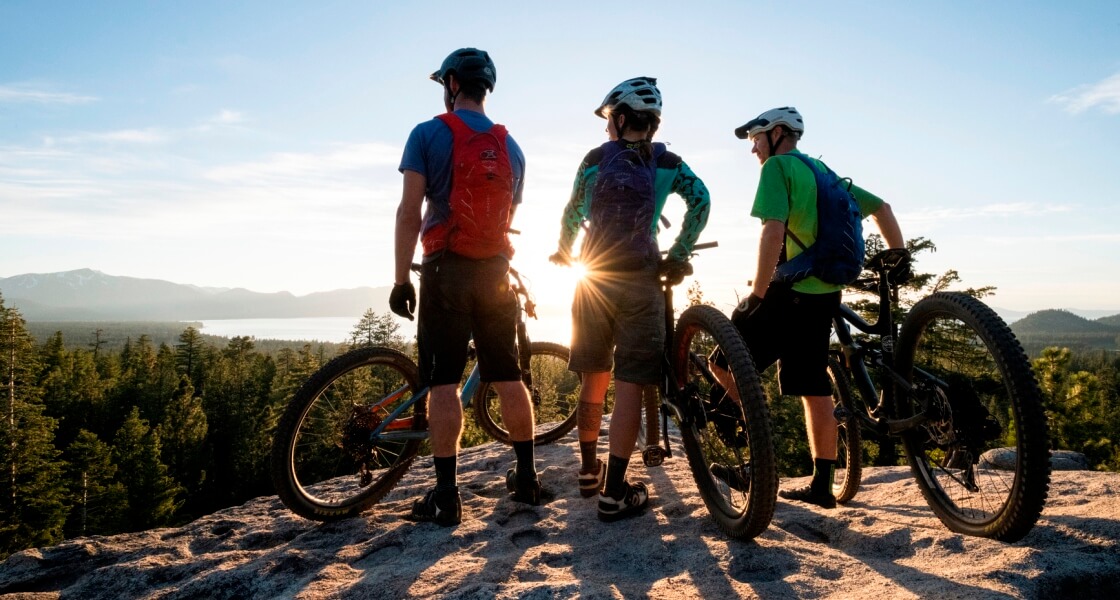 South Lake Tahoe's local mountain biking community is constantly working on improving bike trails to make your riding experience the best possible. During your visit, check out the Tahoe Area Mountain Biking Association for ways to get involved, detailed maps with GPS coordinates, and much more. Discover our recommendations for the best six bike trails for Lake Tahoe mountain biking below.
Tahoe Rim Trail – There are many options on this 165-mile long loop trail that circles the ridge lines above Lake Tahoe. Mountain bikes are only allowed on about half of the overall length because it shares segments with the Pacific Crest Trail and also goes through Wilderness Areas. Many of the popular mountain biking segments are listed on the Tahoe Area Mountain Biking Association (TAMBA) website and a couple are below in our top 5 trails. For further information, please consult the Rim Trail website.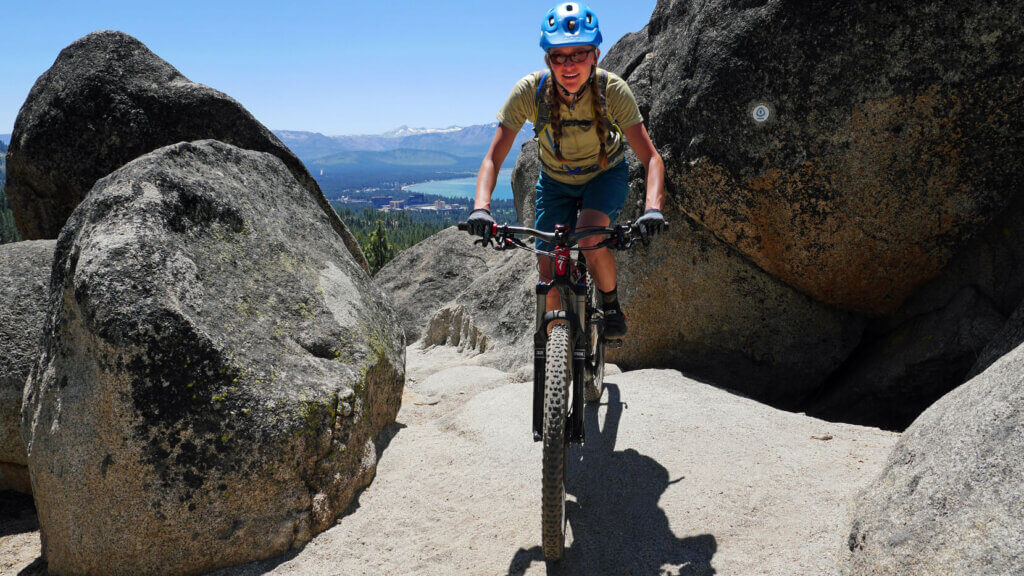 The Flume Trail is a Tahoe classic with breathtaking views over Lake Tahoe's Eastern Shore. See for yourself why this trail is so frequently photographed for magazines. Named for the wooden flume which transported water and logs to Virginia City, Nevada during the Comstock silver mining boom of the mid-1800s, the Flume Trail has been labeled one of Western America's Top 10 routes. The trail begins at Spooner Lake, ascends five miles to Marlette Lake, where the actual Flume Trail begins. A 4-1/2 mile long narrow single-track departs from the west end of the lake, following the ridge to the north nearly 2,000 feet above Lake Tahoe. Total Trail Distance: 22 miles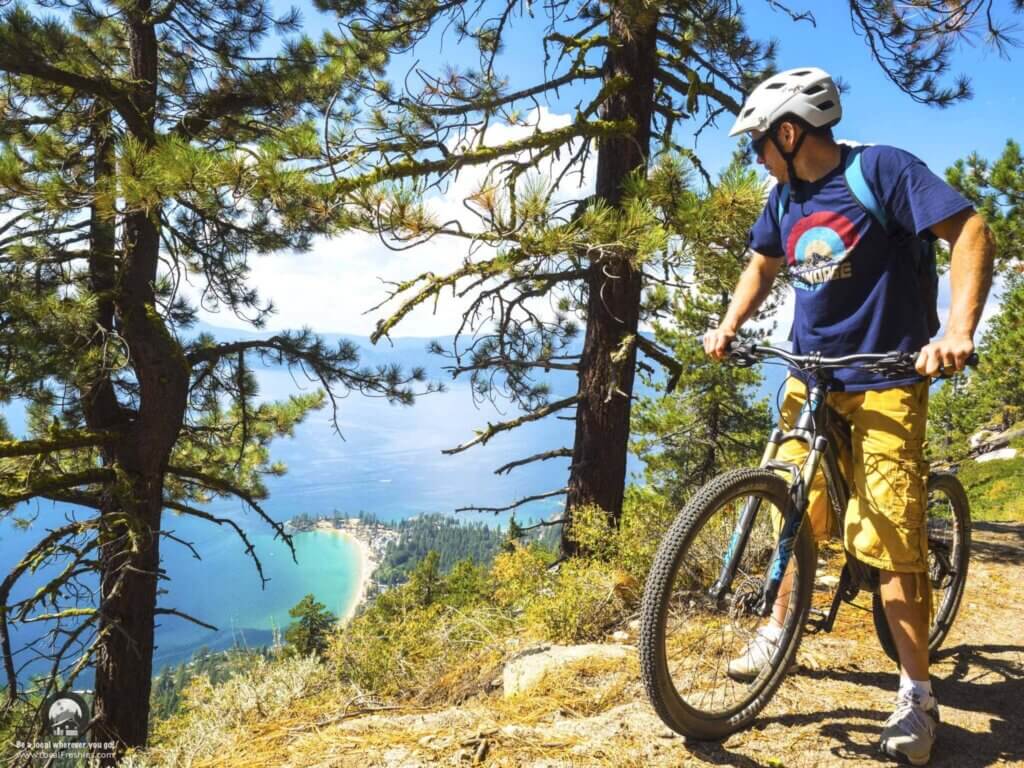 Mr. Toad's Wild Ride/Saxon Creek is another Tahoe classic. This trail gives advanced riders a satisfyingly long, plunging descent through a towering forest with rocky, challenging terrain on the upper sections giving way to smooth, fast, banked turns on the lower sections. Named for its exciting descent on the Saxon Creek Trail, Mr. Toad's Wild Ride plunges downhill at a drop of nearly 1,500 feet in less than six miles. The advanced ride begins at Big Meadow Trailhead, heading north on the Tahoe Rim Trail. The descent is sometimes steep and technical and there are some corners that are nicely banked for high-speed turning. Bring your longer-travel bike. Total Distance from Big Meadow: 10 miles.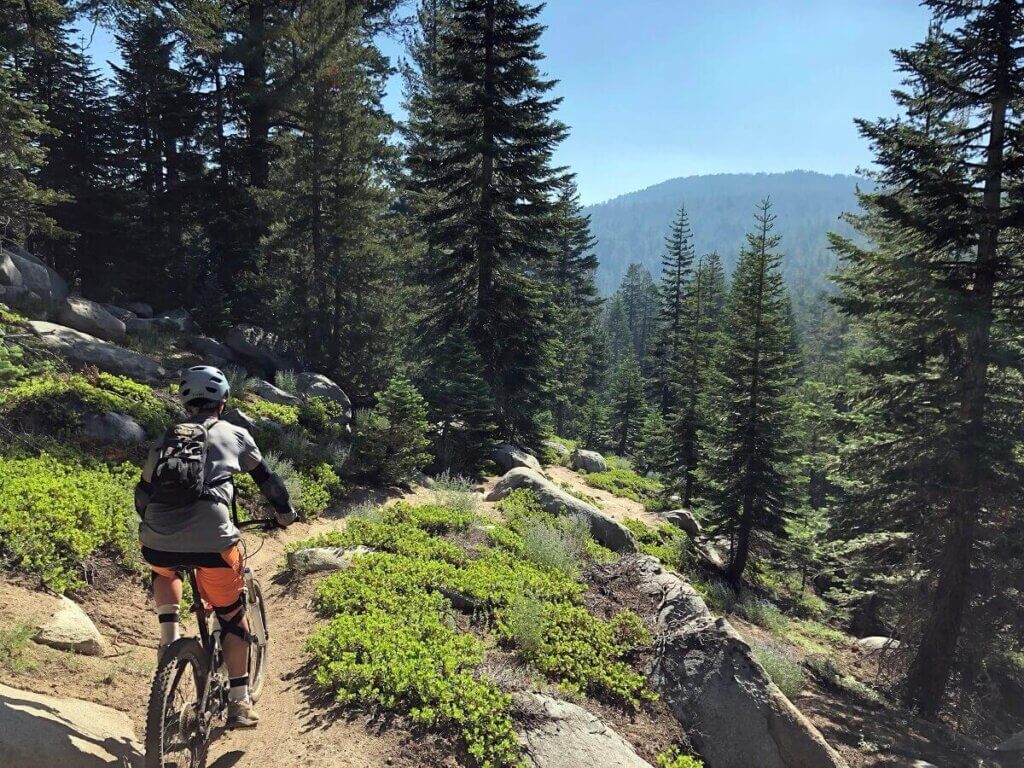 Corral (with Sidewinder option): These two trails can keep almost anyone interested. Advanced riders (or Intermediate riders improving their skills) will enjoy the optional jumps, rock features, and logs along the Corral trail. The Sidewinder trail that parallels Upper Corral provides an option for beginners of all ages and skill levels looking for a winding, smooth trail. Total Distance: 5+ miles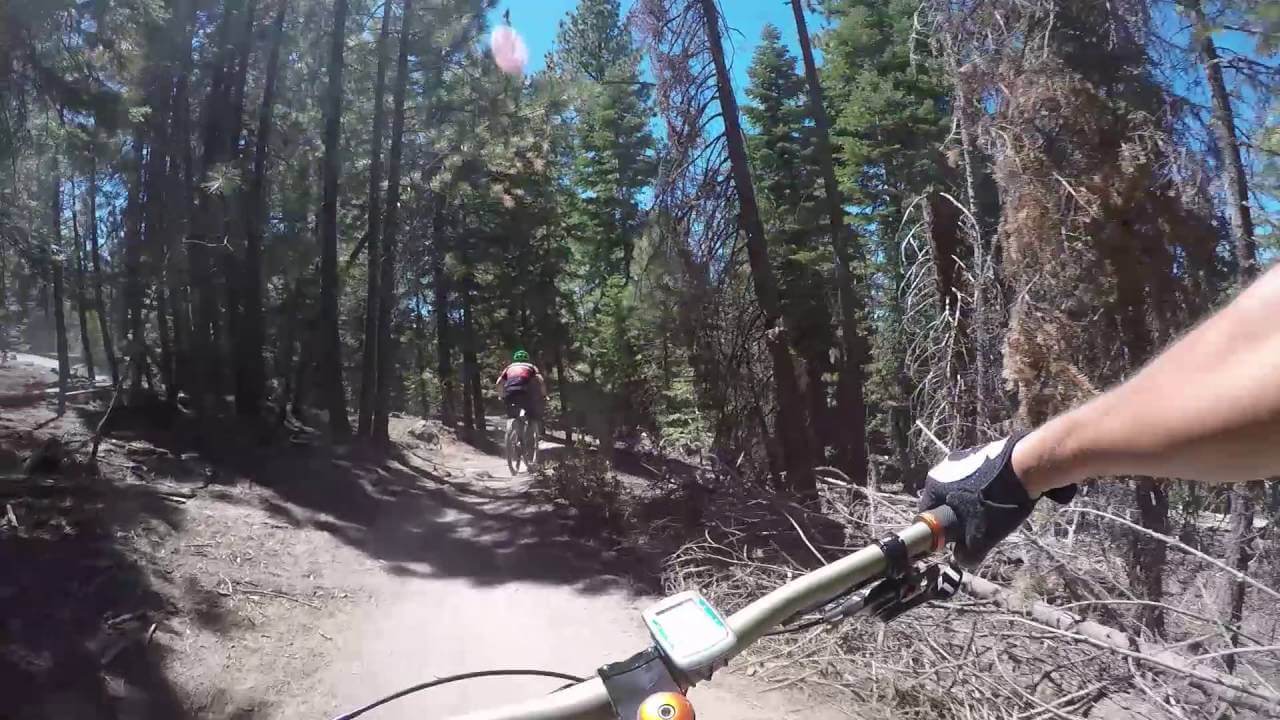 The Bench – This section of the Tahoe Rim Trail starts high and takes you above treeline, with spectacular lake views along the way. Intermediate and Advanced riders will enjoy how this trail has just enough rocks to keep things interesting but very rideable. Total Distance: 12.5 miles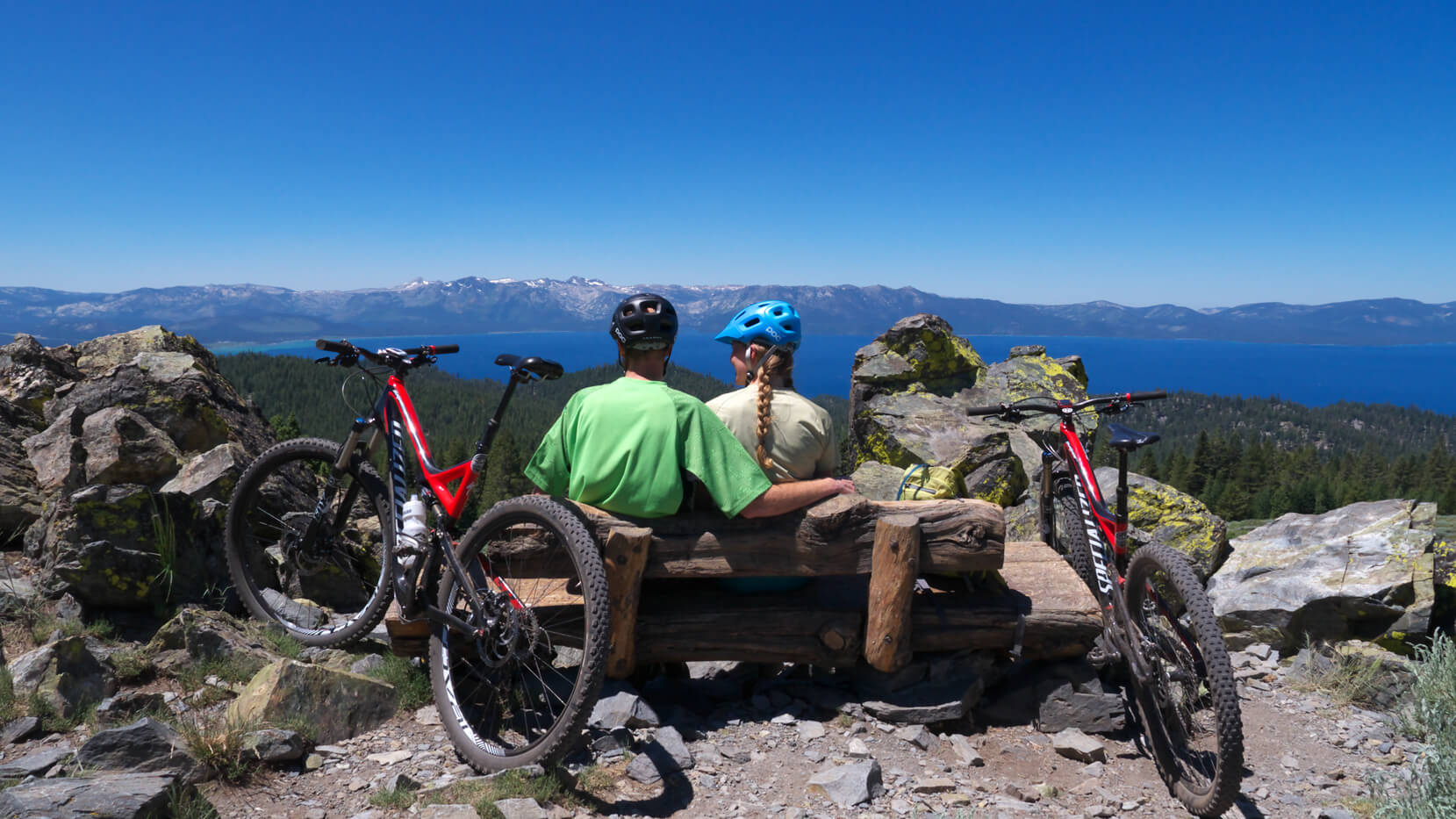 Powerlines Trail – This smooth trail takes you from town up and along the forest adjoining South Lake Tahoe. It's very suitable for beginners and can be used to connect to other trails, such as Corral, Cedar and Cold Creek Trail, which is new as of 2010! It's easily accessible from several points in town, including your hotel room! Total Distance: 6.5+ miles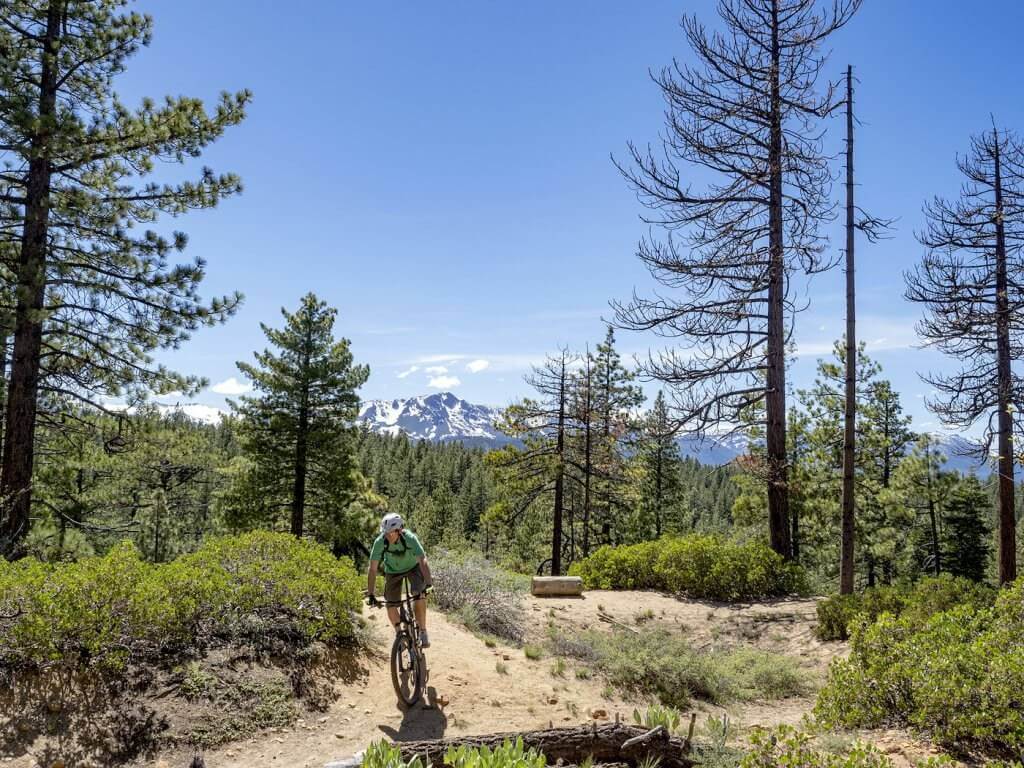 Check out Lake Tahoe Mountain Bike Trails on Instagram