Now that Valentine's Day is over and the pressure is off to think of something romantic for you and your sweetie, we ladies can focus on a getaway with our girlfriends. And what better place for a girls trip than Lake Tahoe? No matter what season you're planning a girls weekend, Lake Tahoe is full of adventure, excitement and plenty of opportunities for relaxation before you head home, too!
Lake Tahoe is a personal favorite for my group of friends, and whether we travel there in summer or winter, we have a fabulous time. We still have a few months ahead with pretty, snowy mountains, which means there's plenty of time to ski or snowboard and cozy up in a cabin.
Below I've outlined some of my favorite things to do with the girls in Lake Tahoe in both summer and winter. Enjoy!
Winter Weekend Getaways in South Lake
It may be cold outside, but that doesn't mean you should stay indoors the entire weekend! When you arrive in Lake Tahoe with the ladies in the winter, dedicate at least one day to skiing or snowboarding. Some of the best ski resorts in the area include Heavenly, Sierra-at-Tahoe and Kirkwood. If you're not a Tahoe regular, or don't have a season pass, look for Tahoe deals at local hotels that offer free or discounted lift tickets and equipment rentals. Many hotels in Lake Tahoe offer great savings for a weekend getaway!
When you're not on the slopes, you can ice skate together at Heavenly Village or walk the snow-covered trails for a few hours on a snowshoeing adventure. Whatever you do, be sure to bring your camera.
Before you go home, head to the spa with the girls to relax, rejuvenate and take care of any muscle soreness that may have resulted from a few days on the slopes. There are quite a few spas around Tahoe that offer a variety of treatments. You can all get the treatment you deserve and head home feeling better than ever. A day at the spa is the perfect end to a girls' weekend.
Summertime and the Livin's Easy
When things warm up be sure to pack your big hats and bikinis, because a weekend getaway in Lake Tahoe with your girlfriends surely requires some time on the lake. Sunbathe on the beach, rent a boat for some water skiing or check out one of the fishing charters to help you reel in one of the big fish. Rent a kayak and explore the waters, or get in a great workout on a standup paddleboard. Your abs will look great, and you'll feel like you really deserve those cocktails later!
Another fun way to get out on the water is by taking a paddle boarding yoga class. It's just like yoga, but requires a little more balance.
When you're not enjoying the water, soak in the views from the top of a mountain. Hiking and mountain biking are both extremely popular activities in Lake Tahoe, and there are trails for ladies who work out at every level. For a full day of difficult hiking, journey to Lake Tahoe's tallest peak on the 9.5 mile trail that leads to the top of Mount Tallac. For a hike that's a little less intense but with equally beautiful views of the lake, check out the Rubicon Trail.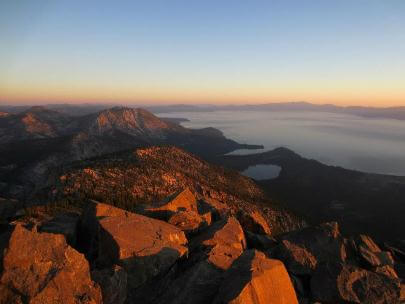 View from Mt Tallac. Photo credit: Meghan Kelly
If you and your gals are feeling more adventurous, mountain biking might be a better option. If that's the case, you have to check out one of "Western America's Top 10 routes," the Flume Trail, or one of my personal favorite, Mr. Toad's Wild Ride. Both are fun and just the right amount of challenge when you're cruising around with a couple adventurous ladies.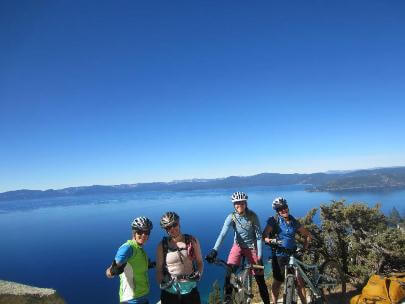 View from the Flume Trail. Photo credit: Meghan Kelly
A Night Out With the Ladies
The fun doesn't have to stop when you step off the mountain. There are tons of great restaurants and nightlife hot spots to check out in Tahoe. Head to the Picchetti Winery Tasting Room or go wine/beer tasting at Apres Wine Company for a classy afternoon or evening out. Treat your friends to a special meal at one of the best restaurants around like Cafe Fiore, Evan's American Gourmet Cafe, Orchids Authentic Thai or Freshies Hawaiian Restaurant and Bar. At night, hit up one of the casinos like Harrah's, Harveys, or MontBleu for a hand of poker, live entertainment, nightclubs and of course a great casino buffet!
Lake Tahoe has so much to offer, and I bet like me, you and your girlfriends are probably due for a great getaway. A visit to Tahoe is one of my favorite ways to get some fresh mountain air, squeeze in a little exercise and spend fun, quality time with my favorite girls.