As the weather has warmed up, I have started riding my bike instead of driving my car a few days a week. This may not seem like a big deal, but it has been very rewarding pretty much right from the start. I figured I'd tell a few more people about how awesome it is. Here are my favorite reasons to ride your bike in South Lake Tahoe.
I hear the sounds of nature.
I don't know about you, but in the car, I generally have the music turned up very loud to cover the sound of my singing. However, it's simply not safe to tune out like that on a bike, and I have been surprised at how many pleasant sounds I've heard on my commute: birds chirping (the "cheeseburger" birds are back!), dogs barking, and – most awesome of all – frogs croaking! There's a small pond alongside the bike path on Lake Tahoe Blvd, and on a night ride home, I was stunned at how loud they were! I never would have heard them in my car, especially over one of my Pearl Jam sing-alongs.
It takes about the same about of time.
Although I am a pretty relaxed rider, riding my bike has only added a few minutes to my commute to work. Of course, I need to add a few minutes of "freshen up" time so I don't look like a sweaty mess, but my co-workers agree this is time well-spent. I generally wear comfortable biking clothes and bring a more professional outfit to change into at work. Although, I have found that wearing a skort on my bike makes cars more aware of me for some reason. And just saying the word "skort" makes me smile.
I feel much more energized earlier in the day.
Generally, I start out my day a little grouchy and huddled over a cup of coffee. On the days I ride my bike, I am in a much better mood, and I am more alert through more of my morning. I still like my coffee, but now I can wait until the 3pm slump. My co-workers greatly appreciate my improved mood, and I am happy to enjoy the benefits of increased productivity as well.
The views.
I am lucky enough to see Lake Tahoe every day, and it's beautiful from my car window. However, I can say without reservation that it is AMAZING by bike. Spending a few more seconds taking in the views by Lakeview Commons is a no-brainer, super-excellent way to start (and finish) your day. Plus, you can easily stop quickly to take a picture – which is not recommended if you are in a car.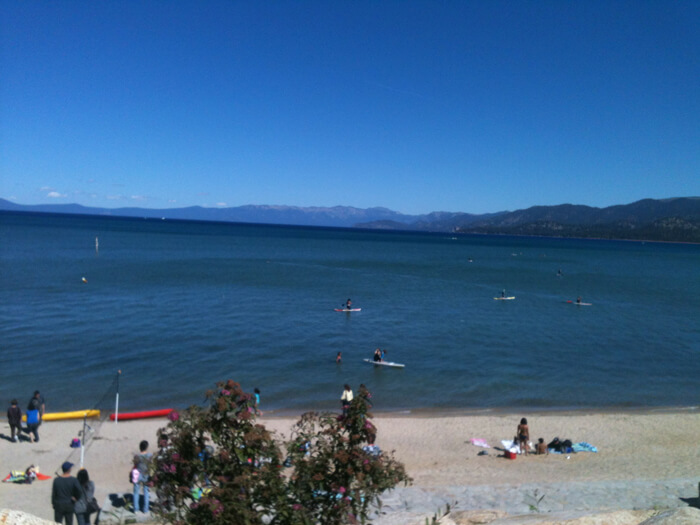 The 9th Annual Tahoe Bike Challenge is scheduled for June 7-20, 2014. This is a fun, basin-wide challenge meant to inspire and encourage you to choose your bike instead of your car for a few trips. Ride to work, to the park, to the grocery store – you choose, all of your miles count! I had fun trying it out last year, and have already registered for this year's challenge. Hope to see your name on the roster!
Be safe and follow the rules of the roads. Here's a short video refresher:

What's your favorite place to ride your bike in South Lake Tahoe?