Camp Richardson Resort Beach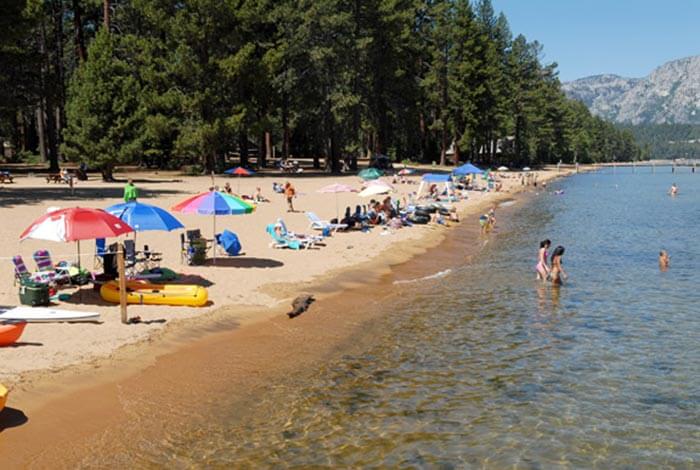 Camp Richardson Resort Beach stretches for 1/4 mile and offers great views of Cave Rock, Heavenly Mountain Resort and the East Shore. Music and cocktails are available at The Beacon Bar and Grill. Hot Dog & Snow Cone stand available at the Marina. Boat, jet ski, kayak, SUP, peddle boats, and more are available for rent. Rum Runner Cruises depart twice daily to Emerald Bay and back. Buoys rentals and additional marina service are also available. Easy walking trails and a paved bike trail are located at the adjacent Tallac Historic Site. The historic building, Valhalla, is located directly on the adjacent property and offers music, theatre and art events during the summer months. The beach is managed by a concessionaire under a US Forest Service special use permit.
Dogs prohibited, swimming beach only. Dogs allowed on leash in picnic areas; no glass containers on beach. Charcoal grilling allowed only in provided grills.
KEEP IT CLEAN: Lake Tahoe is recognized as an Outstanding Natural Resource Water. Please, join your fellow beach goers in protecting this special place! Begin by being an example to others:
Dispose of trash properly or pack it out.
Never feed birds, squirrels or any other wildlife.
Campfires are NEVER allowed on Tahoe beaches.
VEGETATION: Protect Tahoe plants! Keep outside signed or fenced protected habitat.
SWIM and BOAT SMART: Very cold water, sudden storms and unexpected waves deserve respect. Be alert!
PET OWNERS: Dogs prohibited, swimming beach only. Dogs allowed on leash in picnic areas. Use a bag to pick up after your pet, and use a leash. Protect your pet's privilege to share the beach!
BOATERS: Aquatic invasive species are a very serious threat – completely clean, drain and dry your boat before launching it at Tahoe.
FISHING: Any person over 16 years old must have a valid California or Nevada sport fishing license. Visit one of the many Lake Tahoe fishing sites to learn more about fishing and the special regulations that are enforced at Tahoe.
Camp Richardson Resort Beach
1902 Jameson Beach Rd, South Lake Tahoe, CA 96150