You can't take a bad picture of Lake Tahoe. That's not a challenge, but if you can aim a smartphone in the direction of the lake, you've probably already got what it takes for a decent postcard. Even those cloudy, hazy days that we wish would pass tend to provide spectacular views from sunrise to sunset. The problem is, us Tahoe adventurers inherently want more; larger landscapes, grander views, bluer blues. For breathtaking views and an experience exclusive to dedicated thrill seekers, consider the path less taken, which in this case is by sky soaring thousands of feet over the always stunning Lake Tahoe.
Being on the actual water is one preferred way to take in Lake Tahoe's scenery because you are surrounded by mountains and forest everywhere you look, but being above it looking down at the Sierras and surrounding lakes is some next level cool. Whether it be parasailing, glider or something else, you'll quickly find out how little it takes before a giddy grin is strapped across your face. Feel the adrenaline with each couple hundred feet gained, nothing better than your heart racing between slightly anxious and absolute bliss. It all comes together with the jaw-dropping beauty of Lake Tahoe.
As Mark Twain describes Lake Tahoe in 'Roughing It': "As it lay there with the shadows of the mountains brilliantly photographed upon its still surface, I thought it must surely be the fairest picture the whole earth affords."
To see the lake from above with your own eyes is something very few people are fortunate to experience, and for those of us that don't have a drone, getting out in the open air is the best bet.
Typically the easiest of these options is parasailing because the only driving involved is to one of the marinas, and generally less set up/materials involved. You've likely seen the colorful parasails floating around the lake, but if you're unfamiliar it is basically a large kiting activity where a person is towed behind a boat. Tahoe Sports at the Ski Run Marina gives you the option to cruise comfortably at a low of 200 ft above the lake, or more than double that at a high of 500 ft.
For a much greater view of the lake, a glider ride will get you properly stoked to be coasting up above Lake Tahoe. It is also the purest, most environmentally friendly form of flying because of the way it works – the glider has no engine and no propeller. To get up, the glider is towed by a tow plane and at the right altitude, the pilot pulls a cord to separate the plane from the glider. From there, it's pure aerodynamics and wind energy. You'll be in good hands with our friends over at Soaring NV where they'll teach you all about the gliders, let you try maneuvering around if conditions are right, and even do some tricks if you're up for some thrills. Check out this post about soaring over Lake Tahoe and the video for more details on what to expect.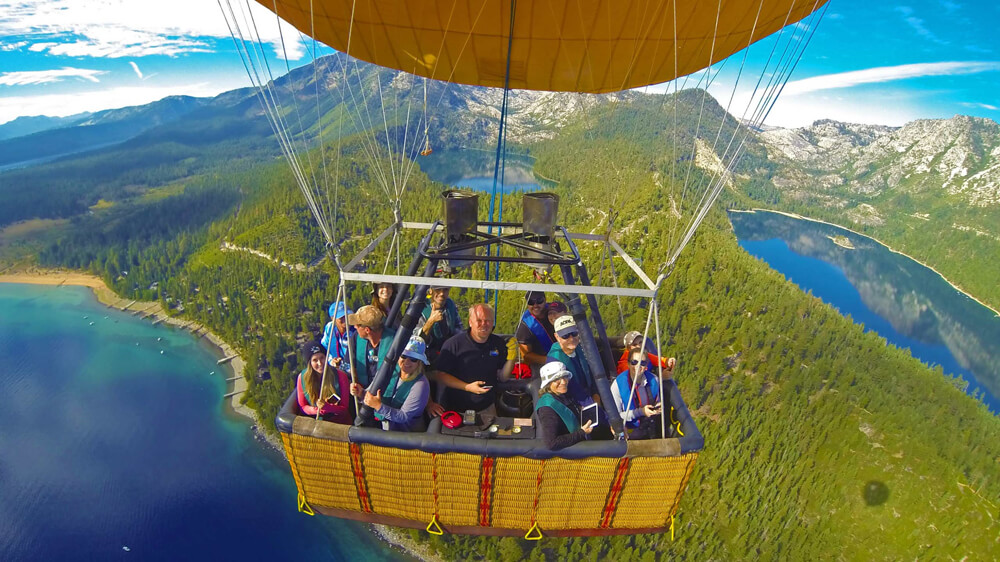 Did you know you can take off from a hot air balloon right in the middle of the lake? You can even catch the early morning sunrise while the town is still asleep for a peaceful rise up to 10,000 ft above sea level! For those that are not too sure about being up that high in a balloon, you will not experience any vertigo feelings because you move with the wind currents, thus no rocking or swaying. Just smile at the people below knowing that they're not having close to as much fun as you.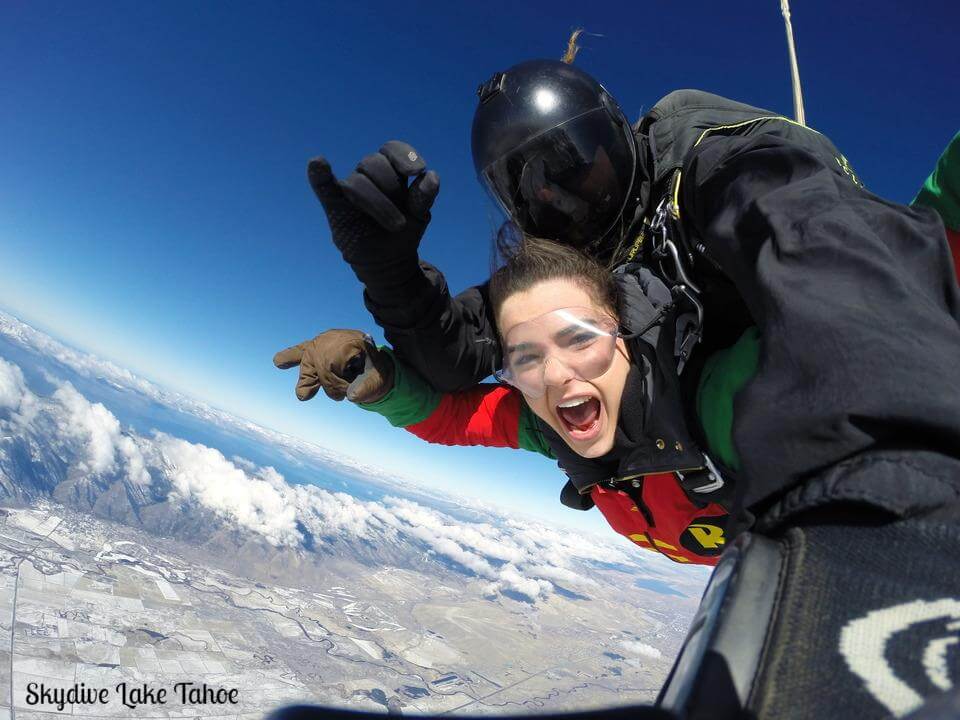 If being in the clouds isn't enough, try getting up above them. For the ultimate daredevils out there who scrolled passed each of these options looking for more, go ahead and opt to just jump right out of the aircraft with Skydive Lake Tahoe. I don't think I need to explain what skydiving is, but this is skydiving in one of the most magnificent places in the country, and furthermore, the world. This is the only option mentioned that you'll be able to enjoy year round (weather permitting), so depending on when you go, you might be eye-to-eye with some snow-capped peaks.
If you don't necessarily want to be in an aircraft or suspended flying through the air but would like the views, the Heavenly Gondola is always a solid way to do it, and probably less time commitment. Once you're up top, head for the ziplines for a more intimate ride through and above the Tahoe treeline.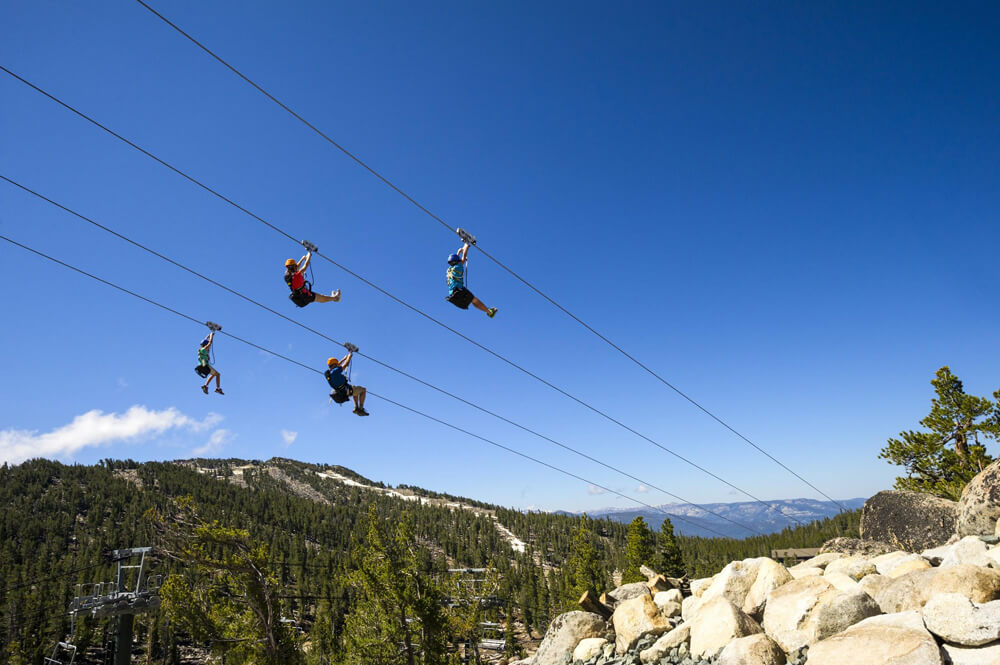 Photo credit: Heavenly Mountain Resort
Check out Tahoe From Above on Instagram