The sparkle of brass & the sound of water lapping against a mahogany hull. Classic wooden boats at the Concours d'Elegance, August 12 & 13th on Lake Tahoe isn't "just an event." It's a tradition of excellence. A rare glimpse into a bygone era. Something that must be seen in person to truly appreciate. To help gain a bit more insight before the mid-August gala, here's an introduction to the Concours d'Elegance & what to expect at this cool show.
History Of The Concours d'Elegance
The literal translation is "Competition of Elegance" and these types of contests date back to 17th century France. At that time, the aristocracy would parade around in the parks of Paris in elaborate carriages on summer weekends & holidays. A friendly competition was born to see who had the most extravagant carriages and who maintained them the best. Over the years, this meticulous attention migrated to horseless carriages and then to vintage wooden boats.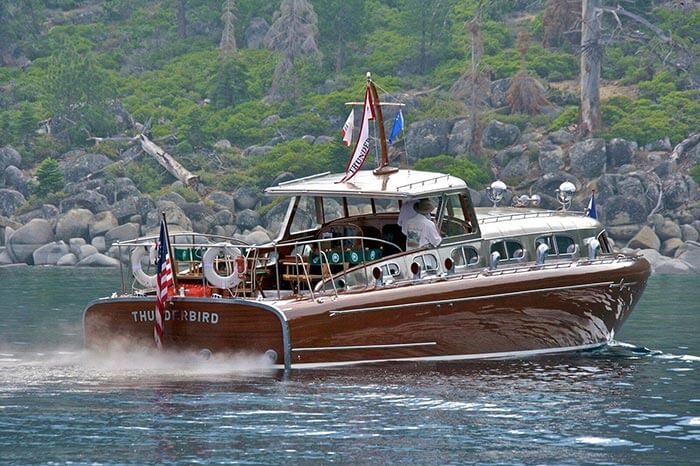 Not The Average "Boat Show"
The Lake Tahoe Concours d'Elegance is the shining example of these types of shows. The judges in the event are THE experts in the boating world, knowing each and every detail based upon year & model. The goal is simple… to have a vessel that looks as close to coming off the showroom floor as possible. This includes such things as mechanical restoration, upholstery, paint and everything in between. Simply put, the Concours d'Elegance is THE gold standard of boat competitions.
A Don't Miss: Woody Over-The-Bottom Race
While the entire week of festivities are enjoyable, one of the coolest showcases is the one that concludes the show. Held the first Monday after the event, the "Over-The-Bottom" race lets you see these gorgeous boats in action. These rallies date back to the roaring 20's & include a multi-step race consisting of completing several tasks at predetermined speeds. For example, one year boats had to circle a buoy with Osama bin Laden's picture as many times as there are syllables in his name!
If you're looking for something to do before school starts or just a diversion from the dog days of summer, we highly recommend checking out the "Super Bowl" of vintage wooden boats. Featuring nearly 70+ of the world's finest examples of craftsmanship, the ones that do win aren't just great but rather world class.
Check out the Concours d'Elegance on Instagram