What to do for Memorial Day in Lake Tahoe
There is so much going on around Lake Tahoe Memorial Day weekend, you're going to have a fun time trying to fit it all in.
Time to get excited – Memorial Day weekend is finally here marking the start of the summer season with all kinds of events and activities to enjoy around Lake Tahoe. Every night from here on you can expect live music, dining specials, friendly games & competitions, and much more from our awesome local businesses all summer long. Almost all of the marinas are now open, it will soon be hot enough to make up for the brisk Lake Tahoe, we've been waiting for this.
More importantly, it's time to be grateful, to remember and respect the brave men and women who have put themselves on the line to keep us safe. Between the barbecues and beach chilling, remember to honor those that have lost their lives fighting for our freedom. The South Lake American Legion Memorial Day Ceremony will be held at the Happy Homestead Cemetery. If you can't make it, consider supporting the Elks Club (frequent veteran supporters) by shopping at the local flea market this Saturday.
To start the Memorial Day Weekend festivities a little early, the Heavenly Village will be kicking off their summer festivities starting this Thursday and rolling out events all weekend. Even the Gondola will open exclusively for this weekend before opening for its full summer schedule in a few weeks.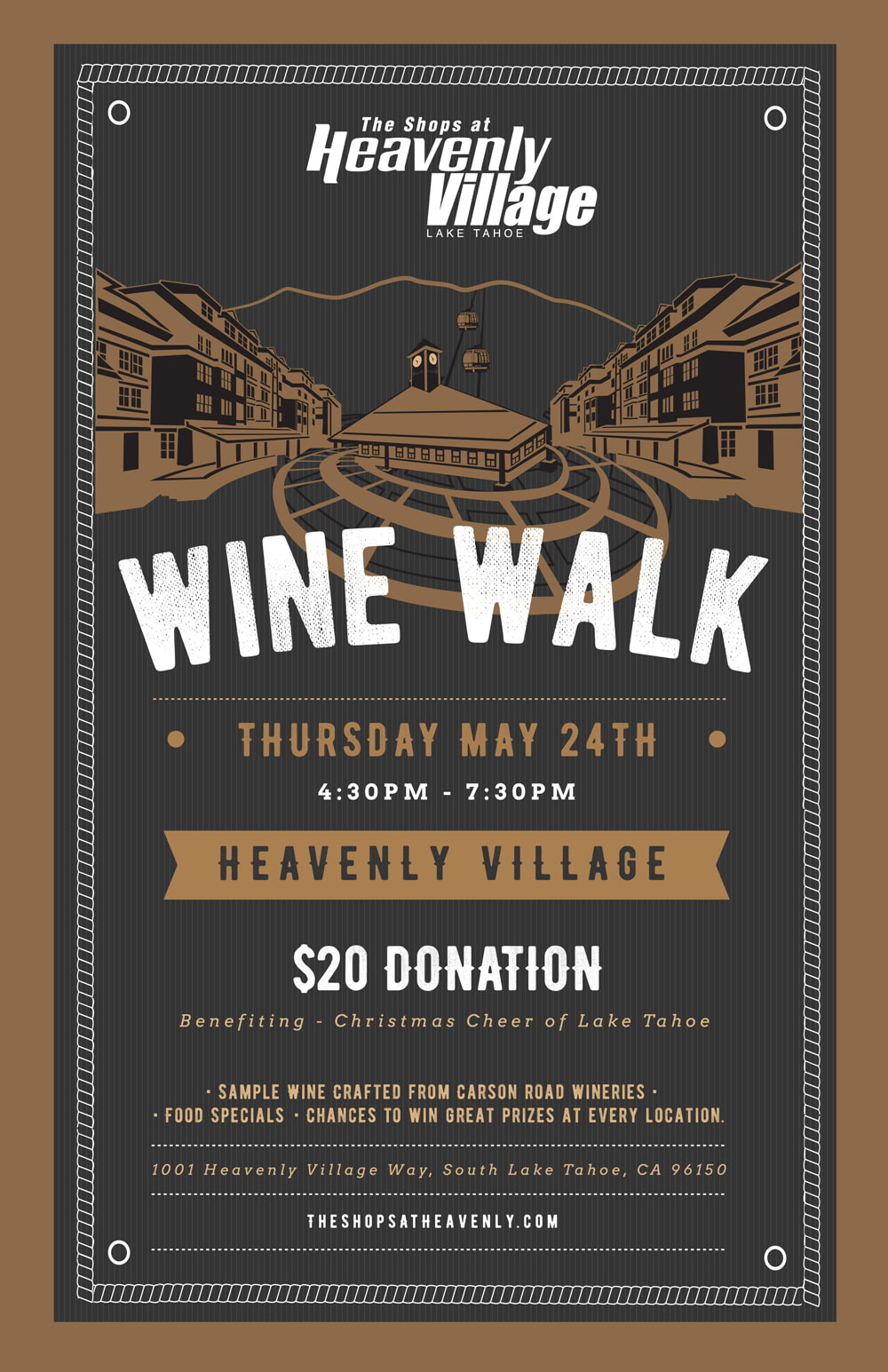 Thursday, May 24, 2018 – Wine Walk @ Heavenly Village. From 4:30pm – 7:30pm head to the village for a Wine Walk, the best way to stroll the village. You'll be able to sample wines crafted from Carson Road Wineries, eat tasty food specials and play to win great prizes at every location along your walk. Get your tickets at the event for a $20 donation supporting Christmas Cheer of Lake Tahoe.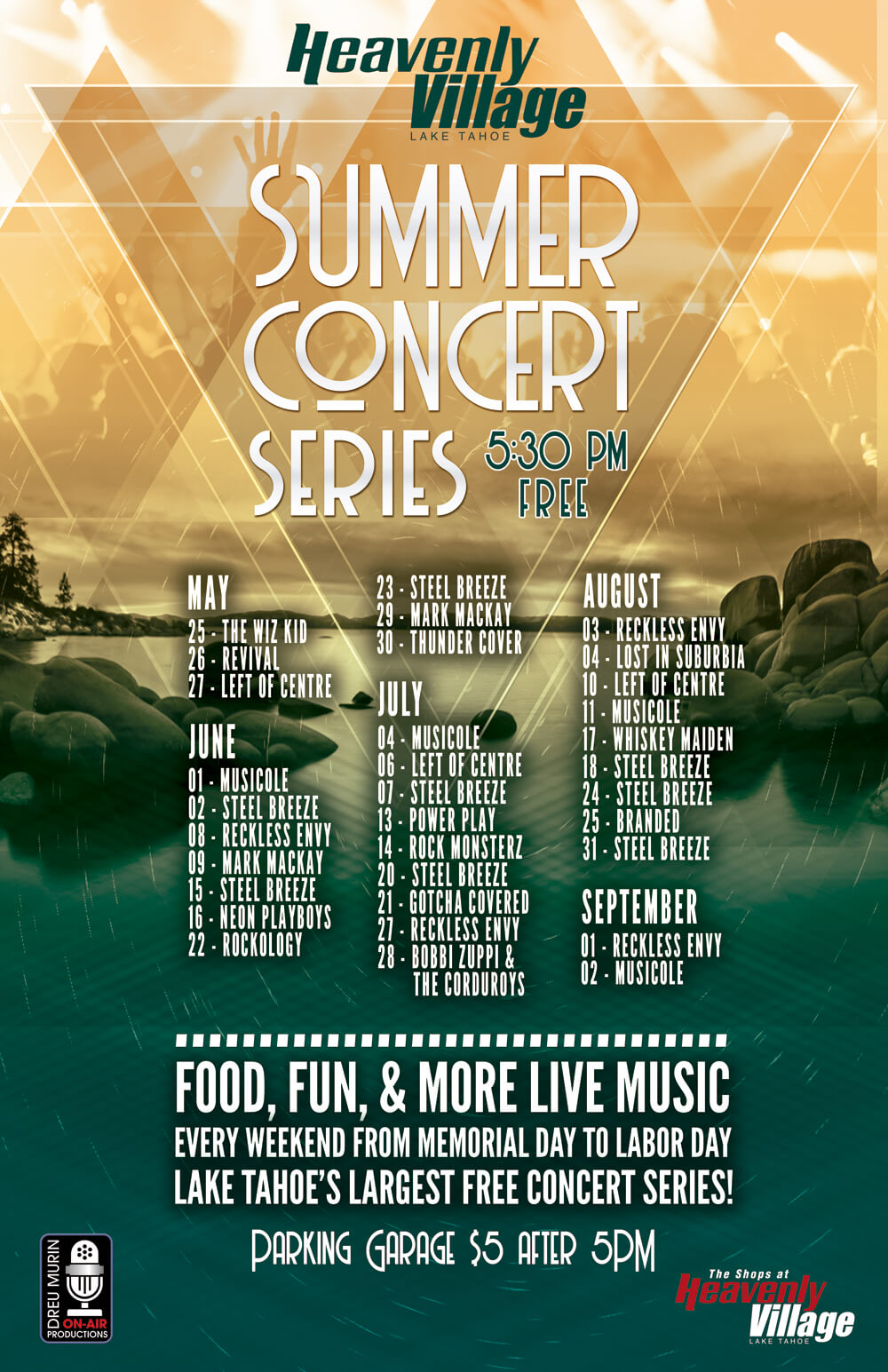 Friday, May 25th, 2018 – May 27th 2018: Heavenly Summer Concert Series. The Shops at Heavenly Village will host free outdoor concerts every Friday and Saturday evening Memorial Day Weekend through Labor Day from 5:30 p.m. to 9:00 p.m. at their main stage. The concert series has grown in size each year — what began with merely five shows held on a stage riser is now a grand production of over 30 shows drawing upwards of 500 people each night. Stop by for some family friendly fun.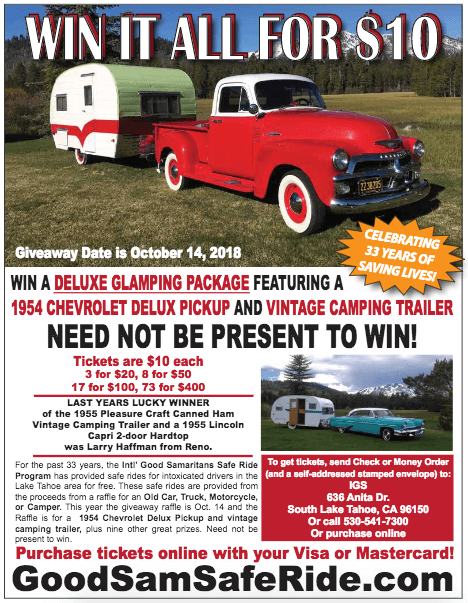 Friday, May 25th, 2018 – May 28th 2018: Summer Kickoff Car & Bike Show. This seasonal car show put on by the Good Samaritans Safe Ride is open to all and is a fun way to support a great organization. See their flyer above – you could win a sweet ride for as little as $10! This year's prize is a deluxe glamping package a 1954 Chevrolet Delux Pickup AND Vintage Camping Trailer. There will be 25 trophies with various categories, a poker walk, sidewalk sales, and it's all free to attend and enjoy.
Stop By on Saturday May 26th, where instead of the cool and classic cars it'll be an Electric Vehicle Car Show. This event is also free to enter electric vehicles of any model for those who might be interested, but either way, come check out some of the latest and coolest technology in cars this Memorial Day Weekend.
Memorial Day Ceremony: On Monday, May 28, at 11:00 am, the American Legion will honor men and women who have died while serving in the U.S. military. Refreshments to follow the ceremony. On Memorial Day weekend, members of the Auxiliary will be collecting donations for poppies, which have become a national symbol of Memorial Day. Poppy donation locations on May 27-28 include Raley's and Safeway.
Casinos: Talk about nightlife! Whether you are planning to Party with Arty, shake your booty at PEEK and Opal Ultra Lounge, or listen to live music at the
Stage at HQ Center Bar, you are bound to create memories that last… well, you'll have a great time, anyway. If you're a fan of comedy, don't miss Bob Newhart at Harrah's Lake Tahoe. If Reggae's more your thing, pick up tickets for Lake Tahoe's Reggae Spring Splash featuring Steel Pulse and Mike Love at MontBleu.
Historic Tours: Many historic estates are now open for the summer season. Plan ahead, and tour the Pope House, Baldwin Museum, the Hellman-Ehrman Mansion, or Vikingsholm.
Whatever your plans, enjoy a happy and safe Memorial Day Weekend in Lake Tahoe!