There's so much to do in South Lake Tahoe – between skiing, snowboarding, boating, SUP-ing, biking, hiking, climbing, and various other sports – we never run out of things to do outdoors. But occasionally, we locals feel the need to dance. For the second year in a row, local Celebrities have agreed to bring their dancing skills to center stage in support of a very good cause – the Tahoe Arts Project.
On Saturday, March 8, ten local dancers will hit the stage for the Tahoe Arts Project's 2nd Annual Dancing with the Tahoe Stars.
Similar to the popular TV show, our Tahoe Celebrities will be paired up with professional dancers to learn a dance routine, complete with costumes. They will perform their dance and our distinguished judges will score them. Judges for the evening will be Marcia Sarosik, Pat Ronan and Paul Middlebrook.  Come out and cheer on your favorite dancer and help choose the people's favorite by purchasing votes! This interactive production will be fun for all ages and truly allows the audience to be a part of the show.
Last year, our very own Executive Director, Carol Chaplin, won the competition with a rousing performance of "Save a Horse (Ride a Cowboy)." This year's competitors are:
Former Mayor Tom Davis
STHS Theater Director Liz Niven
Realtor Klaus Utecht
Director of Tahoe Center for Orthopedics Chris Proctor
Tahoe Tot Spot owner Amy Thompson
Environmental Engineer Eric Taxer
Soroptimist Roberta Benvenuto
Jazzercise Instructor Jodi Stewart
Sierra at Tahoe Director Sean Sweeney
Dental Hygienist Frances Caro
Don't miss your opportunity to see this talented group of dancers on Saturday, March 8th at 6:30 PM at the MontBleu Theater. Reserved ticket prices range are $10, $15, and $22 (plus a $3 handling fee). Call MontBleu to get your reserved seating tickets 1-888-829-7630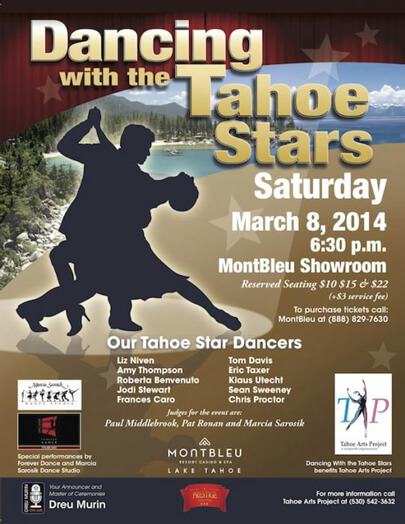 For more information, please call Tahoe Arts Project at 530-542-3632. Tahoe Arts Project is a nonprofit organization dedicated to providing professional performing arts in the schools and community of South Lake Tahoe.