With the help of my friends on the Hard Rock Hotel & Casino Lake Tahoe Facebook page, I was able to compile this rocking list of 8 jammers that are sure to have you daydreaming of the crystal-clear waters and captivating beauty of Lake Tahoe. I hope you enjoy listening to them as much as I did!
A little about me before I go any farther – I'm Callie, a local here in South Lake Tahoe. You can call me Rockin' Callie, if you'd like. I have been granted special access to the Hard Rock Hotel & Casino Lake Tahoe. As the only person allowed on property besides construction crews, I am able to give folks the inside scoop leading up to our grand opening this January 2015. This is my first appearance on the Lake Tahoe blog, and I could not be more excited! I'll be keeping you updated on all the rockin' things we have in store for my favorite place on the planet, Lake Tahoe.
1. The Zephyr Song – Red Hot Chili Peppers
"And in this perfect weather, we'll find a place together…" In Zephyr Cove, of course! The Zephyr Song was released in 2002, and has had me thinking about those picture perfect days lounging on the iconic Zephyr Cove beach ever since.
2. Crystal Blue Persuasion – Tommy James & The Shondells
This picture… Need I say more?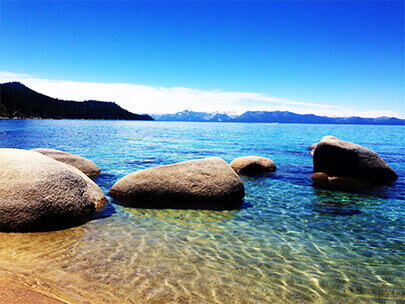 3. Toes – Zach Brown Band
"Life is good today…" And every day in Lake Tahoe. After Toes was released in 2009, I still find myself blasting it every summer as I sink my toes into the sand at D.L. Bliss State Park. At that moment, Zac Brown Band was so right… "Not a worry in the world."
4. Peaceful Easy Feeling – The Eagles
I get a peaceful easy feeling as I'm dropping into Lake Tahoe from Carson City, and get that first glimpse of the crystal-clear water glistening under Tahoe's blue-bird skies.
5. Summer Breeze – Seals & Croft
Just a blast from the past, that makes you feel fine, every time.
6. Paradise City – Guns N' Roses
Nothing reminds me of cruising around the lake on a hot July day more than this song. Let's be honest, the grass is the greenest, and the girls are the prettiest in Lake Tahoe. Just saying…
7. Sunshine – Atmosphere
It's true, there's nothing like a little sunshine to cure your hangover blues, and Lake Tahoe sunshine is unpatrolled no matter what time of the year. Don't miss Atmosphere at SnowGlobe 2014 on December 29th in South Lake Tahoe.
8. Sailing – Christopher Cross
I think I'm having a Titanic moment, but just close your eyes, put your arms out, and image yourself on the bow of a boat, with the wind blowing through your hair in Emerald Bay.
I can't wait to #ROCKTAHOE this January; listen to the playlist "Sounds of Lake Tahoe Part 1" on Spotify and help me create a new playlist for the 2014 ski and snowboard season by commenting on this post with suggestions!