Lake Link Microtransit Shuttle

Microtransit Shuttle Offers Free On-Demand Rides on Lake Tahoe's South Shore
Lake Link is a FREE, on-demand shuttle which takes you to South Shore beaches, trails, entertainment, and nightlife. Catch the service between 7am and 9pm on weekdays and 7am and 10pm on weekends. Download the app to book your ride!
Dedicated branded ADA accessible vans with bike racks will pick up and drop off riders at any location within the service area.
Access trails, beaches, entertainment, nightlife, commute or run errands on the South Shore of Lake Tahoe for free. Connect with Tahoe Transportation District's routes (also free).
Service between the Nevada state line and Al Tahoe Boulevard in South Lake Tahoe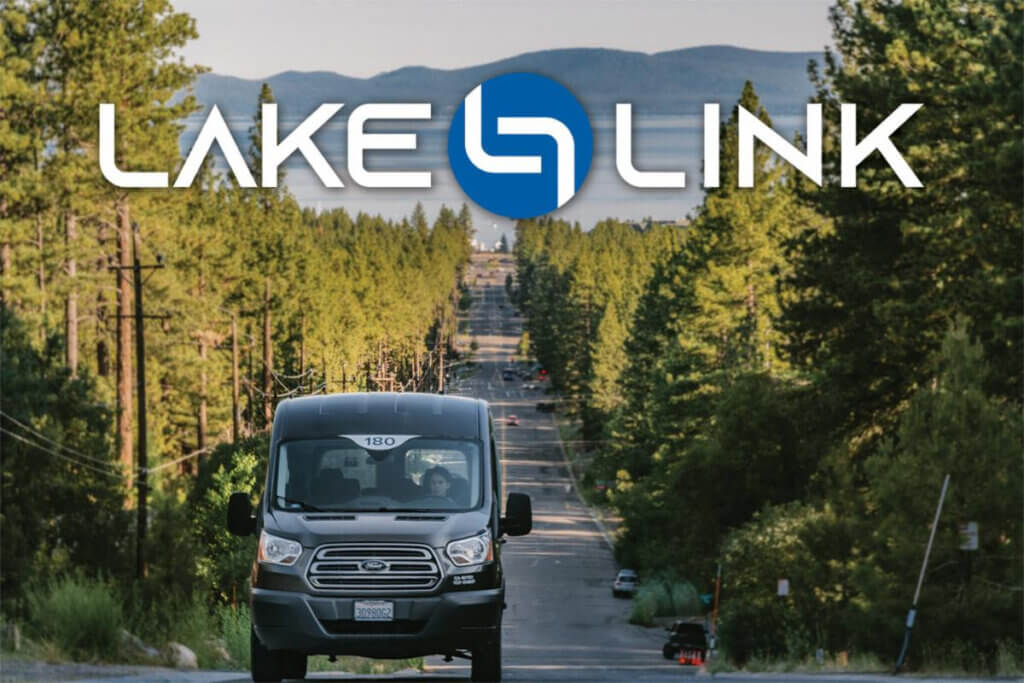 South Shore visitors and residents have a new way to get around with Lake Link, a microtransit shuttle system.
The service will offer free rides in a zone including the casino corridor in Stateline, Nev., and Al Tahoe Boulevard and Pioneer Trail in South Lake Tahoe, Calif.
The on-demand system is accessed and scheduled through the Lake Link app and operate 365 days per year 7 a.m. to 9 p.m. and until 10 p.m. on Fridays and Saturdays in summer and winter. Funding for the shuttles is a collaboration of public and private partnerships. (www.tahoelakelink.com)
The South Shore Transportation Management Association hopes to expand the service as demand increases and more funding opportunities become available. Lake Link will also connect with Tahoe Transportation District routes to extend the reach of transit. The Lake Link app will be available for download on the Google Play store and Apple App Store.
Frequently Asked Questions
Hours of operations?
Summer and Winter hours are from 7 a.m. – 9 p.m. Sunday – Thursday and 7 a.m. – 10 p.m. Friday – Saturday.
Fall and Spring hours are expected to be 7 a.m. – 9 p.m. daily.
Service Area?
Service spans approximately 3 miles through the downtown casino corridor from Stateline, Nev. to the Lake Tahoe Community College/Al Tahoe neighborhood in South Lake Tahoe along both US 50 and Pioneer Trail. Please see the map for details www.tahoelakelink.com.
Cost?
FREE to riders. Lake Link's funding is a collaboration between public and private partnerships: https://ss-tma.org/lake-link/.
Will the service area expand at some point in the future?
Yes, that is the goal. As demand dictates, as well as funding opportunities with public and private partnerships, we anticipate growing the service to link various transit services. The desire is to alleviate congestion in high traffic areas where individuals can leave cars at home while also providing visitors a seamless carless vacation option to the region.
Are vehicles wheelchair accessible?
Yes. A portion of the fleet will be wheelchair accessible. Tap the wheelchair icon in the app when selecting your trip details to ensure your trip is assigned to a wheelchair accessible vehicle.
What equipment is allowed?
Outdoor recreation is our livelihood, and we welcome gear to enjoy Tahoe's beaches and trails. Bike/ski racks will be available. Please make sure to note your equipment when you book your ride. Anything that can fit underneath your seat or in your lap is allowed as well: i.e. inflatable kayaks / SUP, smaller coolers, floaties, etc.
Are pets allowed?
Service animals are allowed on Lake Link. All other pets are not allowed.
Age to Ride?
Children under the age of 16 must be accompanied by an adult. Lake Link is not responsible for the safety of minors.
Are food/drinks allowed?
Food/beverages within sealed containers are permitted. While trips are short durations, please be mindful that smelly food can be distracting and unpleasant for your fellow passengers. Drinking alcohol and carrying open containers of alcohol in our vehicles is not allowed.
Are car seats available?
Lake Link does not provide car seats for liability purposes. Riders are welcome to bring their own car seats but be aware that drivers are not permitted to assist in setting up car seats.
Are strollers allowed?
Yes.
How do I cancel a ride?
There is a 'Cancel Ride' button in the top left corner of the app screen after requesting a trip.
Can I change my location once on board?
Wait times for other riders are based off of your original destination entered when requesting your ride, so typically, we cannot change your destination once you are onboard the vehicle. If you need to change your destination, you will need to request another ride once we have dropped you off.
Lost/left behind items, who do I contact?
Open the Lake Link app and tap the Menu tab, then the Lost and Found button. Send us a description of your item and we will get in touch asap!
---
Help Us Remain Pristine
Lake Tahoe is an ancient marvel filled with 37 trillion gallons of 99.9% pure, sapphire blue water that we are fortunate to recreate in and around. Please respect its pristine nature and that of the surrounding forests and mountains by packing out all you pack in. If no trash container is handy or is filled, take your trash with you and find another appropriate receptacle.
---
Lake Link Microtransit Shuttle
South Lake Tahoe, CA 96150