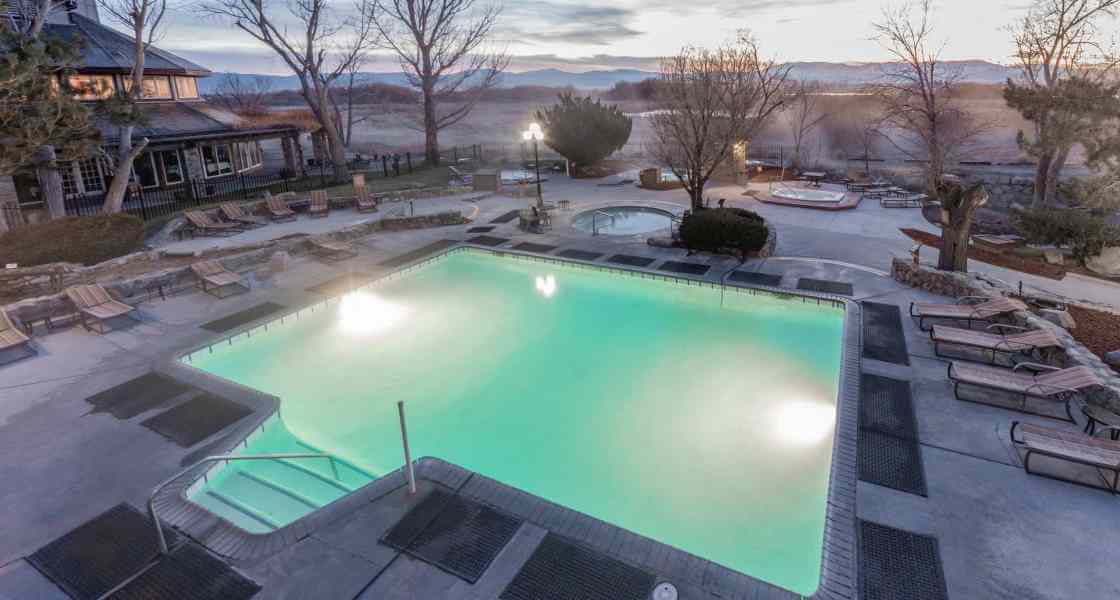 For a brief moment not long ago we caught the tail end of a real winter wonderland. It was great while it lasted, but I long for the days of that sweet Cali sunshine on the beach. I pine for the pines to be free of snow and muck. I willingly did my spring cleaning with a smile on my face just to officially change gears in my own head. It's only a matter of time now before spring has actually sprung, but luckily Lake Tahoe has something in store for all four seasons and then some. A favorite for the always unpredictable shoulder season is heading out to any one of the nearby hot springs.
The Tahoe Basin (or a short drive from it) is home to a number of hot springs, each known for the nourishing, therapeutic, mineral-rich water and steamy hot relaxation that you won't get from the frigid waters of Lake Tahoe. Some are constructed as outdoor pools, some a more natural setting, but always worth the trip.
David Walley's Hot Springs
David Walley's Hot Springs boasts five hot mineral pools, an outdoor heated pool, a steam room, dry saunas and a full-service spa. This is where you want to be for the ultimate R&R, soaking with a drink in hand. The resort is suitable for all ages so the whole family can enjoy the amenities, but also lets you escape it you choose. It's right down the street from Genoa Bar and Saloon – stop by for some neat history and neat drinks at Nevada's Oldest Thirst Parlor!
Steamboat Hot Springs
Steamboat Hot Springs is a healing center and spa, collecting water close to 200 degrees, which is then cooled and pumped into the outdoor pool and seven private indoor pools. In addition to the mineral baths, the retreat hosts spa services, a geothermal steam room, and infrared saunas. They take healing and relaxation to the next level, see for yourself how this cool little place sets the mood for an exceptional therapeutic experience. From the photo below: "My favorite thing about Steamboat is that no matter how I'm feeling, there's a soaking tub for the chakra I need to work on…"
Carson Hot Springs
Since 1849, the Carson Hot Springs has provided water therapy and spa treatments using enriched water with over nine healthful minerals. The water flows out of the ground at 121 degrees and comes from depths of 35,000 feet below the earth's surface. Founded during the Gold Rush, the Carson Hot Springs is still a popular local attraction offering big outdoor pools for everyone as well as a more personal and luxurious spa experience.
Sierra Hot Springs
Sierra Hot Springs is located 30 minutes north of Truckee, CA. in the beautiful Sierra Valley.
It's easy to be content with the abundance of things to do in Lake Tahoe, it's okay to get distracted by the glorious Lake Tahoe. Just don't forget about these hot spots (ha) perfect for day trips and plenty to do in each surrounding area.
Hot Springs Near Tahoe
Check out hot springs on Instagram