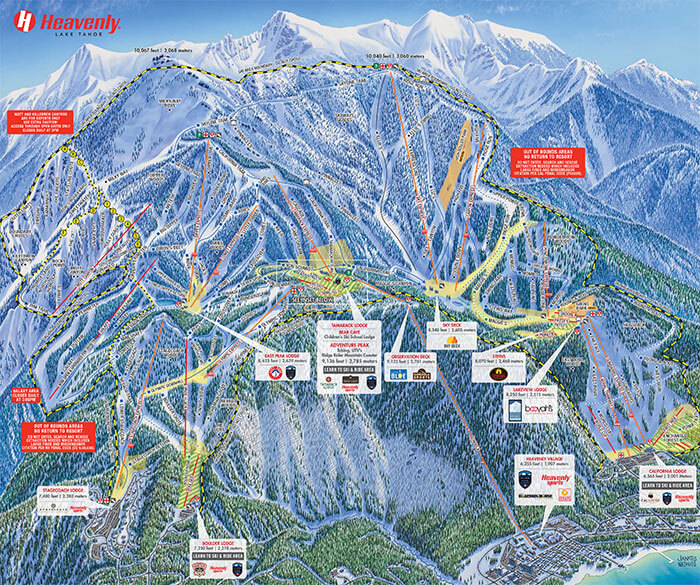 Lake Tahoe's Heavenly Mountain Resort is BIG! In fact, with a vertical of over 3,500 feet spanning 4,800+ acres, it's not surprising that it's one of the top 10 largest resorts in North America. With so much acreage, Heavenly has something for everyone. From well-spaced trees, a multitude of easy-going cut ski runs, two canyon areas with challenging chutes (Mott and Killebrew) and one true alpine bowl (Milky Way), you'll never say that Heavenly is a boring place. For first timers though, visiting this hulking brute of a resort can be downright frustrating. Don't worry, we're to help! With a little bit of planning and guidance, you'll be able to traverse this mountain like a pro, reducing the stress and increasing the fun.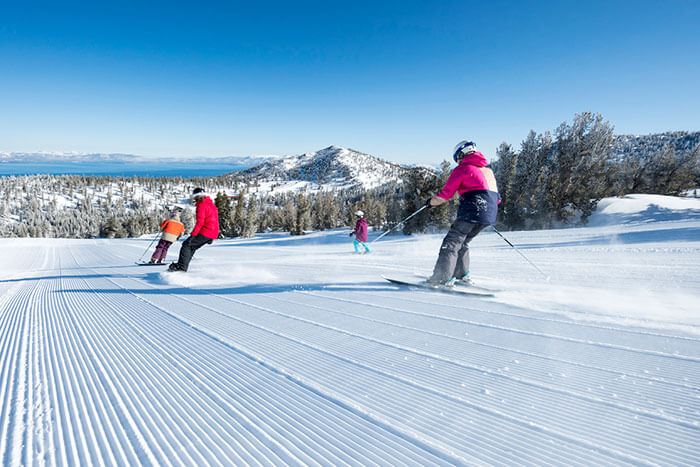 Skyline (Top of Sky Express To Dipper)
So, you've skied all the terrain around Sky & Canyon Express lifts and want to check out the Nevada side of the mountain. To do this, you'll need to take the Skyline trail from the summit of the Sky chairlift. Be forewarned… keep your velocity and don't get distracted by the views of the lake to your left. At over a mile in length, you need to pass the entrance to the Pinnacles and still keep going forward. You know you've made it once you see the Dipper chairlift, otherwise, keep that acceleration up.
Comet/Crossover (Comet Express to Stagecoach)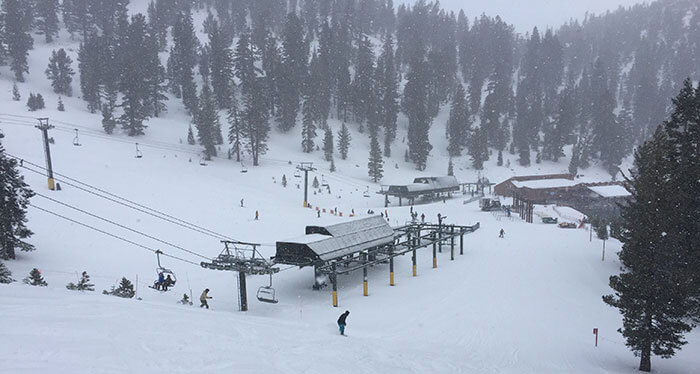 Comet & Dipper offer skiers and snowboarders fantastic views of the Carson Valley below as well as great groomers to lay out some turns. If you do make it to this side, don't miss the Olympic Downhill trail. Stretching over 5.5 miles and covering nearly 2,000 vertical feet, it's the perfect option for those that want to carve to their heart's content. To get to it, you'll need to take the Comet trail (off of the aptly named chairlift) and blast your way onto Cross-over. DO NOT slow down, otherwise, you'll be walking or skating the entire length until you get to the top of $100 saddle. From here, you'll schuss your way to the bottom of Olympic.
Pepi's (Top of Stagecoach To Dipper)
From the top of Olympic Express, take a right and proceed onto the Olympic Downhill trail. This run will get your legs burning as you wind your way all the way down to the base of Stagecoach Express. For those that want to get back to another part of the mountain, the traverse from the top of Stagecoach via Pepi's is a challenging one. The easier of the two options is to ski to Upper North Bowl and take Olympic Express up. From there, make a left onto Von Schmidt's which will let you drop back into the Dipper/Comet base area easily. The second and more direct route would be to take Pepi's from the top of Stagecoach. This is another flat route, meaning you need to keep your speed up or you might end up walking again.
California Trail (Top of Dipper To Sky)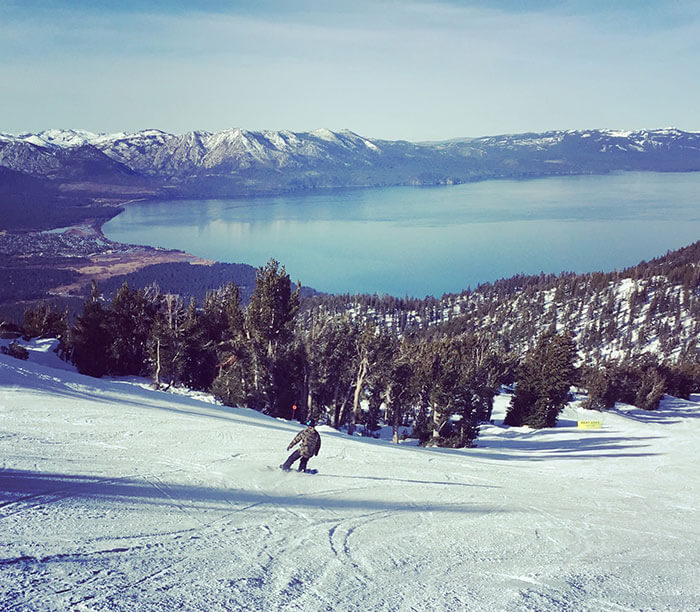 After so much skiing and snowboarding, your legs are done for the day. The problem is you're still in the Nevada area. From the top of Dipper, you'll want to head skier's left onto the California trail. Keep up your speed until you pass the Tamarack chairlift overhead. From there, you can let yourself relax and link some turns. As you ski past the Tamarack/Gondola area, take a tight left turn. You'll need to make sure you keep the momentum going. This long traverse can be deceptive, leading to you not making it to the bottom of Sky.
Being the largest and highest ski area in Lake Tahoe, Heavenly Mountain can be a challenge to navigate. Instead of getting frustrated, be sure that you have a plan. If you do, you'll make your time on the mountain "Heavenly".
Vail Resorts Announces Enhancements to the Guest Experience for 2021-22 Winter Season
Check out all the Ski Resorts on the South Shore here.
Check out Heavenly Mountain Resort on Instagram