So you think garlic fries only grow in Gilroy, CA?  Think again. Nestled in the Sierras, Heavenly Ski Resort harvests the most gratifying garlicky goodness this side of the lake.  Even better, the garlic fries are offered at all of the on-mountain lodges.  So you can pretty much stop anywhere, take a break and indulge (mints can be provided on an as-needed basis).
Here's your breakdown by area of the best spots to grab some grub on the mountain.
California
Healthier option you say? Offered on weekends, the salad bar at the California Main Lodge features three types of lettuce, fresh veggies, pasta salad, sliced deli meats and fresh fruit so you can save the calories for that chewy brownie staring you in the face as you line up at the cashier stand.
While you're on the California side, visit Steins, Heavenly's euro-themed spot for brats and beers. Partake in a savory sausage laid in a pretzel roll and a Spaten Oktoberfest brewski. Just up the hill from Steins is outdoor aptly-named Sky Deck where you can sit under the sun and dine on shrimp, tri-tip or veggie kabobs, flat bread pizza or a juicy elk burger.
Nevada
If you're looking for a sandwich to pair with the garlic fries head over to East Peak Lodge between the Dipper and Comet lifts and try a panini grilled to perfection. Rumor has it they may experiment with the Elvis Panini this season, a sandwich squashed to sublimity with peanut butter, banana and bacon. You just might get lucky and be there when Elvis is in the building.
Ski on over to Boulder Lodge on the Nevada side and help yourself to some amazing homemade meatloaf muffins on a hoagie roll. Throw in some biscuits and gravy and you've got yourself a party! And if you'd like to party, head over to the top of the gondola to Tamarack Lodge for Apres Ski at 3:30pm, where you can unbuckle your boots and dance to the hottest DJ while the sun sets in Lake Tahoe. Not to mention the half-priced drinks with a few must-tries: the hot and steamy Tamarack Toddy made with brandy, apple cider, pineapple and cinnamon or the Vitamin H cocktail mixed with premium citrus vodka, orange and cranberry juices, fresh blueberries, and a splash of Chambord or my personal favorite and ice-cold 20 oz. draught beer. I'm easy to please at the end of a day of riding.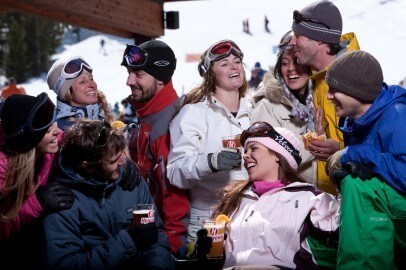 Now that your day of skiing has been punctuated with the appropriate amount of food and beverage, stop at Stagecoach Lodge and have a shot of Rumpy with infamous bartender, Stu. Then you too can claim to have gotten Stu-ed at Stagecoach! A good time awaits at Heavenly…Happy Eating, and don't forget to ski a little while you're there too.