Weekend Road Trips in California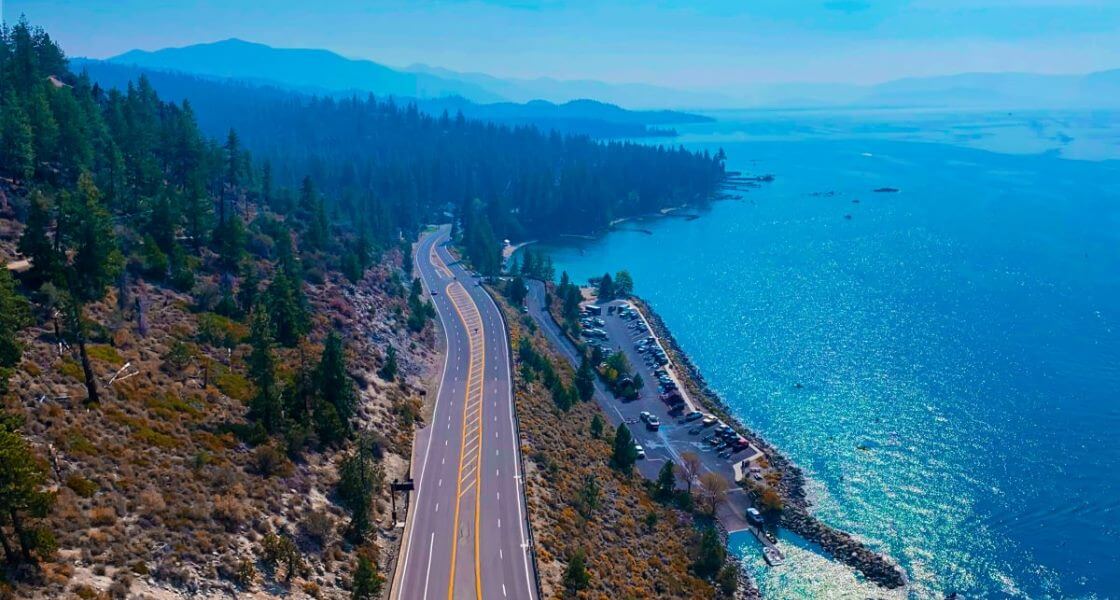 Best Weekend Road Trips in California
Easy California Road Trip Destinations
You've got mere days to getaway. Where do you go that's a short drive, extraordinarily picturesque, is packed with activities, and is one of the best weekend road trips in California? Lake Tahoe!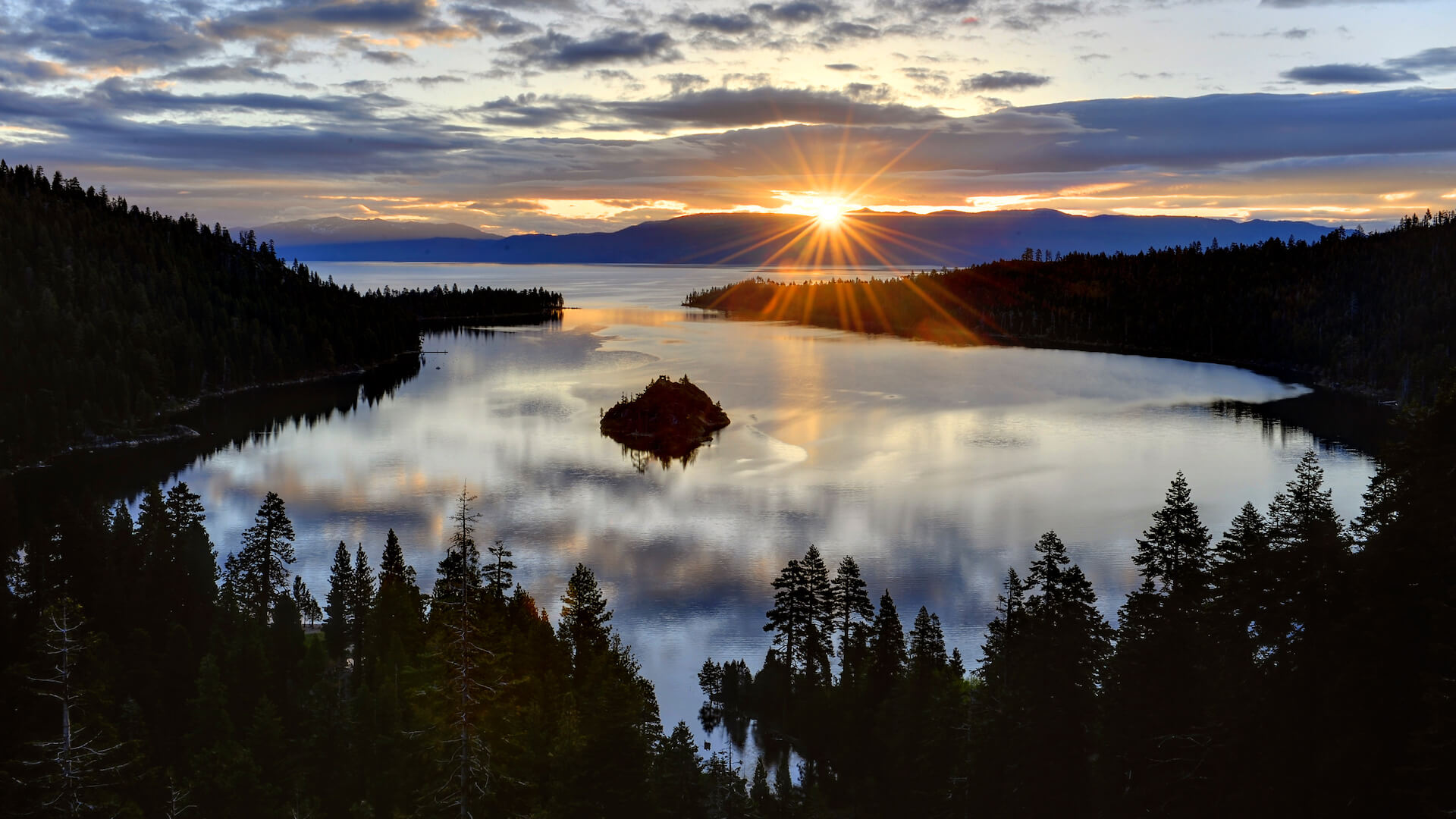 When searching for California road trip destinations, tempting Tahoe leaps to the top of the list. If you live in the San Francisco Bay Area, it's only a few hours away. Sacramento residents can get to Lake Tahoe in about two hours. For an extended weekend stay, Los Angeles, San Diego or Southern California road trippers can reach Big Blue in about a days drive. From the Biggest Little City on Earth, Reno, it's a quick, hourlong drive.
Simply ready the car and family, or perhaps round up your friends or significant other and head for the hills and a dreamy weekend escape. You can even pack up your pooch, many places in Tahoe are dog-friendly!
Want a rustic lodging experience…but with a beer garden conveniently located just feet away? Stay in one of Basecamp Hotel's eclectic rooms, like the Family Room with bunkbeds or the Great Indoors with a tent covering the bed, faux fire pit, and the best part: a real bathroom next to you.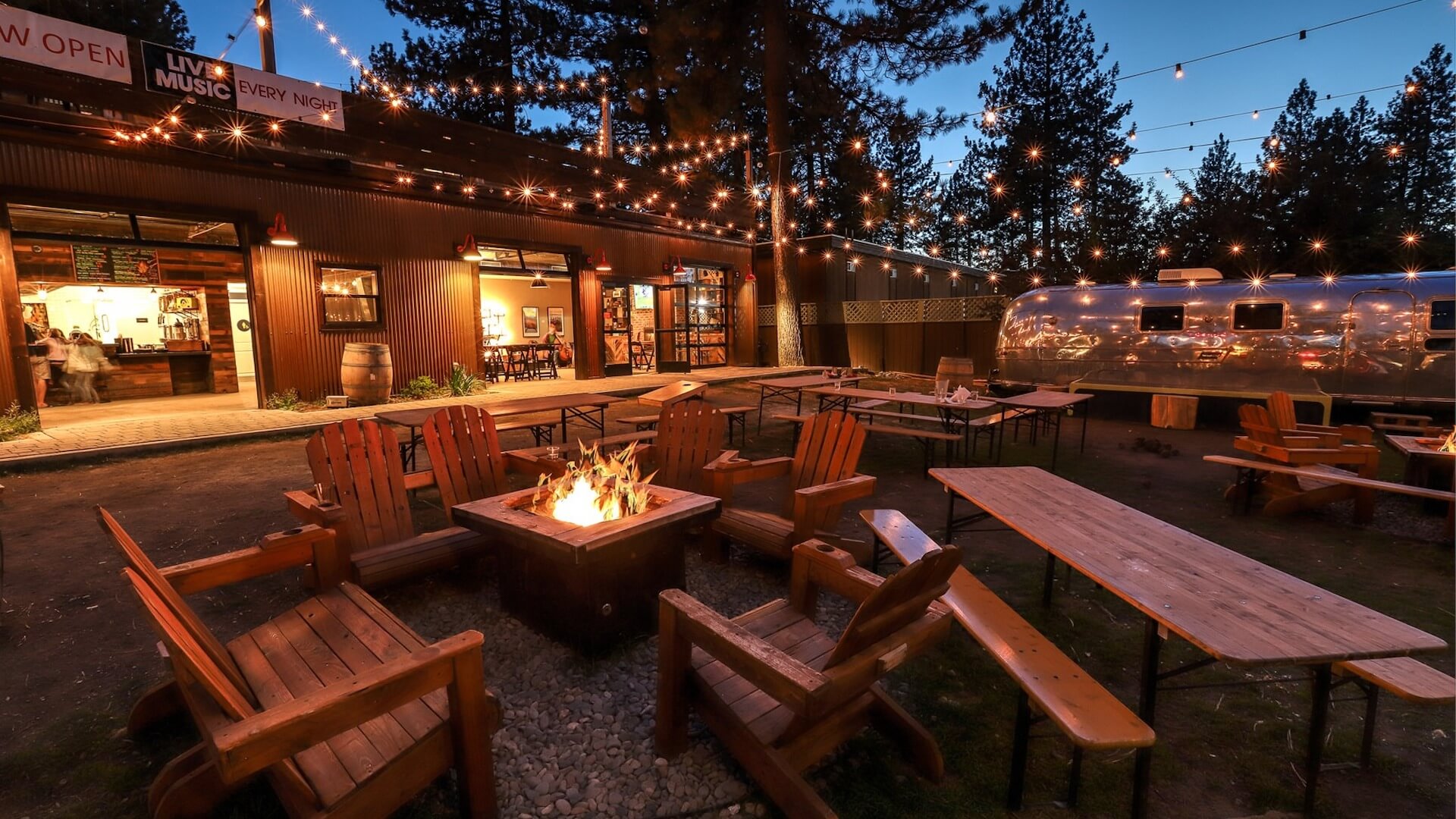 With 261 recently renovated, lakeside rooms, the Beach Retreat and Lodge also offers three restaurants, including a tiki bar serving up tropical cocktails. Also, lakeside, are rentable cabins nestled amongst the trees at Camp Richardson Resort and Zephyr Cove Resort. At the Lodge at Edgewood, you can stay in the lap of luxury with an acclaimed golf course and several dining and imbibing options only steps from your room.
In fact, there are hundreds of accommodation options in Lake Tahoe, including vacation rentals and B&B's, so a bit of hunting will reveal a place that fits all your needs and desires, but will complete your ideal of Tahoe being one of the best road trip destinations in California.
Great Restaurants Help Make Tahoe One of the Best California Road Trip Destinations
From burgers to fine dining, your taste buds will long for Tahoe's restaurants after you leave. But hey, you can come back, it's just a quick jaunt away!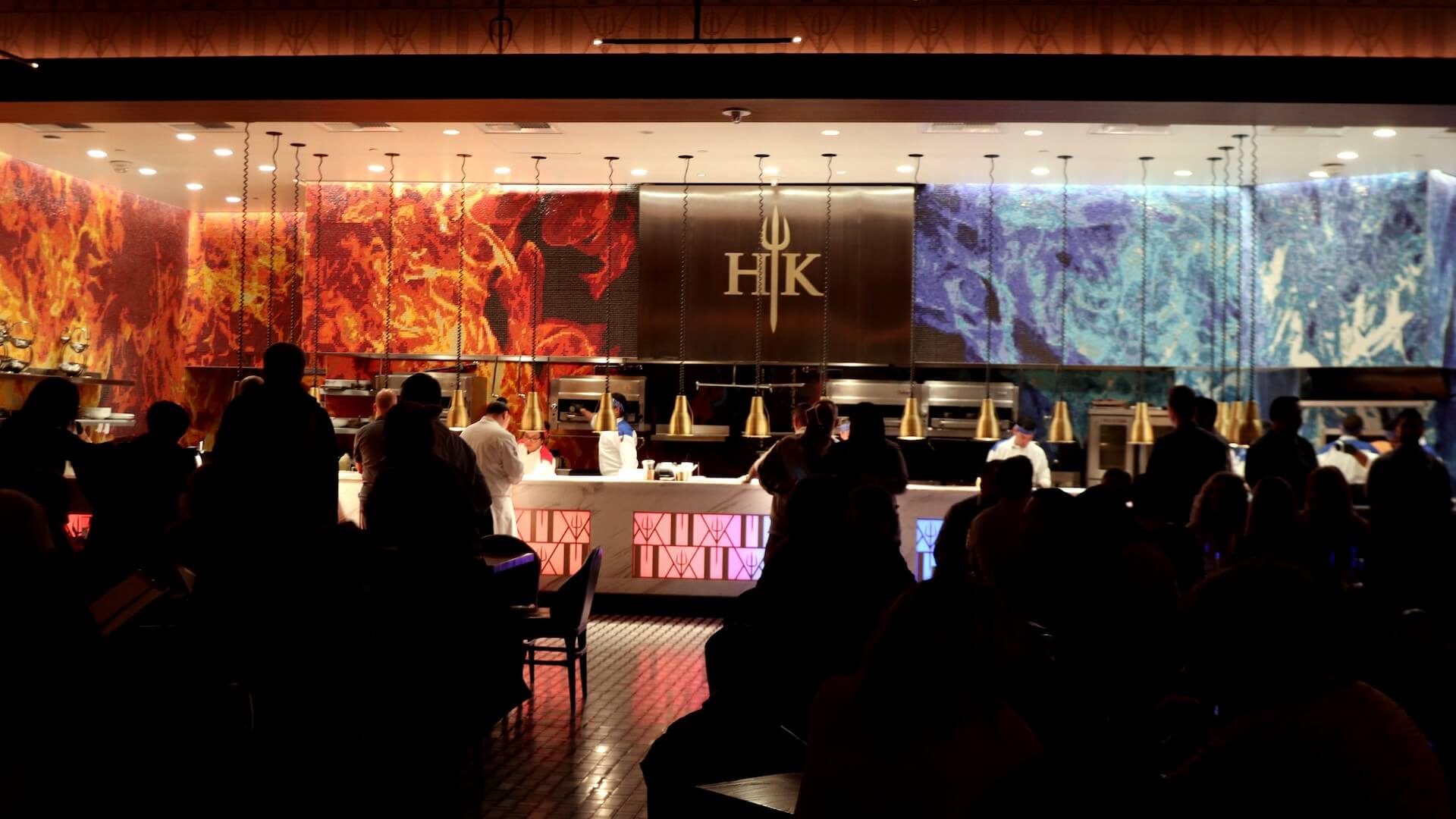 Seeking a sumptuous dining experience? Evan's American Gourmet Café has been featured in national media for its exquisite dishes. Or, at Harvey's Lake Tahoe, dine on the feisty famous chef's decadent fare at Gordon Ramsey's Hell's Kitchen.
Delectable, gourmet shared plates can be feasted upon at Taste at The Loft in an intimate atmosphere, with creative cocktails alongside.
Hankering for some barbecue? Fox and Hound is a local's favorite featuring their own style of smoking and grilling meats over cherrywood.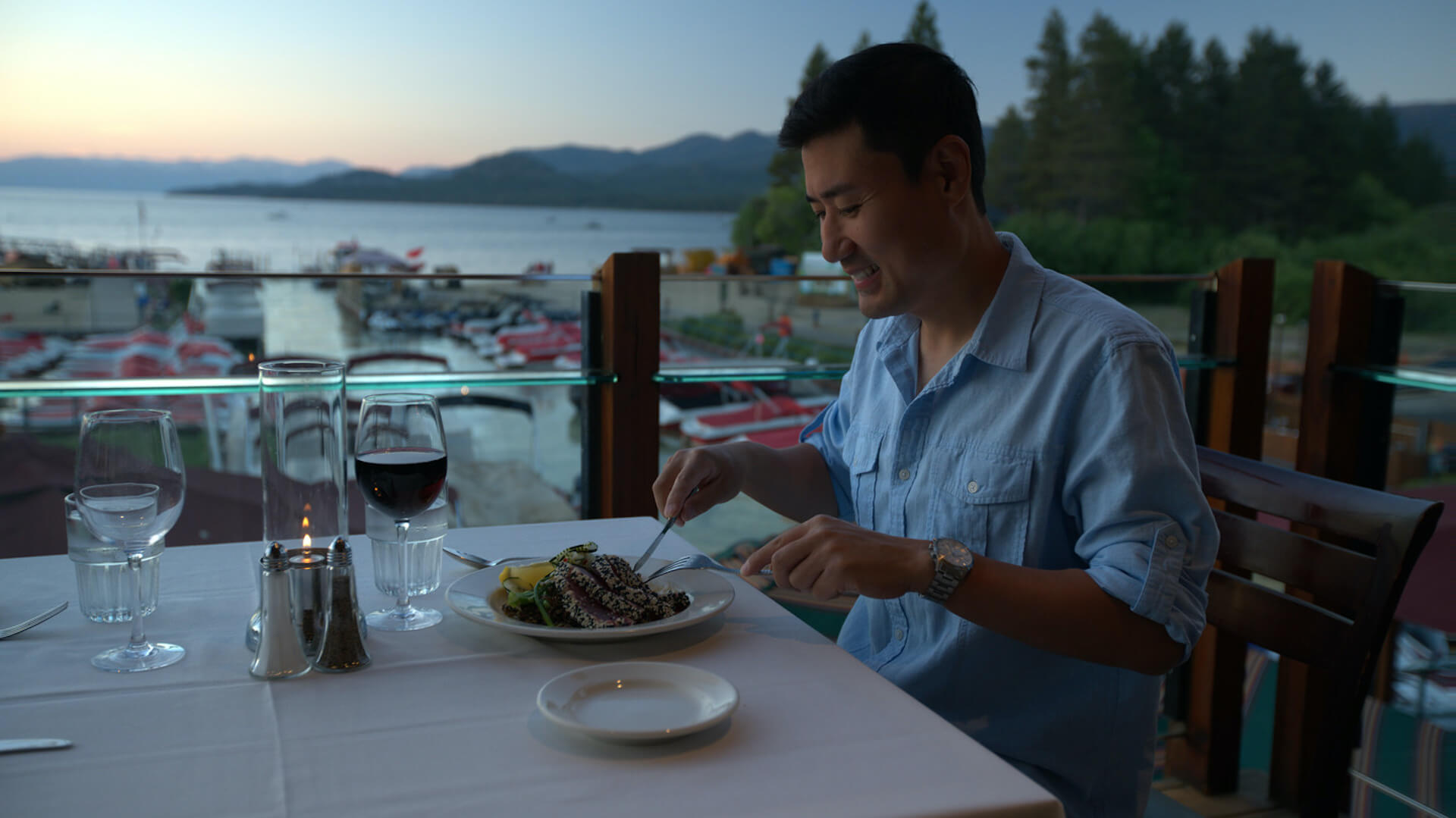 Located on Ski Run Marina, Riva Grill's menu touts American classics, mouthwatering drinks, and spectacular views. Its name and interior invoke the era of classic wooden boats that once and still continue to dot Tahoe.
The Beacon at Camp Richardson is another fave, not just for their spectacular lakeshore location, but for their notoriously delicious and intoxicating Rum Runner. At the base of the gondola, Heavenly Village also boasts multiple dining options to fuel up for mountain fun.
Tahoe's Things to Do Always Lead to a Great California Weekend Road Trip
"Everything is right there," frequent Lake Tahoe visitor Christian Zahn shares. "You have that juxtaposition of thriving nightlife and in the daytime, there's so much to do outdoors, you can lose yourself without getting lost."
Finding Tahoe's things to do on your getaway is never an issue, no matter the season, and the area's activities make it one of the best destinations for weekend road trips in California Plus, it's a year-round destination. In fact, you may need to stay an extra couple of days to pack it all in. Or, just come back…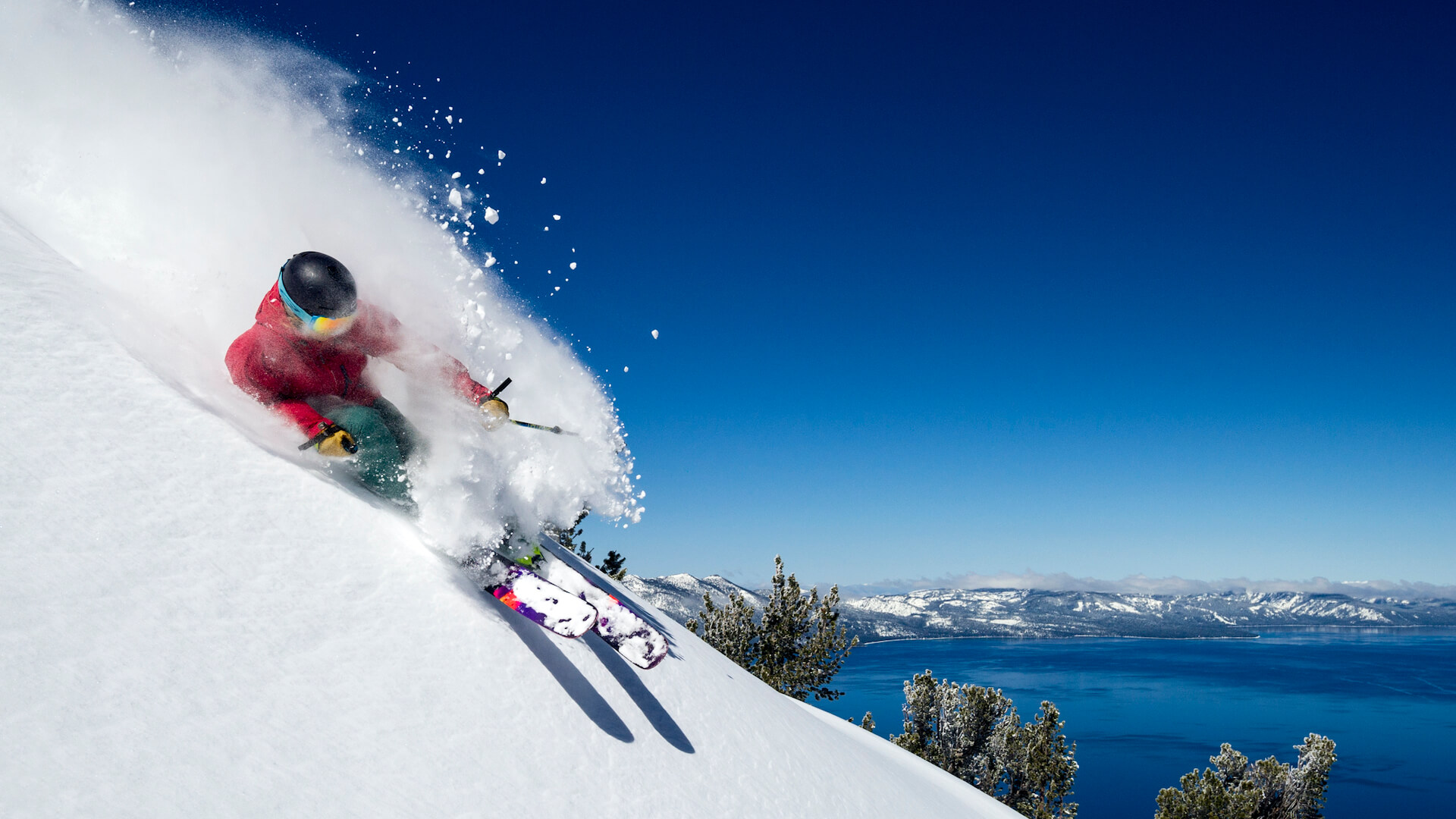 World-renowned for its ski resorts, Tahoe has an abundance of winter activities. Take a horse-drawn sleigh ride, go resort hopping (there are many nearby, some right in Lake Tahoe like Sierra-at-Tahoe and Heavenly), or just bask in the snow-capped magic by a cozy fire pit with a cocktail in hand.
In summer or winter, exhilaration can be found straddling either a jet ski and riding the wake or a snowmobile and checking out the backcountry. Plant yourself on a tube and, in summer, go barreling down Heavenly's 500-foot hill. In winter, do it on the snow.
When warm, bring out your inner cowpoke and go horseback riding at either Camp Richardson Corral or Zephyr Cove Stables. While at Zephyr, step back in time with a ride on the historic M.S. Dixie II Paddle Wheeler to Emerald Bay during sunset. Camp Richardson's Rum Runner cruise is also seriously grin-inducing.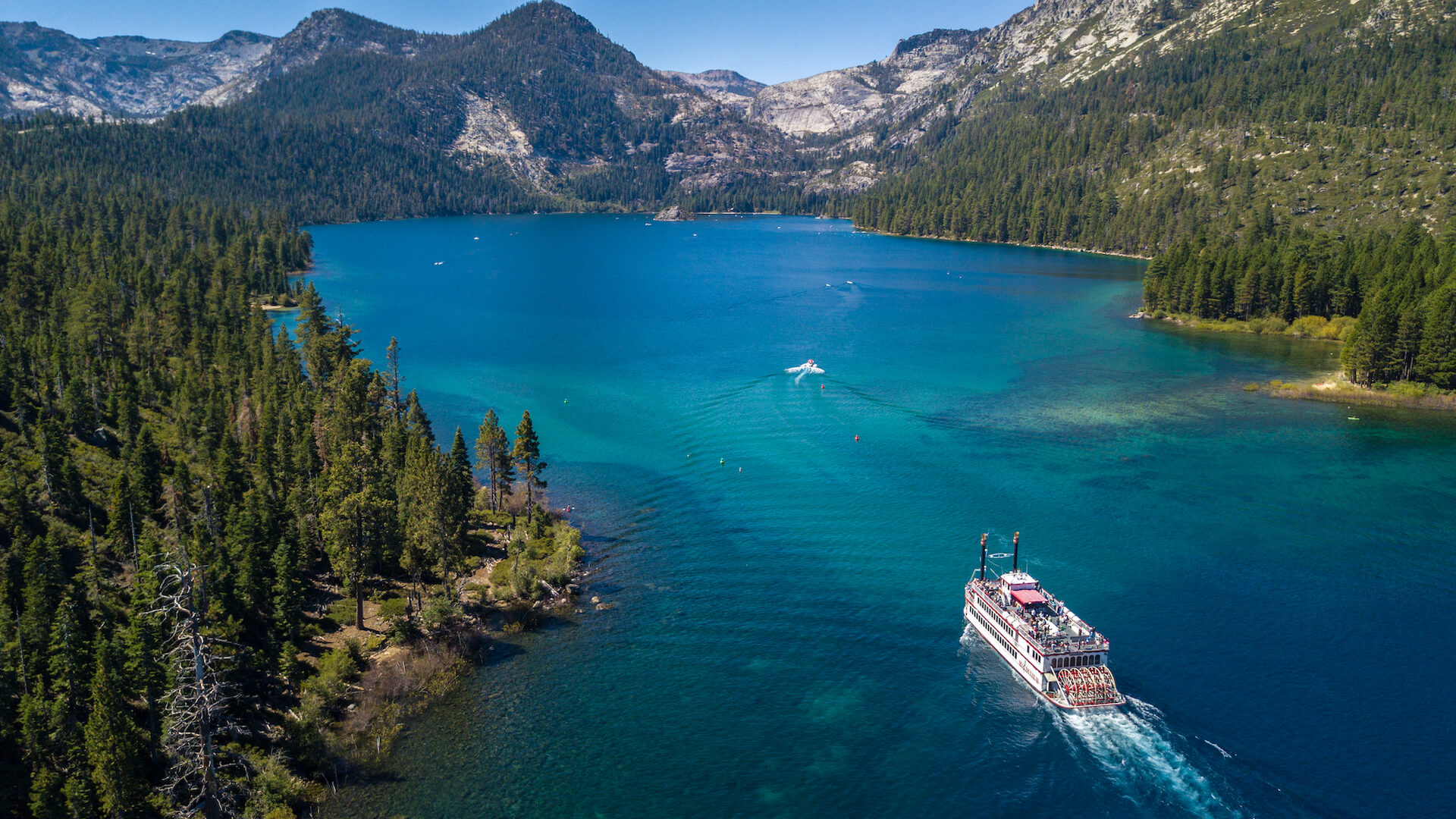 Golfer? Take a few swings where the celebrities play each summer at Edgewood Tahoe. Then, relax in their luxurious spa before watching the sunset into the stunning cerulean abyss over dinner at Edgewood Restaurant.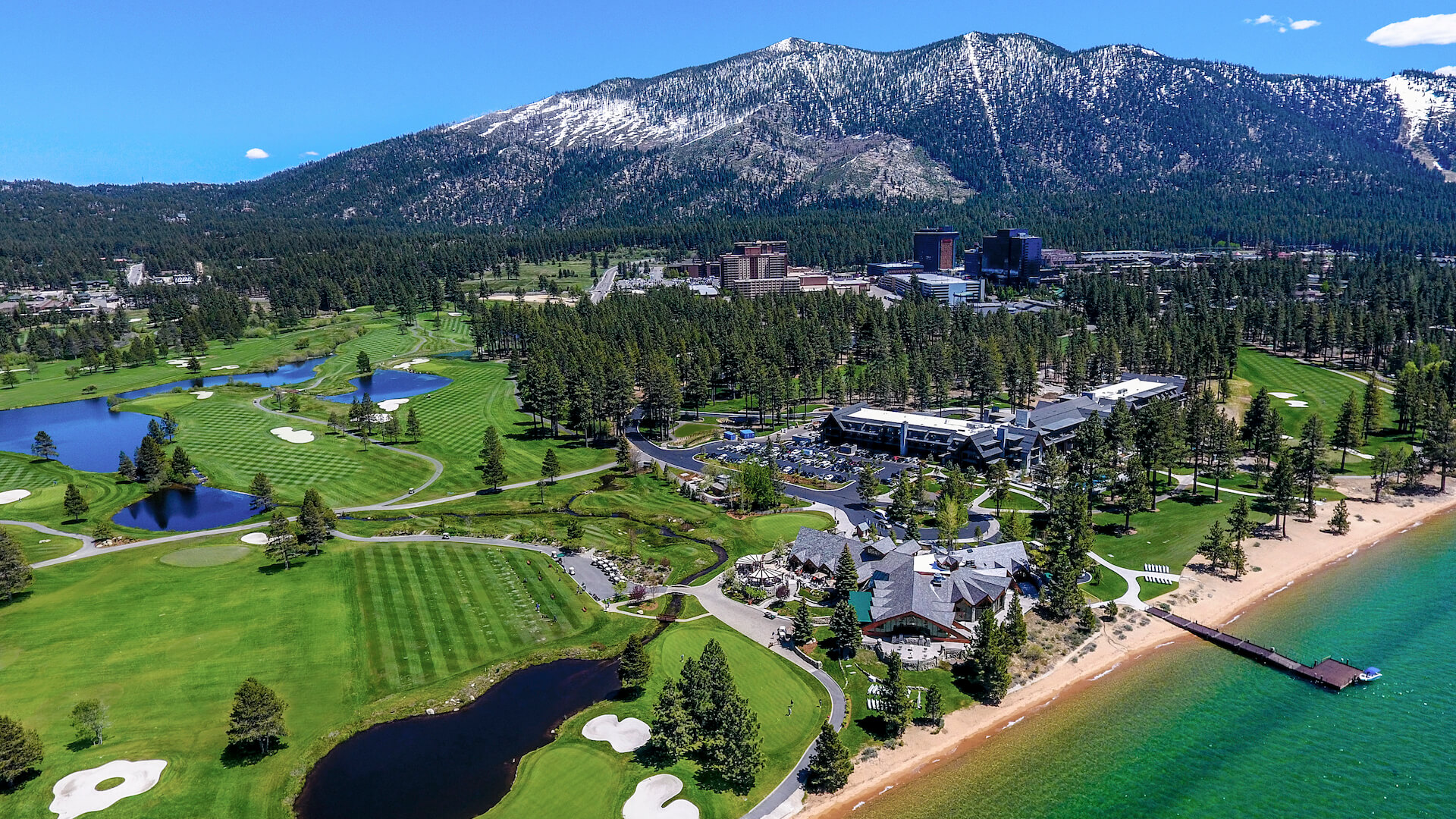 Love history? Visit the Donner Party Memorial at nearby Donner Lake, then take the scenic route back to Lake Tahoe, stopping at the home of the 1960 Winter Olympics, epically beautiful Squaw Valley. Afterward, cruise along the west shore, popping into scenic Emerald Bay to explore the historic, Scandinavian-style Vikingsholm Castle. For a final dose of Tahoe's past on this stunning drive, tour the 100-year-old Tallac Historic Site.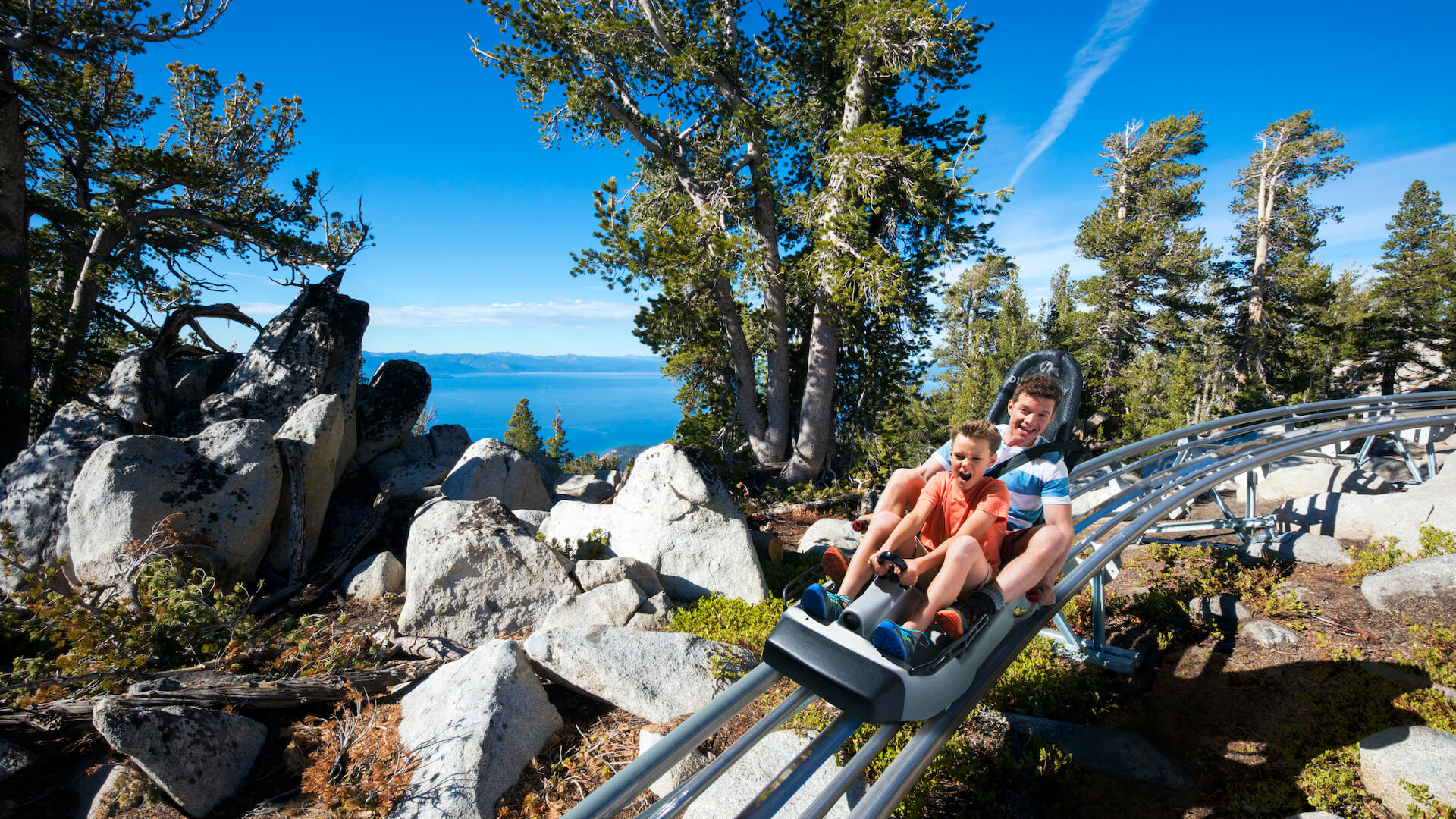 Adrenalin rush needed? Heavenly's Epic Discovery Pass grants all ages access to their mountain coaster, zip line and so much more.
Want some nightlife? Get gaming at any of the Stateline resorts, then dance the night away at PEEK Nightclub, Opal Ultralounge or Blu Nightclub.
Tahoe is the Perfect Place to Go Hiking on a Weekend Road Trip in California
Adrenalin spikes are the norm around Lake Tahoe. So many activities can be found to make your face break into a huge smile and get your blood pumping. Here's how.
Get a Lake Tahoe hike in..or three, and explore the many trails that lead into the surrounding mountains and alpine lakes. Rent or bring a bicycle and cruise along the lakeshore for a mellow ride, or gear up and hit some of Lake Tahoe's exhilarating mountain bike trails.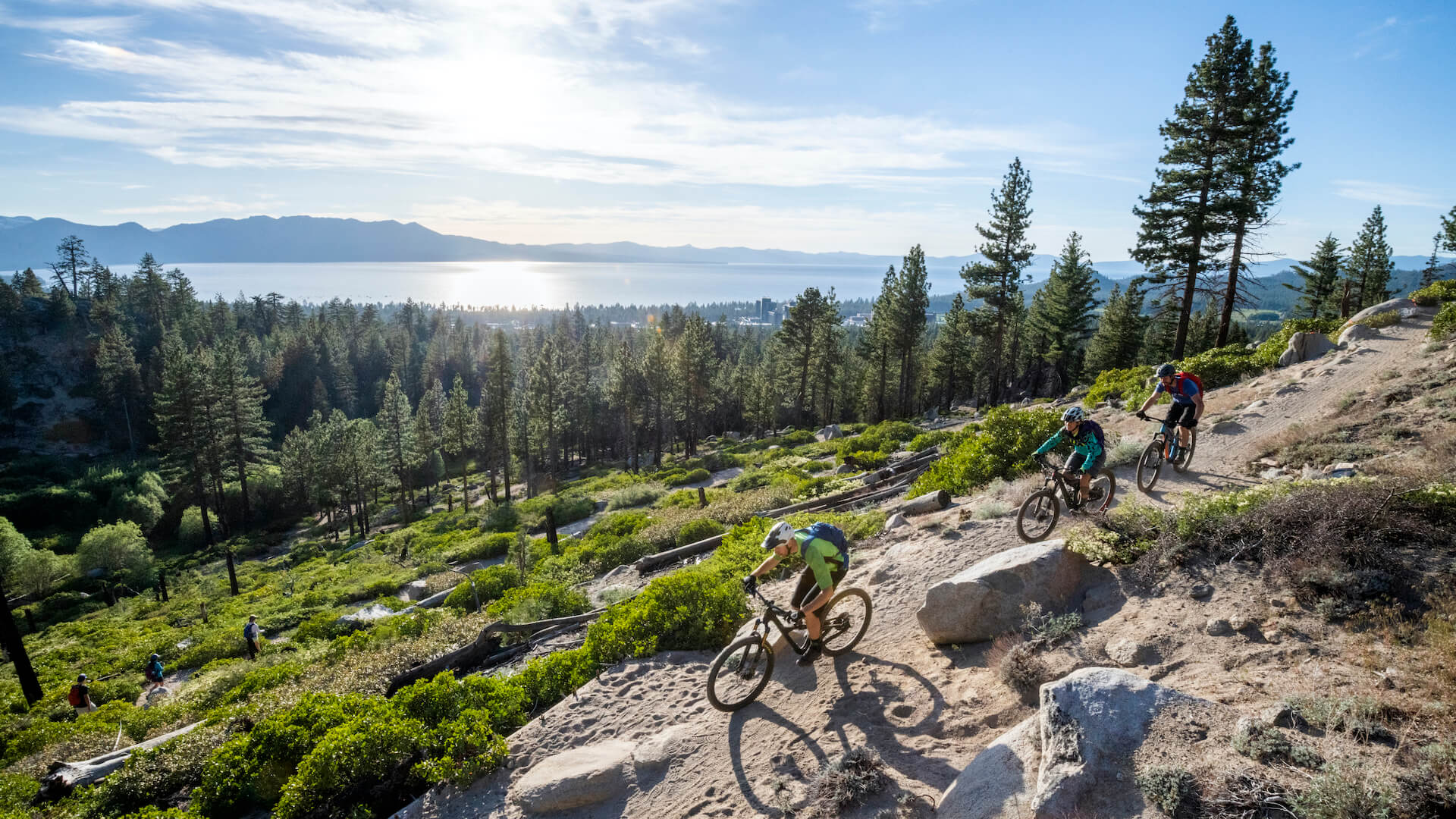 Hardly a more picturesque spot on the planet exists to hike around than Lake Tahoe. Trek through Desolation Wilderness, Emerald Bay, above Heavenly or in the hills surrounding Zephyr Cove.
Swimming is a given. With a sparkling, crystal-clear turquoise lake beckoning, just jump in for a refreshing break from the heat or break out the paddleboard or kayak and explore this alpine jewel from the water.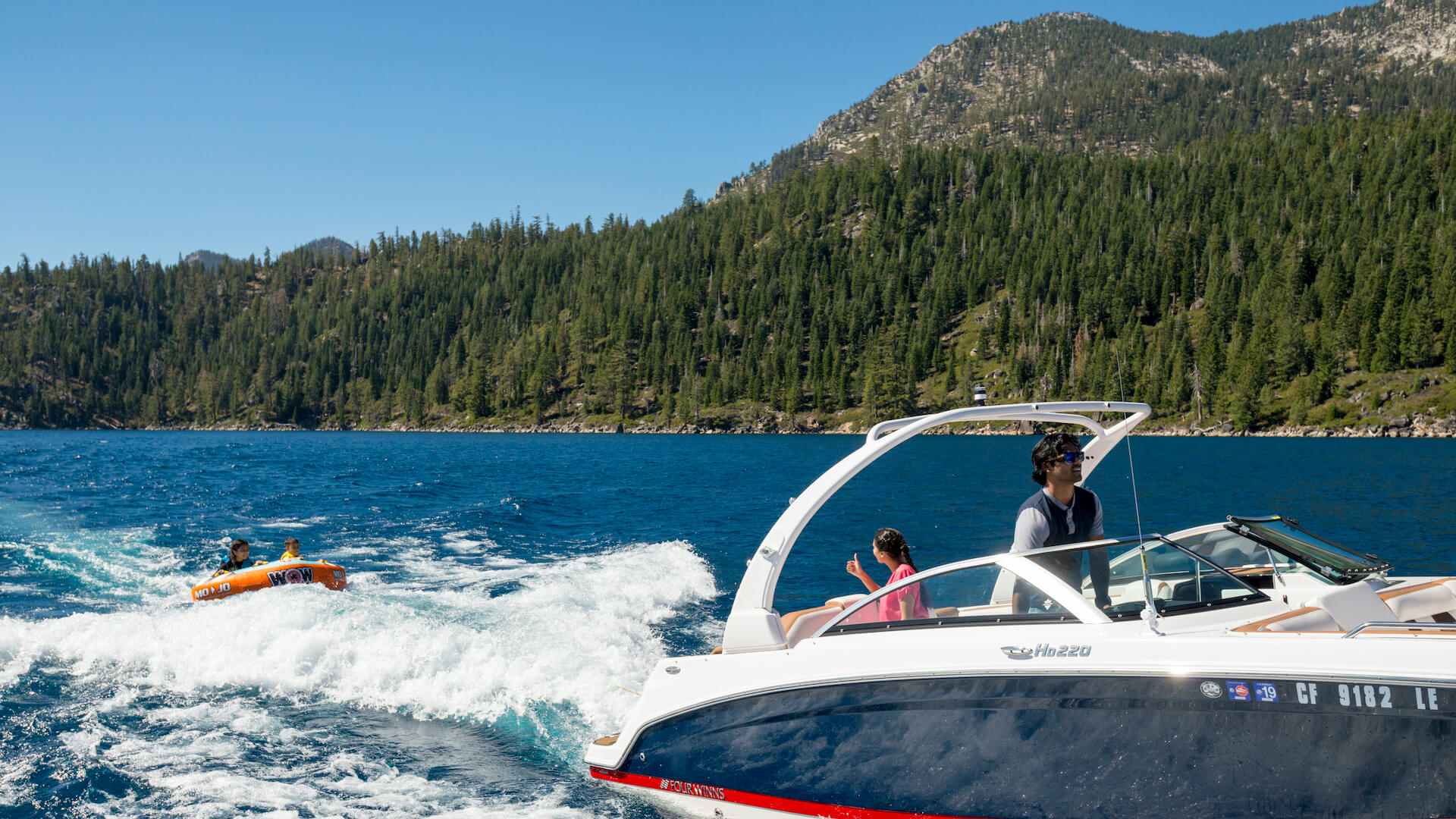 Boat and jet ski rentals are also easy to find on your fantastical California weekend road trip. Take a guided boat tour or rent one of your own for the day.
Tahoe has something for everyone, all ages and all walks of life. For an extraordinary weekend road trip in California, follow I-80 to your mountain oasis, Lake Tahoe.
Bringing the family? Here are some road trip games to play in the car with kids to keep them entertained on the drive.
Telephone: Have a child begin a story by whispering it to their neighbor in the car. Then, repeat the process until it gets to the last person, who repeats the final version it to everyone and sees how far off the story got from the original.
License plate game: designate someone to keep track in a notebook, and see how many license plates from different states you can spot on the drive.
Alphabet game: Write down all of the letters of the alphabet in a notebook. Then, find words that begin with each letter and cross out the corresponding letters as they're found. First to find all the letters wins.
Related Article:
Lake Tahoe Road Trip