Discover this 5.1-mile out-and-back trail near Kirkwood, California. Generally considered a moderately challenging route, it takes an average of 2 h 7 min to complete. This is a very popular area for backpacking, birding, and camping, so you'll likely encounter other people while exploring. The best times to visit this trail are April through October. Dogs are welcome and may be off-leash in some areas.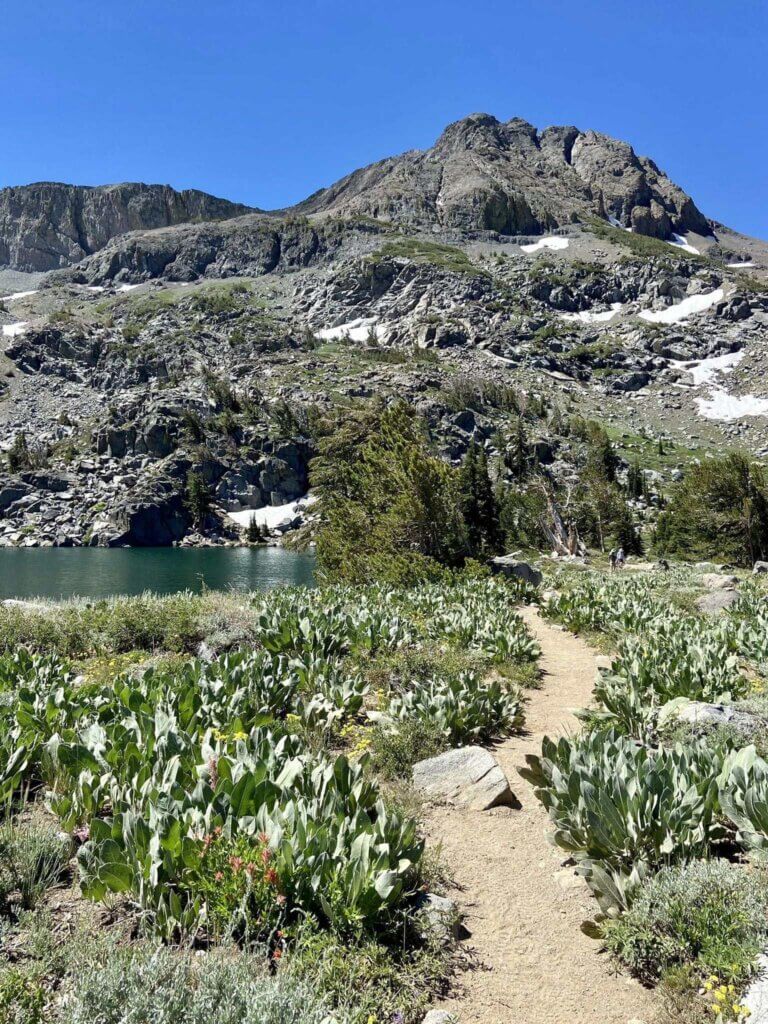 A Wilderness Permit is required for all overnight trips to the Emigrant, Carson-Iceberg, and Mokelumne Wilderness Areas.
Please visit this link for additional information prior to your visit: https://www.fs.usda.gov/detailfull/stanislaus/specialplaces/?cid=stelprdb5361242&width=full
Day-use only requires a trailhead permit at Carson Pass Management Area (CPMA): https://www.fs.usda.gov/detailfull/eldorado/specialplaces/?cid=fsbdev7_019058&width=full.
Excellent moderate hike at Sierra crest southwest of Lake Tahoe Only the fiercest blizzards close Carson Pass, which crosses the Sierra Nevada crest about 30 miles southwest of South Lake Tahoe. The trailhead is next to a parking lot on California Highway 88, which means you can drive up, park and start hiking, snow-shoeing or cross-country skiing within minutes.
Lake Winnemucca offers a beautiful introduction to high-country hiking: it's a little over 2 miles south of the Carson Pass trailhead with about 600 feet of elevation gain. Count on about five miles of hiking, and give yourself extra time if you're coming up from sea level: Starting out at 8,500 feet will be a shock to your system; don't expect to maintain your lowland pace. Veteran hikers and skiers often move on to Round Top, a jagged peak rising behind the lake, but rookies should stick to this easier alternative. Weekdays with clear weather forecasts are the best time to go; it can get crowded on the weekends and parking can be scarce, even in the depths of winter. In early July you're apt to meet Pacific Crest Trail through-hikers on their way from Mexico to Canada. Summer: $5 summer day use fee to park at Carson Pass. Pay via green iron ranger near the trail head. Winter: Nov. 1 to May 30: Sno-Park permit ($5) must be acquired at a U.S. Forest Service ranger station. Wilderness permits required for overnight stays in the backcountry — also available at Forest Service sites.
Lake Winnemucca from All Trails
Lake Winnemucca from US Forest Service
Lake Winnemucca Trail
CA Hwy 88, South Lake Tahoe, CA 96150