Lake Tahoe Hike: Horsetail Falls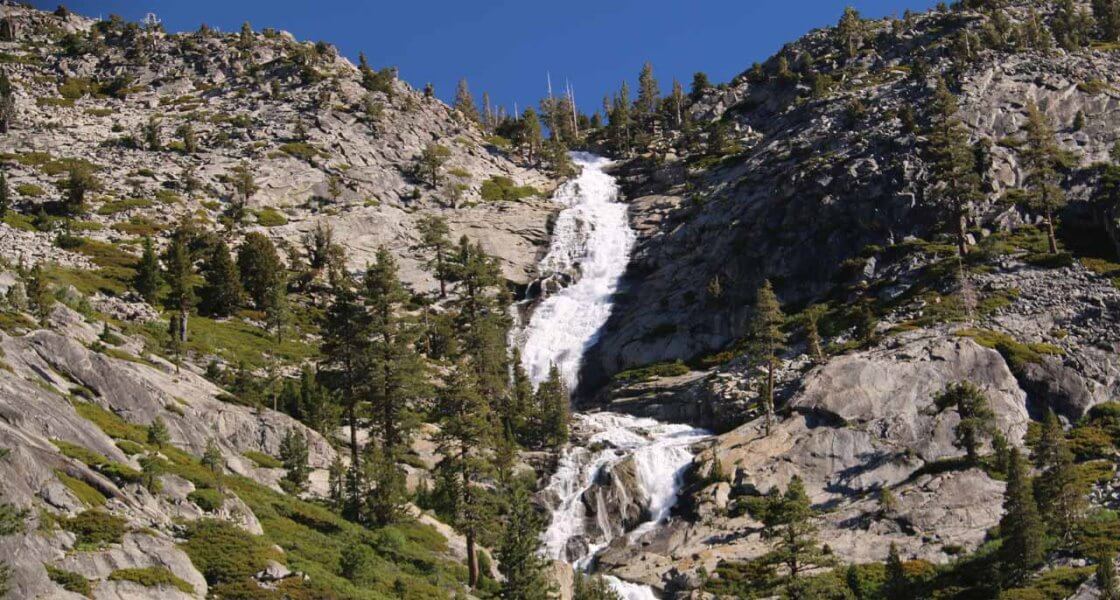 One of the reasons I love living near Lake Tahoe is that I can simply step out my front door and go for a walk to enjoy the surrounding scenery. But what I love most is to get out on a longer hike, enabling me to get a peek at a lot more than just the trees.
If you are looking for a challenging but fun hike that gives you stunning views from the bottom of the trail to the top, I recommend Horsetail Falls.
Did you know that there are multiple waterfalls around the world that have the name "horsetail?" They are named after the way water comes off the rocks. This type of waterfall maintains contact with the bedrock most of the time before eventually coming off… which resembles a horse's tail.
The trail is a three-mile hike (depending on how far you want to go) with only 600 feet in elevation gain. Being the adventurous spirits we are, we like to take the "Wilderness Boundary Trail" which leads you to the base of the waterfall. You can also take the "Pyramid Creek Trail" which is a shorter trail parallel to Pyramid Creek and perfect for families and beginner hikers. From here, you will still be able to get a stunning view of Horsetail.
We pack a light lunch with us so we can take a break before the hike back. We can barely hear ourselves talk because of how loud the rushing waters are, but we like how relaxing it is. Please remember to be cautious while hiking anywhere on this trail as it can be very slippery in some parts.
To get to Horsetail Falls, take Highway 50 from South Lake Tahoe towards Placerville. About two miles past the town of Strawberry, you will see a pull-out on your right with a parking lot. Parking is only $5 (unless you don't pay, and then the fine is pretty steep!).
We have been on a waterfall mission lately. So please let me know any of your Lake Tahoe favorites!
Lake Tahoe Hike: Horsetail Falls
Check out Horsetail Falls on Instagram
Related Posts: