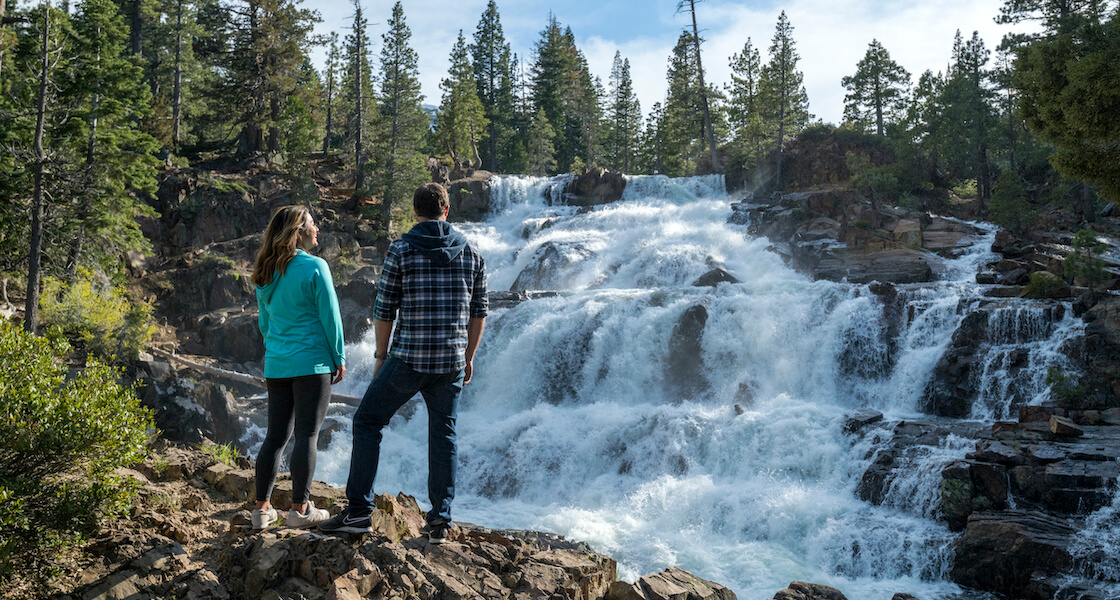 Many different hikes can be accessed from this trailhead. For a short walk, try the 2-mile hike to Grass Lake. Another longer, more strenuous hike to Lake Aloha leads you past a small waterfall, a beautiful meadow , nd three alpine lakes. A third option is a moderate hike to Half Moon, Alta Morris or Gilmore lakes. Take Highway 89 north approximately 3 miles from South Lake Tahoe to Fallen Leaf Lake Road. Watch for bicyclists and other cars on this narrow, one-lane road. Continue 4.5 miles until you see the Glen Alpine trailhead sign and turn left. Trailhead parking is across from Lily Lake. A wilderness permit is required for day hikes into Desolation, (self register at the trailhead.)
This is a great destination that is a little off the beaten path. Both the upper and lower falls here offer an up-close experience with the rushing water. The upper falls is a one mile, round trip hike where the falls drop about 30 feet. The trail heads up the backside of Mt. Tallac and into Desolation Wilderness, but hang left once you see the falls and the trail will take you up to the top. The lower falls are more impressive, plummeting about 60 feet down the step-like rocks. The best part of the lower falls is that there is virtually no hike to get there. Simply park and stroll down to the already visible rushing waters.
Take Hwy 89 north from the Hwy 50 junction for about 3 miles. You will see Fallen Leaf Road on your left. Take Fallen Leaf Road about 5 miles and continue left upon seeing the marina and signs for the falls. Continue straight past the firehouse and parking for the lower falls is along the right side of the road. Continue further and you'll arrive at the parking lot for Desolation Wilderness and the upper falls.
Difficulty: Moderate to Strenuous
Elevation: 6,560'/9,735′
Mileage (one-way):2 miles to Grass Lake, 4 miles to Susie, 5 miles to Heather, 6 miles to Aloha, 4½ miles to Half Moon, 5½ miles to Alta Morris, 6 miles to Tallac (strenuous)
Glen Alpine Trail on AllTrails
Glen Alpine Falls on TripAdvisor
Glen Alpine Trailhead
1580 Glen Alpine Road, South Lake Tahoe, CA 96150