When most people think of fall, they imagine dreary weather. Guess what? In Lake Tahoe, that just isn't true! There's a reason why our residents call this the "Local's Summer". Crowds dwindle, the sun is still shining, and during the day, it warms up. It's the ideal time to escape from the doldrums of daily life. Let's get inspired for a fall getaway to Lake Tahoe!
See the Fall Foliage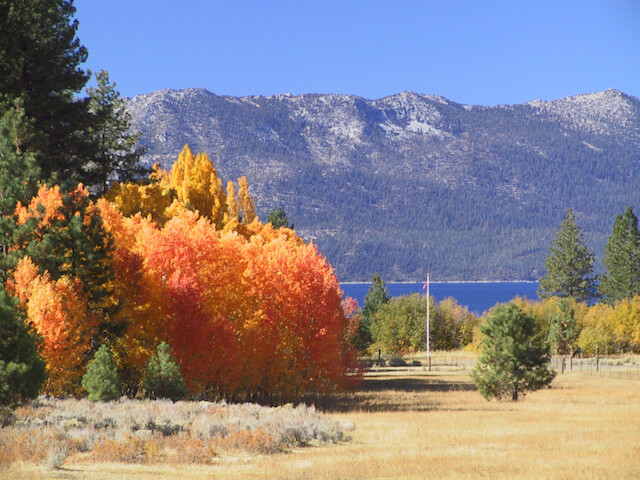 We can't talk about this time of year without mentioning the fall colors. Oh… the marvelous color! Mother nature really brings out her full box of crayons when she paints the scenery in Lake Tahoe. One of our personal favorites to enjoy the fall foliage is Fallen Leaf Lake. Sitting nearly 152' above "Big Blue's" shoreline, Fallen Leaf Lake gives you a great vantage point of the most recognizable peak in the basin, Mt. Tallac. And the added bonus is the perfect view to experience the season's colors in Frederick's Meadow. An easy relaxing hike, the meadow itself is surrounded by aspen stands and conifers, allowing you to get a little outside exercise AND enjoy the scenery.
Directions: From South Lake Tahoe, take Hwy 89 north. Just past Camp Richardson, turn left onto Fallen Leaf Lake Road (FS road 1212). Drive past the campground, and you will see a small trailhead. The trail wanders through the meadow and then reaches the lake. There are additional pull-out spots along the road up to where there's a gated road on the left.
If you need a few more ideas on where to see amazing fall color, check out our Lake Tahoe Fall Colors article.
Spice Up Your Vacation With Some Brew Tasting
For those that haven't noticed, South Lake Tahoe has exploded on the craft brew scene to rival ANY mountain town for its barley pops. After a day of adventure, be sure to carve out a bit of time for a taste of local flavor via the Lake Tahoe Beer Trail. With over nine breweries, you'll find the one that best fits your style.
Cruise Your Palette With A Wine Tasting Tour
Not into beer? Don't worry, we've got you covered. With easy access to award-winning Northern California wines, you can explore the great outdoors and taste some marvelous wines. That's right! You can have your cake AND eat it too in Lake Tahoe. For those wanting a one-of-a-kind adventure, look no further than Tahoe Tastings. Hop aboard a 1953 Chris Craft Venetian Water Taxi departing from the Tahoe Keys Marina and circle the beautiful Emerald Bay. On the tour, you'll enjoy eight wines from various Northern California regions.
Check out Fall at Lake Tahoe on Instagram