Sunday FundRaise at Flatstick Pub
June 4
11:00 am - 10:00 pm
Flatstick Pub & Queer Crush Climbing Present Sunday FUNDday
South Lake Tahoe's first indoor mini golf course, Flatstick Pub, also known as Tipsy Putt, will be teaming up with Queer Crush Climbing to give back to South Lake Tahoe's community and celebrate Pride Month. Each Sunday of June, Flatstick Pub will donate $1 for every beer and $1 for every round of mini golf purchased.
Flatstick Pub's one-of-a-kind mini golf course encourages camaraderie and a chance to bond with fellow civic-minded citizens over the needs of our community. Guests can learn from Queer Crush Climbing representatives how their efforts meet the challenges of their mission head-on.
Locally owned and family-operated, Flatstick Pub is seeking to enliven and empower its community by hosting Sunday FUNDday once a week every month with the intention of raising $200,000 for local nonprofit organizations in 2023.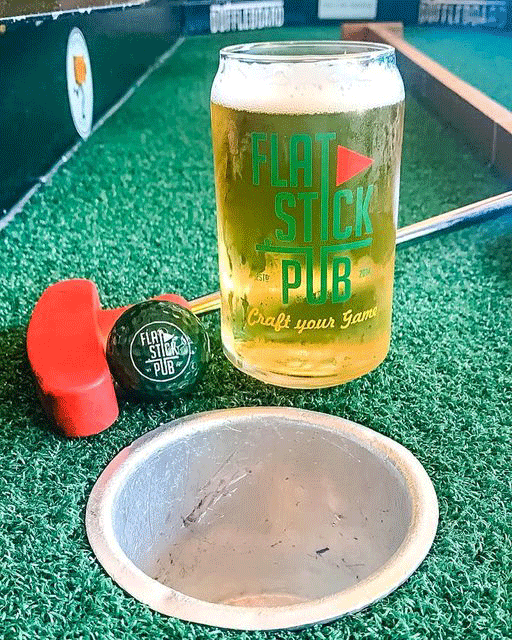 About Queer Crush Climbing:

Queer Crush Climbing is about creating safe and inclusive spaces for those who are diverse in their gender, romantic, and sexual orientations. We empower Queer, Trans, Black, Indigenous, and People of Color of all abilities to seek healing, health, community and connection with the land through the art and sport of climbing.
For more information about Queer Crush Climbing go to:
https://www.queercrush.org
IG: @queercrushclimbing and @queer.crush.tahoe
FB: Queer Crush Climbing
About Tipsy Putt Brands:
Tipsy Putt Brands is an adult drinkertainment concept comprised of three brands: Tipsy Putt and Flatstick Pub, mini golf bars, and Trophy Club, a members only speakeasy. 
With locations in Sacramento, South Lake Tahoe, and upcoming locations in Emeryville, Monterey, and Sunnyvale. We offer a large rotating local beer, wine and cocktail selection, indoor mini golf, a multitude of other unique pub games and a vibe that makes you want to let loose.
Tipsy Putt is not only party central but also strives to be a positive contributor to the community by supporting local independent brewers, local small businesses and local charities.
Trophy Club is a member's only speakeasy with intermittent password access nights announced via social media. Trophy Club is hidden within select Tipsy Putt locations. Trophy Club's highbrow craft cocktail experience perfectly juxtaposes Tipsy Putt's relaxed atmosphere.
For more information visit: TipsyPutt.com or @tipsyputt | TrophyClubBar.com or @Trophyclubbar
"Drink Local, Putt Tipsy"