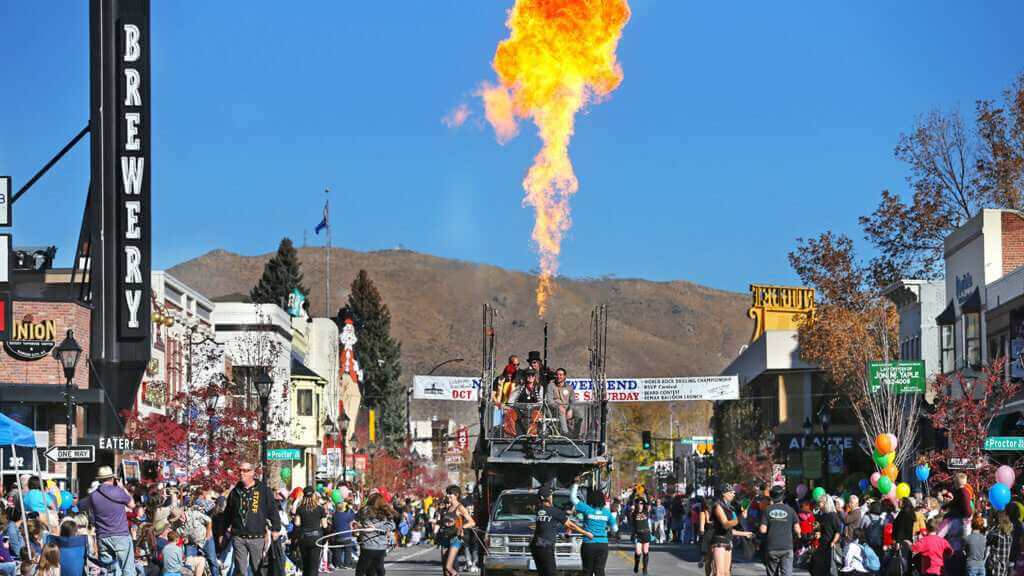 Saturday, October 29, 2022, 8:00 am – 4:00 pm in Carson City, NV. Nevada Day is a grand celebration commemorating Nevada's entry into the union.
This year will be our state's 158th birthday and also marks 84 years since the Nevada Day Celebration moved to our Capitol, featuring a large parade in downtown Carson City.
The Nevada Day Board of Directors announces the theme for the 2022 Nevada Day Parade. The Board feels communities across the state need a reason to celebrate, so the parade theme this year will be, "Carnivál On The Comstock."
"Carnivál represents colorful floats, and upbeat music. It's a reason to dress up and have fun!" stated the President of the Nevada Day Board of Directors, Bobby Bean. "Wear capes, wear costumes, anything goes at Carnivál… just remember, it's a family event."
As a parade fundraiser, Nevada Day hosts a golf tournament on April 30, 2022, at Silver Oak Golf Course in Carson City, Nevada. The tournament is taking place to help fund travel expenses for high school marching bands across the state to get to the parade.
"It's just not a parade without marching bands and Nevada has some of the best." Said Brooke Santina, Executive Director. "Their participation is vital, and we know it's going to be more expensive to get here for the parade, so we are doing what we can to ensure they come."
The Nevada Day parade is scheduled to take place on October 29, 2022, moving from north to south along Carson Street in Carson City.  It starts at 10:00 am however, Nevada Day hosts many other activities such as rock drilling, beard contests, and more.  Don't miss the balloons that fill the sky that morning, beginning at 8:00 am.  More information.
From the historic Gold and Silver Boom in the Comstock, legalized gaming and prostitution, quickie divorces – I imagine with some of the earlier Settlers, this could have happened in that exact order – Women's Suffrage, UFO sightings (landings?), on to the more recent decision of legalizing Cannabis.
Yes, Nevada has indeed had its share of unique moments occur in the past, with undoubtedly more in store for the future, and the Nevada Day Committee felt it was time to reflect back on them.
Nevada is one of the only states to celebrate its Admission into the Union on October 31, 1864. Nevada Day Inc. is a very small nonprofit organization that keeps this tradition alive each year, and faces many challenges as costs rise, volunteers come and go, and rules and regulations tighten.
Thank you for your continued support of this amazing, historical Nevada tradition!
Please visit The Nevada Day Store located inside the Carson City Culture and Tourism Authority at 716 North Carson, we would love to see you! Get involved and help support this Historical Celebration of Nevada's admission into the Union as our 36th state.
Find more information at www.NevadaDay.com