Himmel Haus Oktoberfest Celebrations
October 7
8:00 pm - 11:00 pm
Himmel Haus, known for its authentic German cuisine and festive atmosphere, is excited to announce an action-packed, three weekend long celebration of Oktoberfest.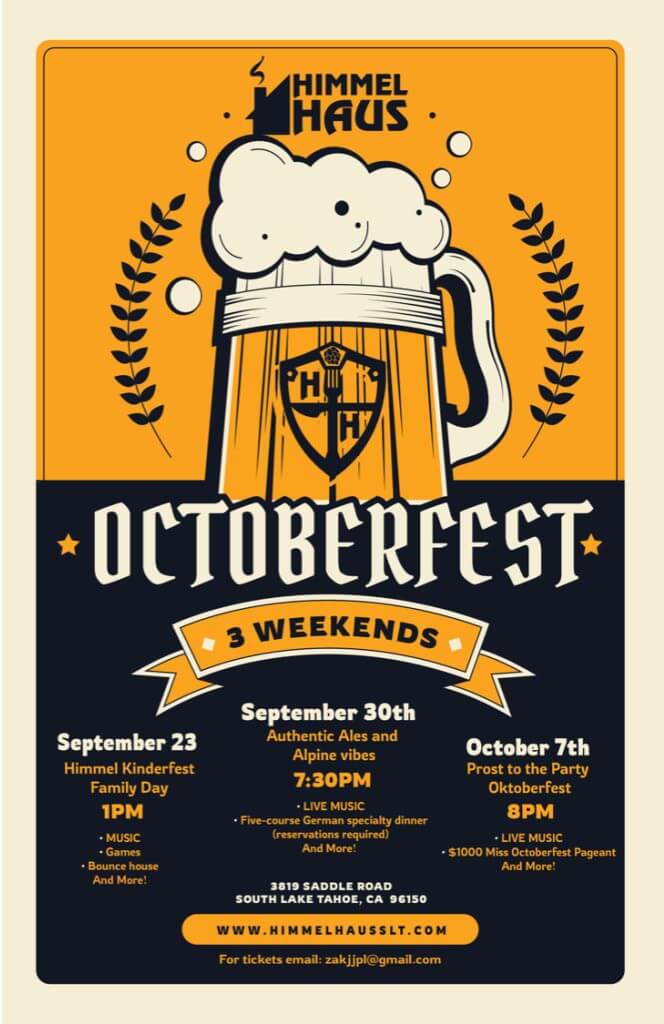 Festivities will kick off with the whole family at 1 p.m. Saturday, Sept. 23, at Himmel Kinderfest Family Day.
In addition to the restaurants' signature delicious food and beverages, attendees can enjoy live music, kids' games, and bounce houses. It will be a fun-filled day for all ages.
The excitement will continue at 7:30 p.m. Friday, Sept. 29, as Himmel Haus will transport you straight to Bavaria with authentic ales and alpine vibes.
The evening will feature a carefully crafted five-course meal by Himmel Haus's esteemed chefs, each course paired with specialty German beers. Not only is the event a gastronomic delight, but it's also an education experience into the rich traditions of German culture.
Tickets must be purchased in advanced, and are $65 each.
The festivities will reach their zenith at 8 p.m. Saturday, Oct. 7, with the Prost to the Party Oktoberfest celebration. This closing event will be highlighted by live music and the 5th annual $1,000 Miss Oktoberfest pageant.
Contestants will compete in categories such as wardrobe, interview, and talent, with the reigning Miss Oktoberfest serving as an ambassador at various Himmel Haus events throughout the year the following year.
For more information or to register for any of the Oktoberfest events, visit http://www.himmelhausslt.com or email zakjjpl@gmail.com
Click below for more Lake Tahoe Events & Entertainment