Heavenly Holidays Family Festival
November 24
6:30 pm - 7:30 pm
Heavenly Holidays Family Festival, running daily November 24 through December 31, 2023: Holiday fun for children and adults alike. Daily tree lighting, Ice sculptures, Breakfast with Santa, meeting your favorite Disney Characters, A Rockin' New Year's Eve Celebration featuring a fireworks show with live music starting at 9:00 pm, and much more! #HeavenlyHolidays
Scroll down to find all the activities.

Daily Community Tree Lighting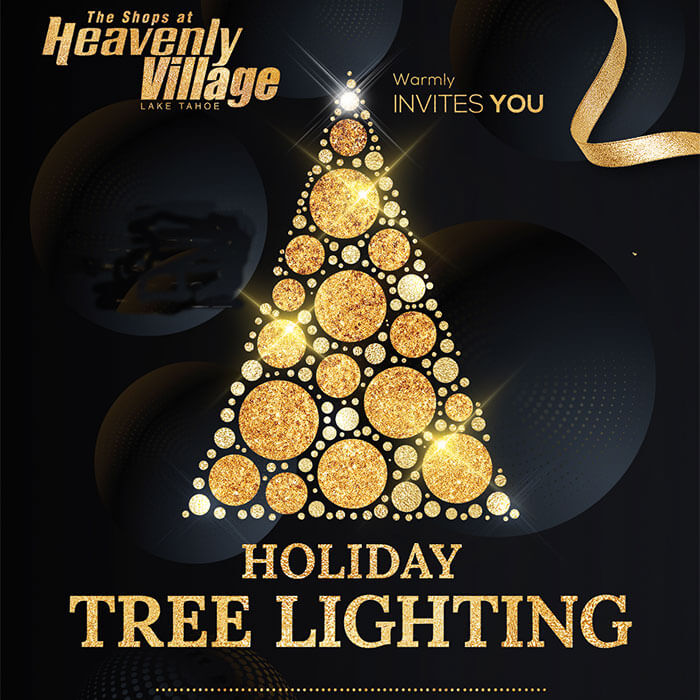 Nightly through December 25th at 5:30 pm. Gather 'round as Santa lights our monstrous 65-foot, highly lighted, cut fir tree!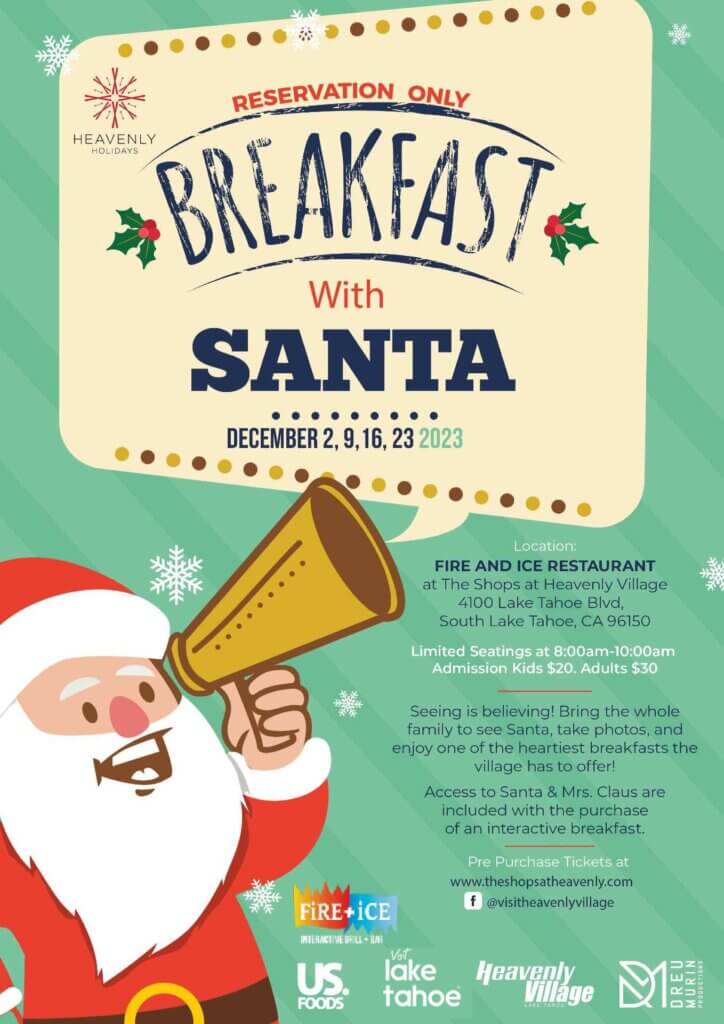 Saturday, December 2, 9, 16, and 23rd, Limited Seatings from 8:00 – 10:00 am. Admission Kids $20. Adults $30. Photos and access to Mrs. Claus and Santa are included with the purchase of an interactive breakfast at Fire and Ice Restaurant, and other restaurants. Seeing is believing! Bring the whole family to mingle with Santa, take photos, and enjoy one of the village's heartiest breakfasts! This will sell out. Get your tickets today!
Holiday Santa Paws and Yappy Hour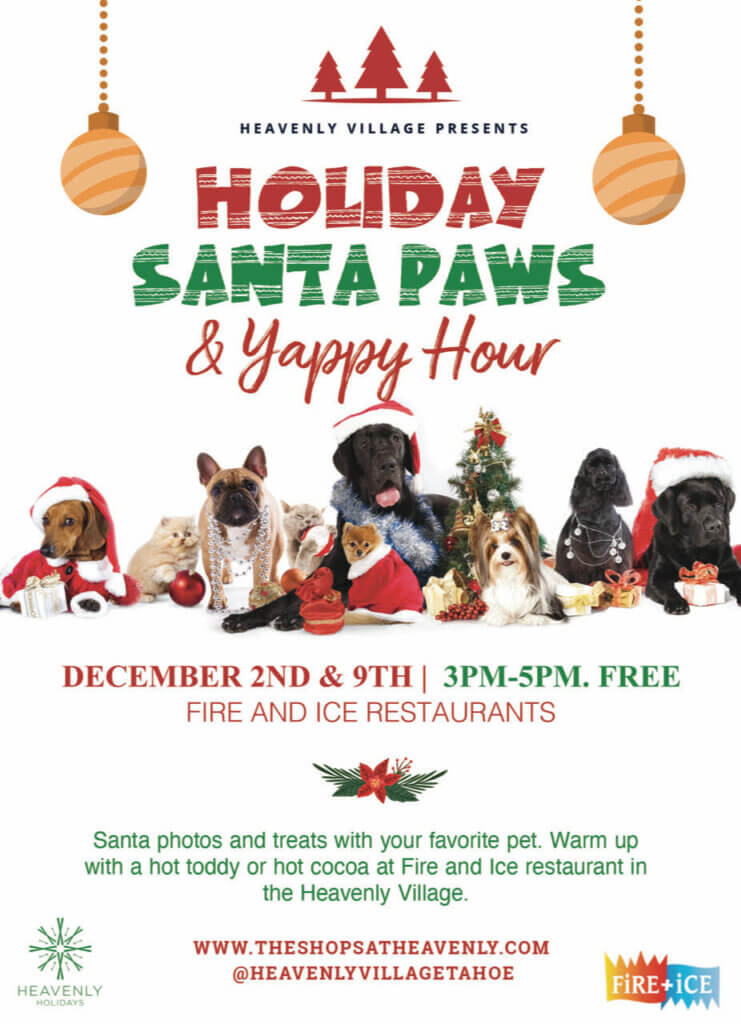 Saturday, December 2nd & 9th, 3:00-5:00 pm. Admission: FREE.
Location: Fire and Ice Restaurant.
Santa photos and treats with your favorite pet. Then warm up with a hot toddy or hot cocoa at Fire and Ice restaurant in the Heavenly Village.
Holiday Market at South Lake Brewing Co
Saturdays in December, Noon-5pm
Admission FREE
Experience the magic of the holiday season at South Lake Brewing Company's enchanting Holiday Market! Nestled in the heart of a winter wonderland, this festive event is the perfect destination for finding unique gifts and savoring seasonal delights. Wander through a merry array of local artisan stalls, each brimming with handcrafted treasures and holiday cheer.
Champagne & Chocolate Sleigh Ride Tasting Experience
Fridays through Mondays in December (21+)
Location: Heavenly Village
Indulge in a divine pairing as you embark on a journey through the picturesque streets of South Lake Tahoe. Whether by the quaint charm of a horse-drawn sleigh, elevate your tour experience with a delightful Champagne and Chocolate tasting at the Heavenly Village.
Pricing: $75 per person. Includes a 45-minute horse-drawn or carriage tour and complimentary champagne from Champagne & Chocolate Co. Weather Advisory: All tours are contingent on favorable weather. Advance reservations are essential for this unique experience.
Frosty Shoreline Snowshoe Experience
Fridays and Saturdays in December at 5:00 pm
Location: Beach Retreat and Lodge
Price: $20; includes snowshoes and a complimentary cocktail.
Venture into a unique winter spectacle as you tread upon the snow-blanketed beaches of Lake Tahoe. Perfect for novices and seasoned snowshoers alike, our excursions promise an exhilarating stroll along the icy shores, crafting that perfect Instagram-worthy snapshot. As a finishing touch, warm up beside our inviting fire pits with a specialty beverage. Let the soft crunch of snow beneath your feet and the warmth of a drink in your hand create an unforgettable evening. Note: Subject to weather conditions.
Holiday Paint & Sip
Saturdays in December, Noon.
Admission: $40.
Location: Ski Run Marina – Lake Tahoe Paint & Sip
Fun for the entire family. Paint like a master with a professional instructor who provides all you need to paint a unique Heavenly Holidays painting. (Must be 21 to SIP.)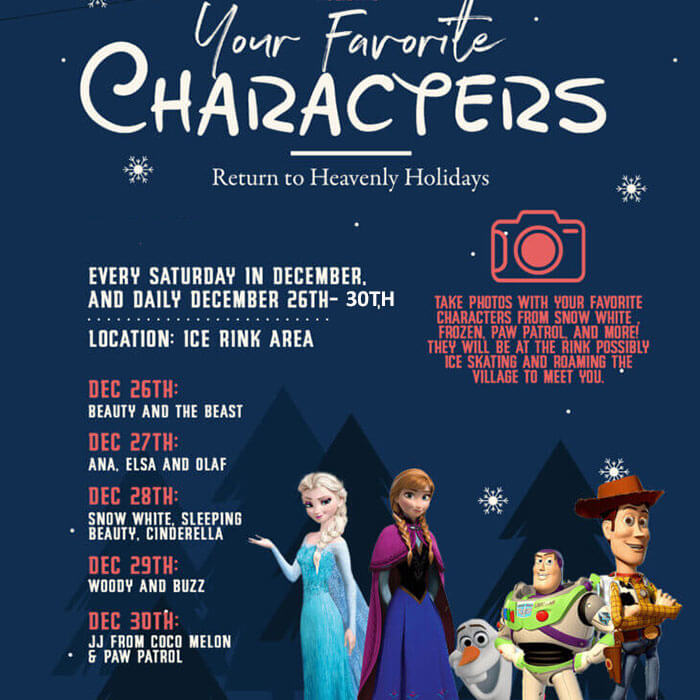 Every Saturday in December, and daily December 26th-30th, 2:00-5:00 pm. Take photos with your favorite characters from Snow White, Frozen, Paw Patrol, and more! They will be at the ice rink, possibly ice skating and roaming the village to meet you. Location: Ice Rink Area.
Tuesday, December 26th: – Anna, Elsa and Olaf
Wednesday, December 27th: – Snow White, Cinderella, Moana
Thursday, December 28th: – Beauty and the Beast
Friday, December 29th: – Marshall and Chase
Saturday, December 30th: – Woody, Jessie and buzz
Santa Claus is Skiing to Town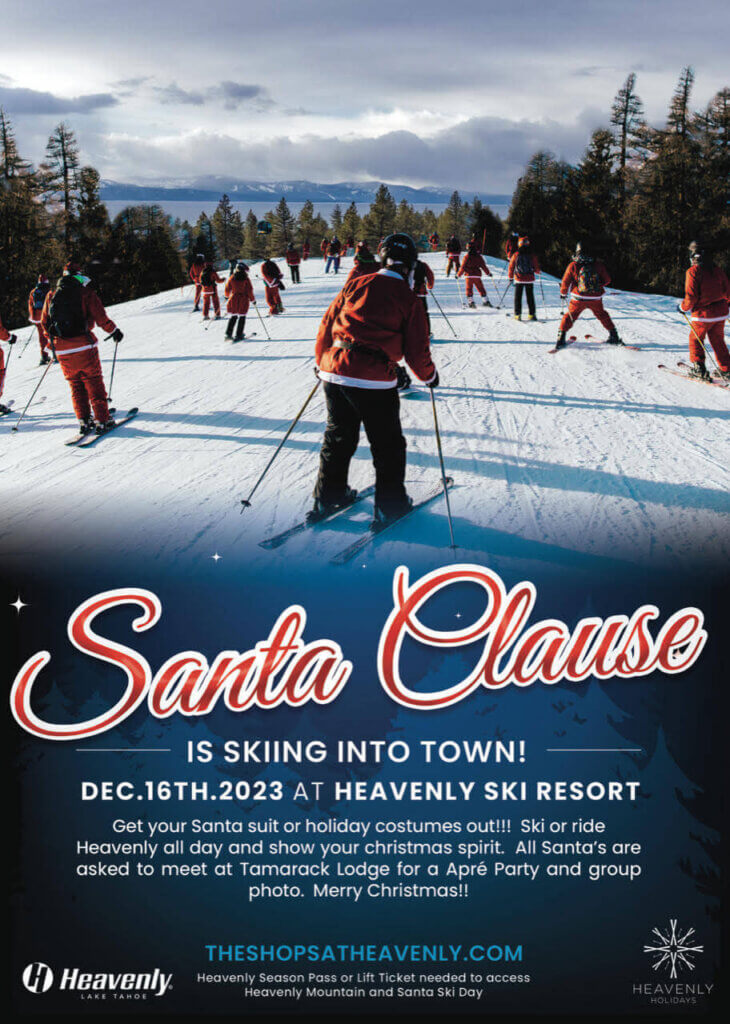 December 16th: All Day. Get your Santa suit or holiday costumes out!!! Ski or ride Heavenly all day and show your Christmas spirit. All Santas are asked to meet at Tamarack Lodge for an Aprés Party and group photo. Merry Christmas!!
The Heavenly Village Holiday Sip & Shop
Saturday, December 16th, 1:00 pm.
Admission: Free
Location: Village Breezeway by Basecamp Pizza
Sample some great wines as well as finish your last-minute Christmas shopping. Each participating shop in the village will be pouring wines from various vineyards around the world.
Build-A-Bear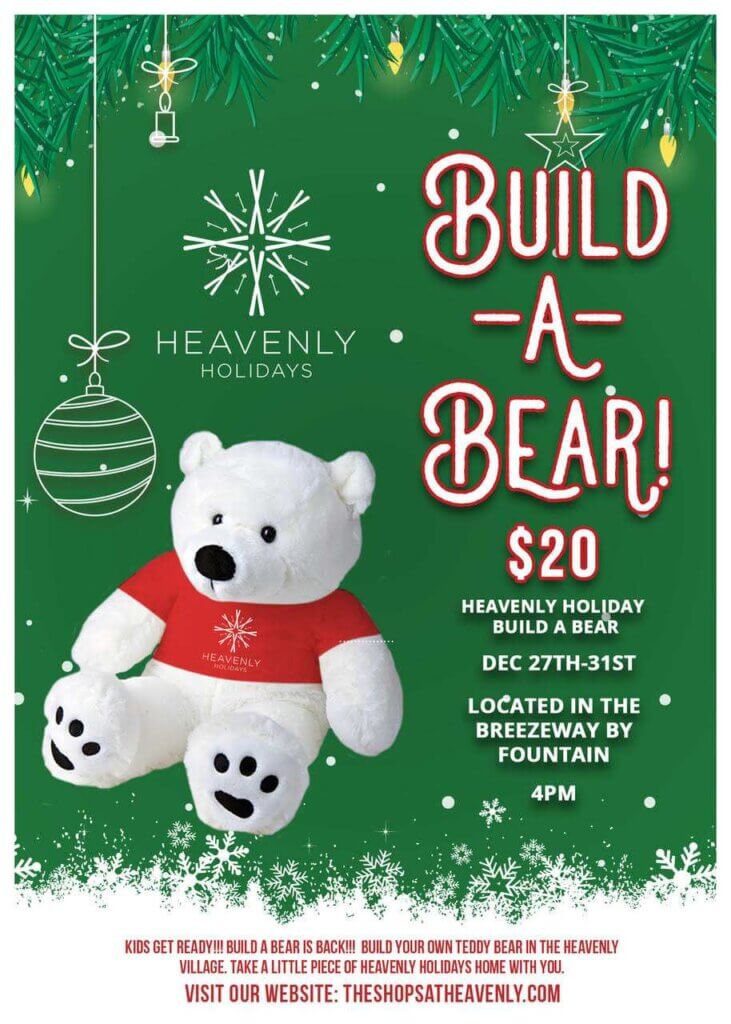 December 27th – 31st. 4:00 pm. Admission: $15.
Location: Breezeway by Basecamp Pizza.
Kids get ready! Build a bear is back! Build your own teddy bear in the Heavenly Village. Take a little piece of Heavenly Holidays home with you.
Festive Village Decor
The Village will twinkle and glow like never before.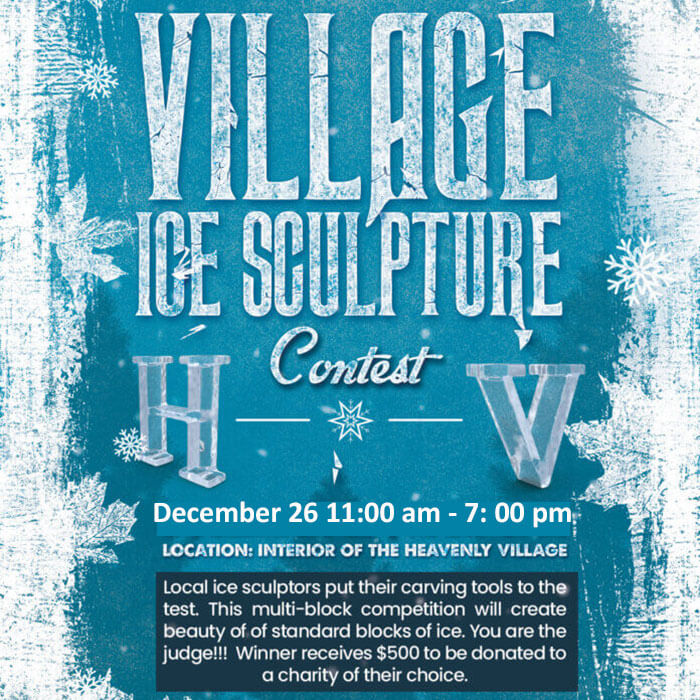 Monday, December 26th, 11:00 am – 7:00 pm.
Admission: FREE.
Location: Interior of the Heavenly Village, Tamarack Lodge, Ski Run Marina, and The Crossing at the Y.
Local ice sculptors put their carving tools to the test. This multi-block competition will create beauty out of standard blocks of ice. You are the judge!!! The winner receives $500 to be donated to a charity of their choice. ** Renowned ice carvers showcase their skills, carving intricate sculptures and designs. Interactive sessions where attendees can ask questions and learn basic techniques.
Holiday Face Painting
December 27th-31st, 4:00-7:00 pm.
Cost: Varies.
Location: Breezeway by Basecamp Pizza
Are you on vacation and missing your family dog? Have you always dreamed of being a pet dragon? What about a Viking hat? Not to worry! Our face paint artist has you covered! She will be set up in the Heavenly Village. Bring your artistic imagination to life!
Heavenly Holidays Early Movie Premiers
December 14th & 21st.
Admission: Visit the Cinema website for details
Location: Heavenly Village Cinemas
Prepare for a festive cinematic experience like no other, exclusively at Heavenly Holidays! Join us for early screenings of two beloved holiday classics: 'WONKA,' with its first showing at 3:00 pm on Thursday, December 14, and 'MIGRATION,' debuting at 2:00 pm on Thursday, December 21. Get into the holiday spirit with these heartwarming films at Heavenly Holidays!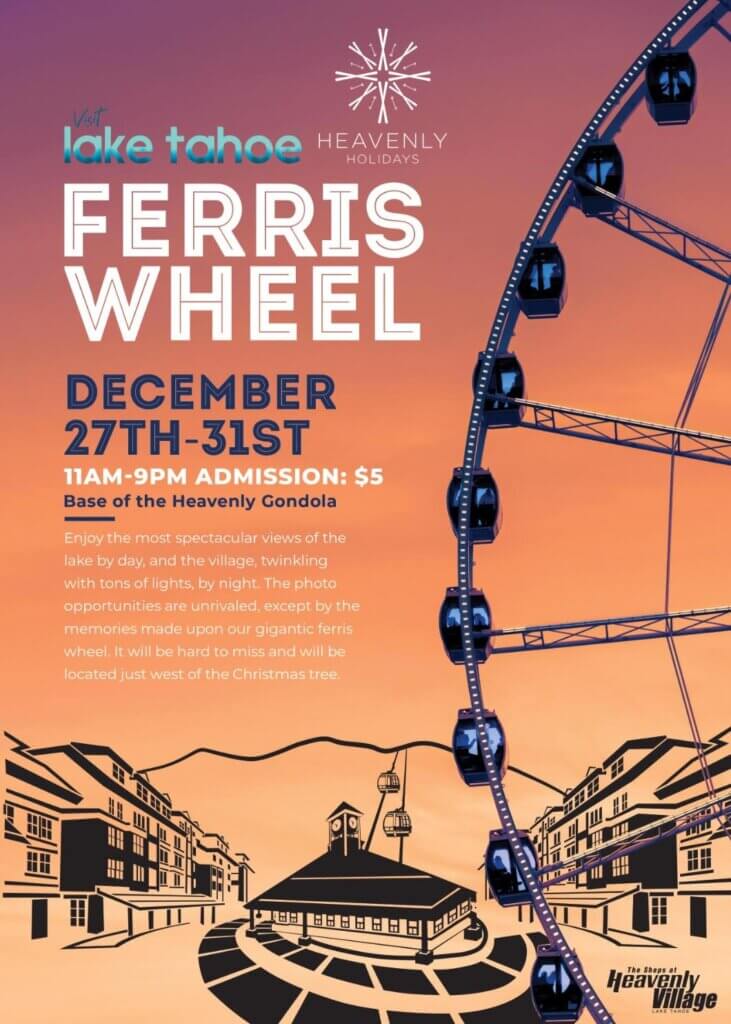 December 27th – 31st, 11:00 am-9:00 pm. Admission: $5.
Location: Base of the Heavenly Gondola.
Enjoy the most spectacular views of the lake by day and the village, twinkling with tons of lights, by night. The photo opportunities are unrivaled, except for the memories made upon our gigantic Ferris wheel. It will be hard to miss and will be located just west of the Christmas tree.
Photos with Santa & Mrs. Claus
Throughout December, 5:00–9:00 pm
Admission: Free
Location: Breezeway by Basecamp Pizza.
Visit Santa and Mrs. Claus in their Tahoe winterscape! They will be available to meet and greet, as well as take photos with children of all ages.
Closing Ceremony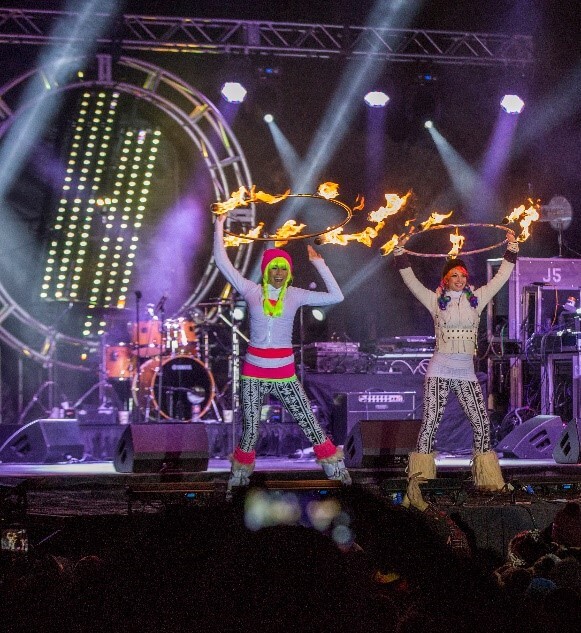 A ROCKIN' NEW YEAR'S EVE LINEUP:
Live Music 12/31 starting at 5:00 pm
5:00 – 7:00 pm – Live DJ
7:00 – 8:30 pm – Decades Band
8:30 – 9:30 pm – The Kristen Brown Band (from NBC's The Voice).
Happy New Year, 2024! Unforgettable Fireworks, Streamer Blast, and Gondola Drop!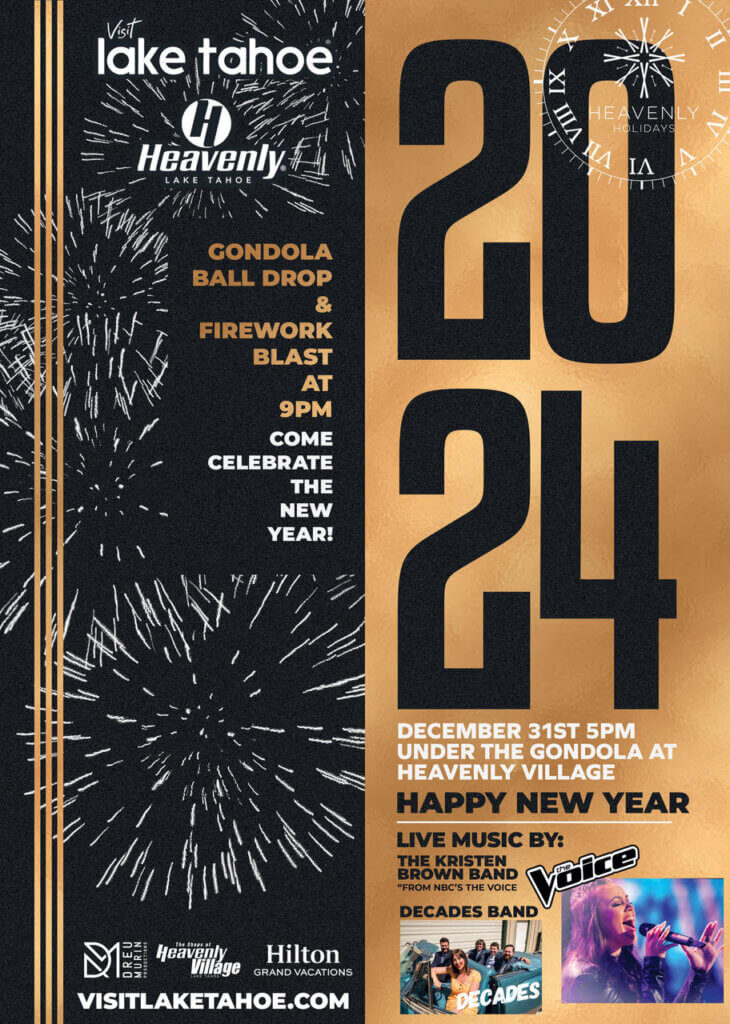 Ring in the new year with friends and family with a spectacular firework show and gondola drop coordinated with the midnight ball drop in New York City's Time Square at 9 p.m. PT. on December 31, 2023. Admission is Free! Don't miss the most spectacular fireworks display ever to hit Heavenly Village. We are stepping it up again! Rung in by a special guest, the top of the parking garage will be lit up like never before. Not to be missed.
Workshops
Winter Photography a the Twilight and Rust Gallery
December 16th, 2:30 pm
Admission: Free
Location: Twilight and Rust Gallery in the Heavenly Village
Capture the Magic of Winter: Dive into the world of winter photography at the Twilight and Rust Gallery SLT, located in the heart of the Crescent V Center. Join our talented local photographers as they guide you through the techniques and secrets of capturing Lake Tahoe's breathtaking winter beauty. Whether you're a beginner seeking to immortalize snowy landscapes or a seasoned photographer looking to hone your skills, this workshop promises a blend of inspiration and practical knowledge.
'Tis the Season
Enjoy South Lake Tahoe as your home away from home for the holidays. While snow-capped mountains, sparkling Christmas lights, and world-class skiing are staples of the regular South Lake Tahoe scene, believe it or not, things get even wilder and more festive during the holidays. Discover your new holiday tradition this season at Heavenly Holidays. Experience the best winter with music, food, and holiday activities! Give the gift of something they'll never forget.
Looking for a place to stay? Lake Tahoe offers hotels, motels, and casino resorts. Learn more about this year's events on the Lake Tahoe events page.
Check out Heavenly Holidays on Instagram
Discover What's Coming Up in Tahoe
Special Events