Annual Valhalla Holiday Faire
Enjoy South Lake Tahoe's Favorite Holiday Tradition the Weekend Before Thanksgiving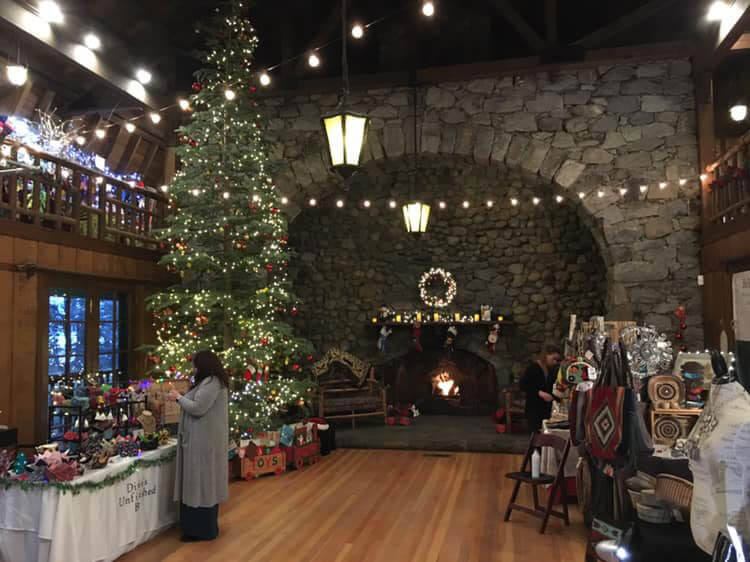 26th Annual Valhalla Holiday Faire. This event is FREE! Join us in the Valhalla Grand Hall for this annual, three day holiday celebration and craft fair! Check out more than 30 local vendors, enjoy holiday music and goodies! November 18 – 20, 2022.
Friday, November 18, 5:00 pm – 8:00 pm. Friday Only – Listen to live music while you shop! The first night of the faire is geared more toward adults than kids. Members Only preview will be 3-4:30 pm.
Saturday, November 19, 10:00 am – 5:00 pm. Bring the little ones down to get pictures with Mr. & Mrs. Claus in front of a roaring fire!
Sunday, November 20, 10:00 am – 4:00 pm. Bring the little ones down to get pictures with Mr. & Mrs. Claus in front of a roaring fire!
For 25 years, Valhalla Tahoe has hosted an annual Holiday Faire at the Heller Estate for the enjoyment of the community. Valhalla Tahoe and our volunteers celebrate the season by decking the Grand Hall for everyone's enjoyment. A favorite tradition for many local families, you can get a glimpse of Tahoe's past while shopping for hand-made crafts, taking free photos with Mr. and Mrs Claus, and enjoying local entertainment and holiday libations. Tahoe's Children's Choirs line the balcony to sing holiday songs throughout the day. Take a stroll through the Winter Wanderland on Friday night with holiday lights from the Tallac Historic Site parking lot to the Grand Hall. Stop for hot chocolate along the way and visit the Baldwin Museum for more culture and unique gifts.
Unique Gift Ideas for Local Vendors
The Holiday Faire features an eclectic mix of hand-made crafts that make special gifts for your family and friends. From Tahoe-themed items to gifts crafted in South America and France, Valhalla brings together a variety of vendors who care about Lake Tahoe and the community we've created. Every purchase of $25 or more earns the shopper an entry in Valhalla's annual fundraising raffle. Raffle tickets are also available for purchase. Baskets with items donated by our vendors will be on display and delivered to drawing winners after the event. With more than 30 vendors showing their wares, you're bound to find just the right item for the person who is hardest to shop for on your list.
The Tallac Historic Site is located 2 miles past the intersection of Highway 50 and Highway 89, just past Camp Richardson, on the lake side of Highway 89. Please turn right on the street with the sign "Valhalla." If the parking lot is full, feel free to park along Hwy 89 outside entrance.
Due to the limited parking spaces at Valhalla, we encourage carpooling, bike riding and good old fashioned walking. Parking is allowed in designated spaces only. Free shuttle transportation will be available from the main Valhalla entrance during the Faire.