Is it even a true summer if you don't make the quintessential lake trip? Is it even a true lake trip if you don't enjoy some boating on the water? Tahoe boats and watersports, in general, are staples to Lake Tahoe, and many would say the key to doing summer the right way. You don't need to strap into a wakeboard or jump on a jet ski either, in fact, some of the best fun on the water doesn't require you to physically do much at all. Put things on pause for a bit without sacrificing your time in Tahoe and spend a day relaxing along one of the various leisurely Lake Tahoe booze cruises.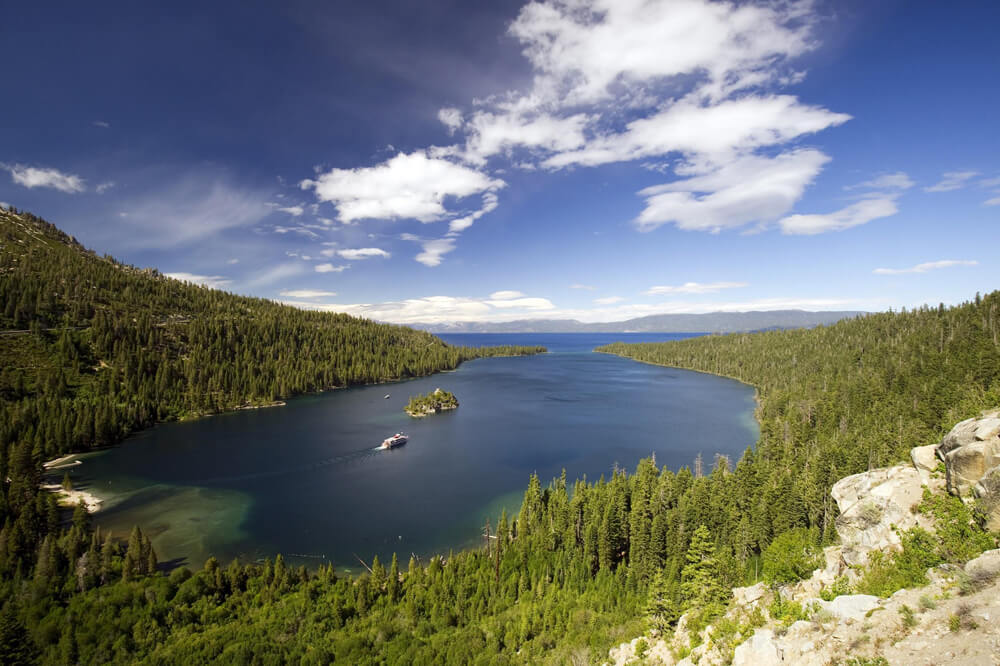 In Tahoe we don't raise the bar, we are the bar, and in this case, we take relaxation seriously. We adventure hard, we chill hard. Hop aboard your vessel, put a drink in those hands, and leave it to the captain to escort your crew around the lake. All the while enjoying some good company and indulge in the beauty of Lake Tahoe's beaches, hidden harbors, and shorelines. Choose to explore spots on the water you haven't seen before, maybe zip up to North Shore for an afternoon, or just pull the anchor and coast for a drifting beach party.
A Lake Tahoe Cruise is the Way to Properly Chill Out
There are many ways to cruise Lake Tahoe, but cruising with a drink in hand will have you properly chilled out. The summer sun is still hot, and be honest with yourself, lounging on the lake with a designated driver is an enticing plan for any day. Wine, beer, cocktails, whatever floats your boat, you might even learn a thing or two.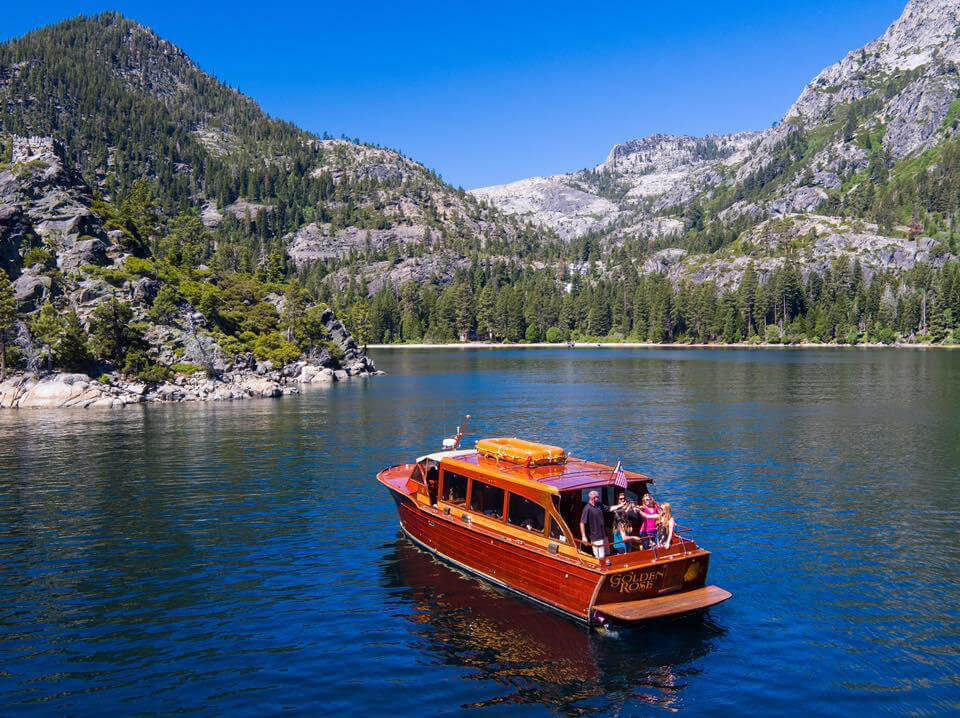 See the Lake and Sip Wine on a Lake Tahoe Wine Cruise
Tahoe Tastings is a wine tasting adventure. For this one, you'll be on a vintage Golden Rose 1953 Chris Craft Venetian Water Taxi, and you'll get to taste exquisite hand-selected wines from eight different regions of Northern California. These wines are exclusive to Tahoe Tastings and not available anywhere else besides the respective winery tasting rooms (and available for purchase after your tour!), thus a great opportunity to try some incredible wine from this region. This is your best bet for not only a tour of what Lake Tahoe has to offer but also a tour through Northern California wineries. Between sparkling, white and red, you'll get a bit of everything for this wine on the water cruise.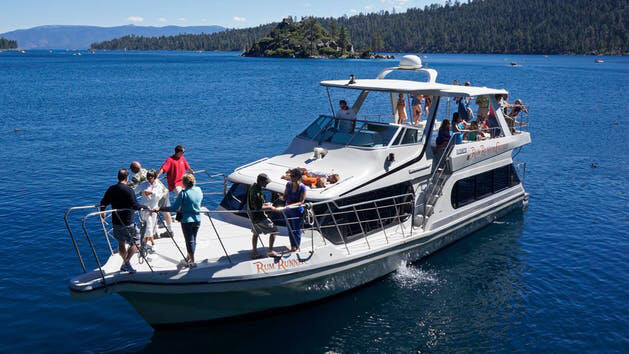 The Rum Runner Lake Tahoe Booze Cruise
Camp Richardson's Rum Runner, a drink so good they bought a boat and made a Lake Tahoe booze cruise for it… The Rum Runner is Camp Richardson's 55-ft yacht equipped with open and closed deck options, and of course, the revered Rum Runner cocktail served up to your heart's content. The Rum Runner makes its hour and a half long excursion to Emerald Bay and back daily. You can also book it for a private event or celebration. For a detailed look at what you can expect, check out this quick video or read our Rum Runner blog for more on what to expect.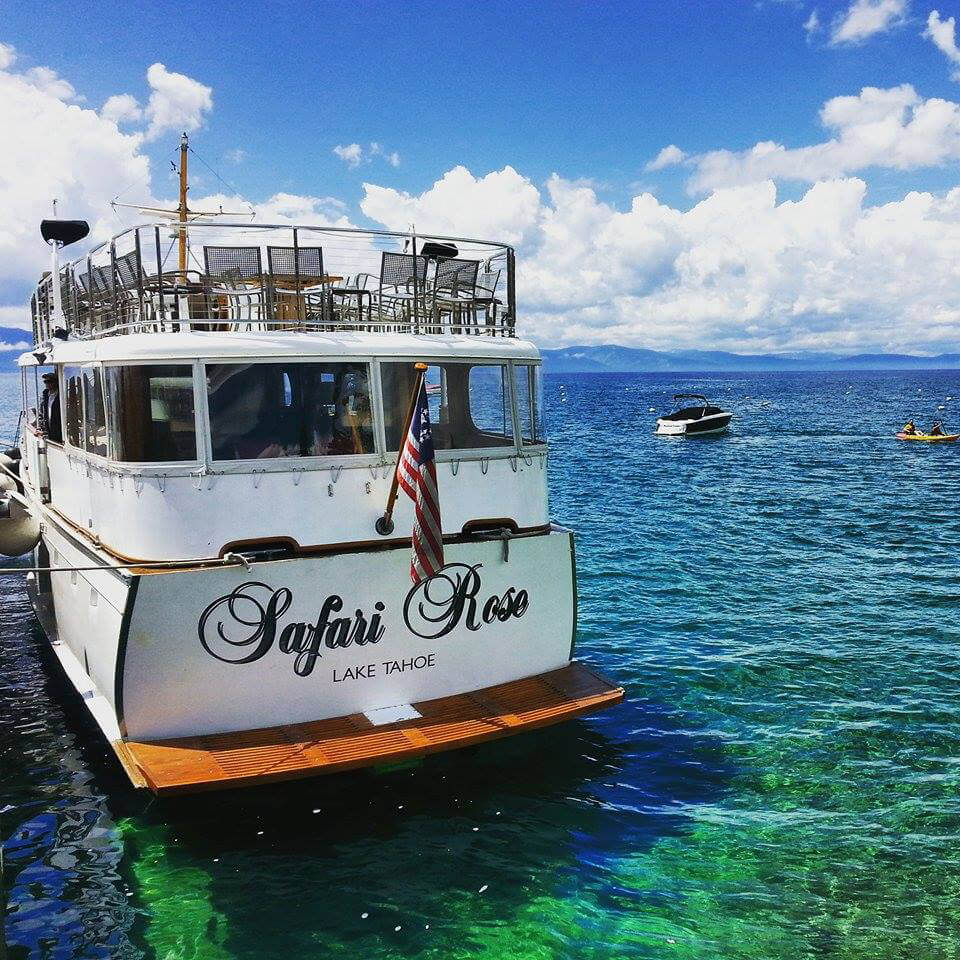 Tahoe Cruises' Safari Rose has been around for a while, and for good reason with fun new ways to see the lake on their elegant 80-foot yacht. This year (yes, into winter) they've taken the always picturesque Emerald Bay cruise to the next level with the Sunset Wine Cruise. Each trip features family-owned and operated wines from California, and each winery will have a Sommelier on board for an all-around great learning and tasting experience. It gets even better with raffles, giveaways, and hors-d'oeuvres for guests to enjoy during the cruise.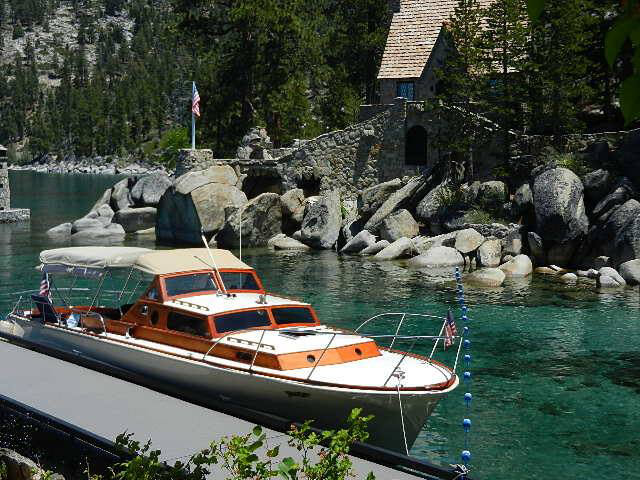 Bonus: Cruise & Walking Tours by Cruise Tahoe.
The crew from Cruise Tahoe offers two cruise and walking tour combos, which is an ideal way to do it all at once if you're interested in stopping to check out some cool old architecture and artifacts. The Emerald Bay Cruise is paired with a Vikingsholm Castle Walking Tour allowing you to hop out, explore some neat south shore history and relax at the beach for lunch before the return trip. This tour comes with light food and wine. The Thunderbird Lodge Cruise & Tour also allows you to step back in time on their 1950 wood cruiser to the historic Thunderbird Lodge. The cruise includes a light continental breakfast, walking tour of the Thunderbird Lodge and picnic-style lunch on the property. Bloody Marys and mimosas available as you wish!
Please drink responsibly and be sure to have a designated driver.
Find more Lake Tahoe Water sports information here.
Find more tour options here.
Check out Boating on Lake Tahoe on Instagram