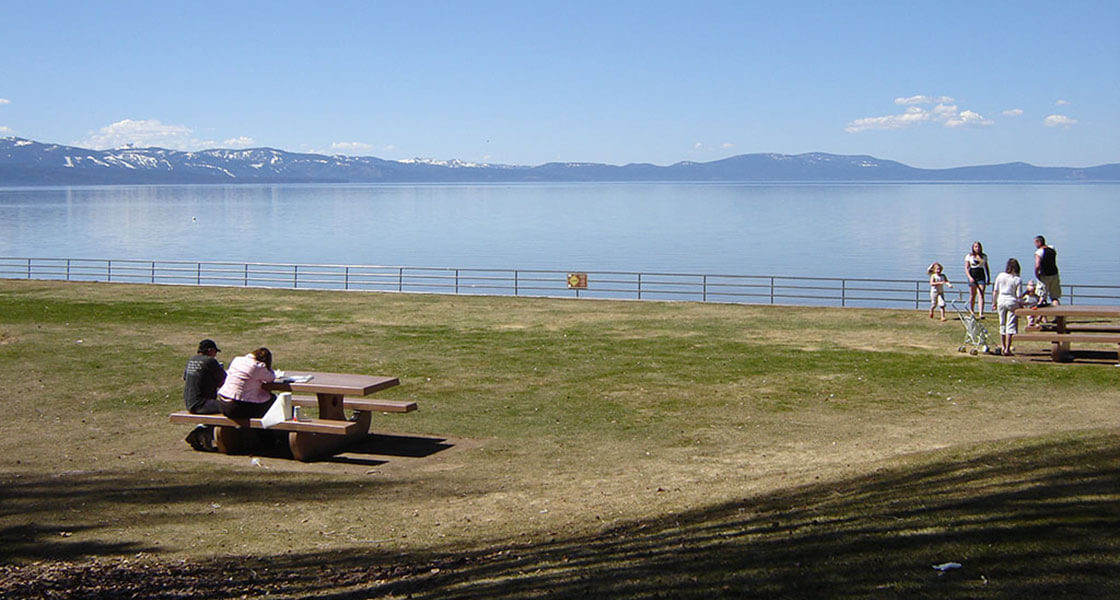 Regan Beach is a couple of blocks down Lakeview Avenue at Sacramento Avenue and has restrooms, handicapped restrooms, picnic facilities, a snack bar, volleyball, playground and grassy areas.
Located on Lakeview Ave., is the City of South Lake Tahoe's oldest beach facility. A little more secluded than its counterpart nearby, El Dorado Beach, Regan offers a more tranquil setting with spectacular views of the lake. Regan is the place to go to have a quiet picnic, launch your kayak, or just relax and take in the views.
This is a perfect beach for observation or picnics but, there is not sand here. To find more information on Regan Beach click here.
A dog friendly portion of the shoreline is available at Regan Beach. Please bring your own bags to pick up after your pet!
If you plan to use this beach to launch your kayak, please visit http://tahoekeepers.org/ and be sure that you follow proper precautions in order to protect Lake Tahoe. Lake Tahoe is a pristine alpine lake where clean boating and protection from Aquatic Invasive Species is the highest priority. Clean, Drain and Dry your watercraft after every use to ensure you are not transporting any nasty nuisances. After all, We're All in This Boat Together!
Any person over 16 years old must have a valid California or Nevada sport fishing license to be able to fish in Lake Tahoe. The best fishing on the Lake is from a boat. For those who enjoy shore fishing, your best bet are places where the shoreline drops off quickly such as Rubicon Point on the west shore and Cave Rock on the east shore. Fishing is closed in Lake Tahoe within 300 feet of its tributaries, and upstream to the first lake from October 1st through June 30th. The rest of the year the entire lake is open to fishing.
KEEP IT CLEAN: Lake Tahoe is recognized as an Outstanding Natural Resource Water. Please, join your fellow beachgoers in protecting this special place! Begin by being an example to others:
Dispose of trash properly or pack it out.
Never feed birds, squirrels or any other wildlife.
Campfires are NEVER allowed on Tahoe beaches.
VEGETATION: Protect Tahoe plants! Keep outside signed or fenced protected habitat.
SWIM and BOAT SMART: Very cold water, sudden storms and unexpected waves deserve respect. Be alert!
PET OWNERS: Pets are permitted only on dog-friendly beaches. Use a bag to pick up after your pet, and use a leash. Protect your pet's privilege to share the beach!
BOATERS: Aquatic invasive species are a very serious threat – completely clean, drain and dry your boat before launching it at Tahoe.
FISHING: Any person over 16 years old must have a valid California or Nevada sport fishing license. Visit one of the many Lake Tahoe fishing sites to learn more about fishing and the special regulations that are enforced at Tahoe.
Regan Beach
3199 Sacramento Ave, South Lake Tahoe, CA 96150