If 2021 felt like the shortest year ever, there is still time to slow down and take it all in high-up in the Sierra Nevada mountains. With rockin' concerts, scenic trails, and local ski areas open, there's no better place to make memories and enjoy the holidays than the south shore of Lake Tahoe.
Sneak in One Last Concert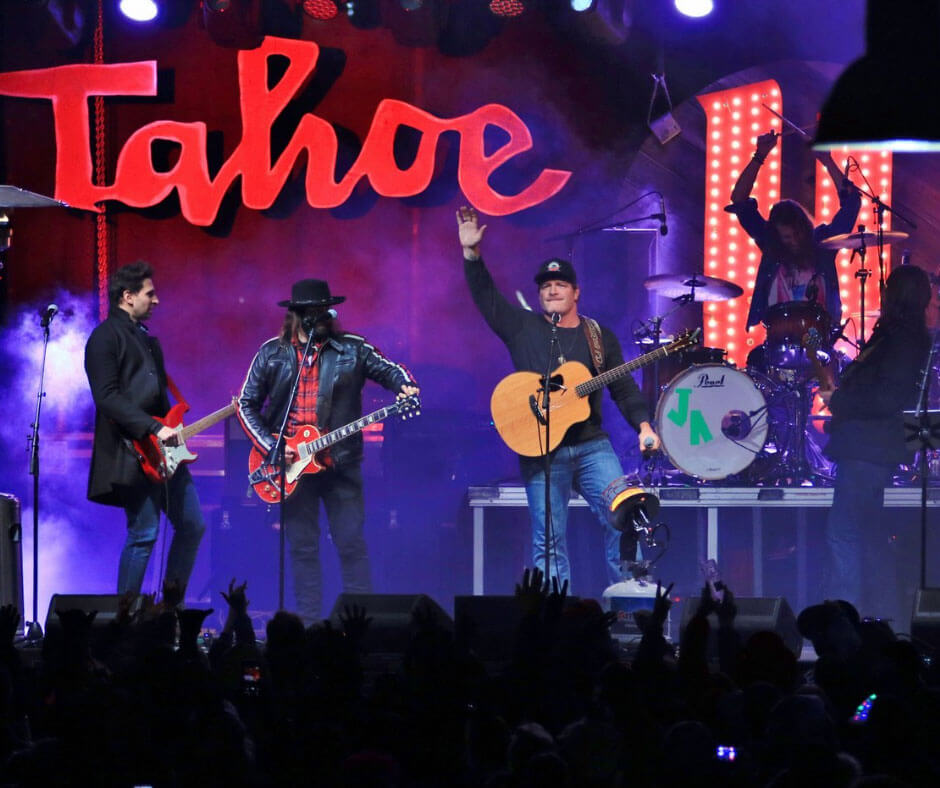 The Summer Concert Series may be long gone, but there are still plenty of great shows to put a bow on 2021. Andre Nickatina is bringing his signature underground style to the Blue Nightclub inside the Montbleu Resort Casino & Spa on Friday, December 3 with Nef the Pharaoh. Advanced tickets are available starting at $22. Must be 21 or older.
Purveyor of lucid sounds, French producer Chloé Herry is a worldy and rhythmic figure in the electronic music scene. Best known as CloZee, this Toulouse dwelling producer will be performing at the MontBleu Resort Casino & Spa Sunday, December 5.
We're just scratching the surface of the live entertainment South Lake Tahoe offers, be sure to check out the events calendar.
Get a Jump Start on the 2021/2022 Ski Season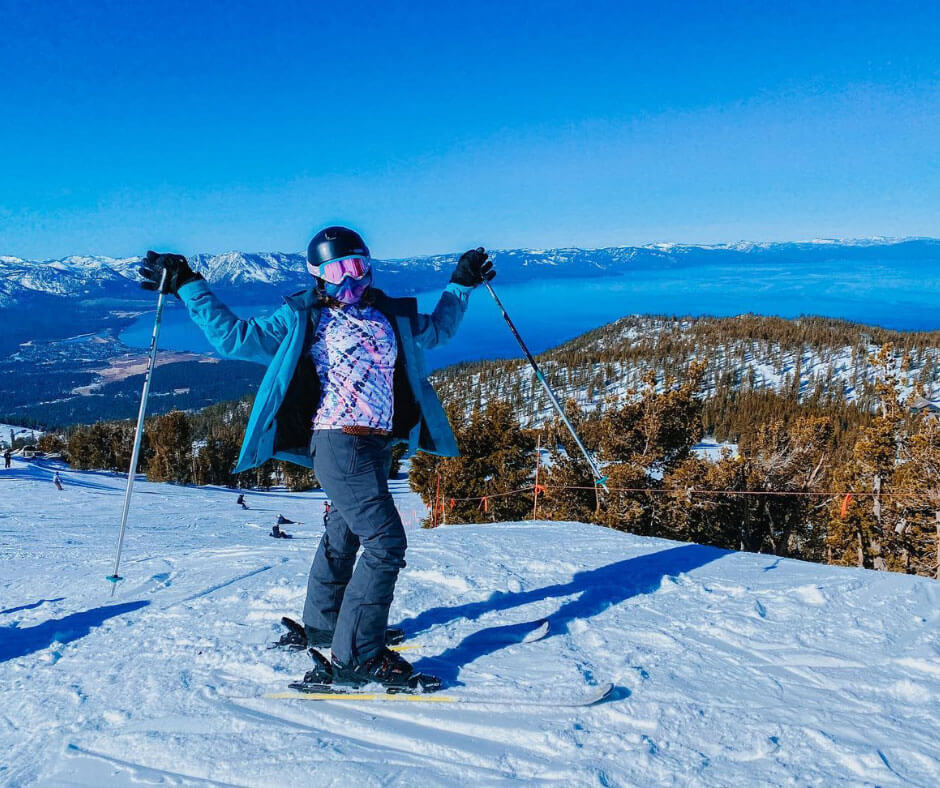 Heavenly Mountain Resort and their impressive snow gun arsenal have been working to lay down a solid base and are planning to start spinning their lifts Saturday, December 11. Kirkwood Mountain Resort is planning to celebrate its first day on Tuesday, December 11th as well.
A local favorite, Sierra-at-Tahoe is looking to make its comeback in early 2022 after being hit by the Caldor Fire. While there isn't an opening date firmed up just yet, the Sierra-at-Tahoe spirit is alive and well.
Click here to learn more about what to expect at Tahoe ski resorts this year.
Light Up Some Smiles in the Heavenly Village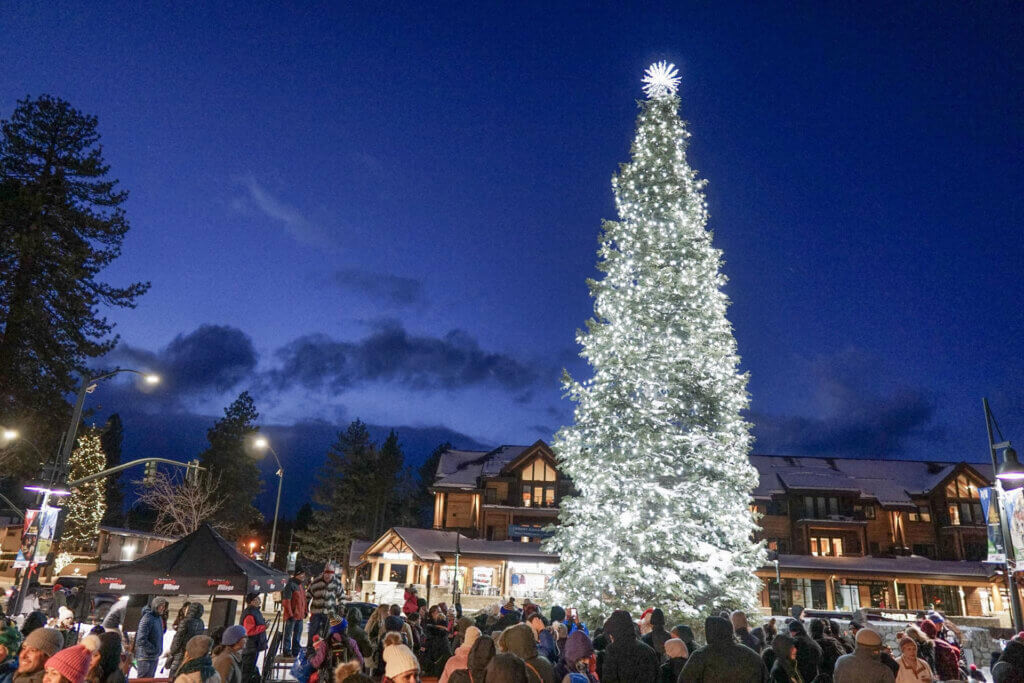 The 70-foot tall Christmas tree in the Heavenly Village will be lighting up Tahoe's south shore every day at 5:30 pm. With a smorgasbord of restaurants and shops nearby, you and your family are sure to find something special to bring home or scarf down.
Do Some Figure Eights at an Ice Rink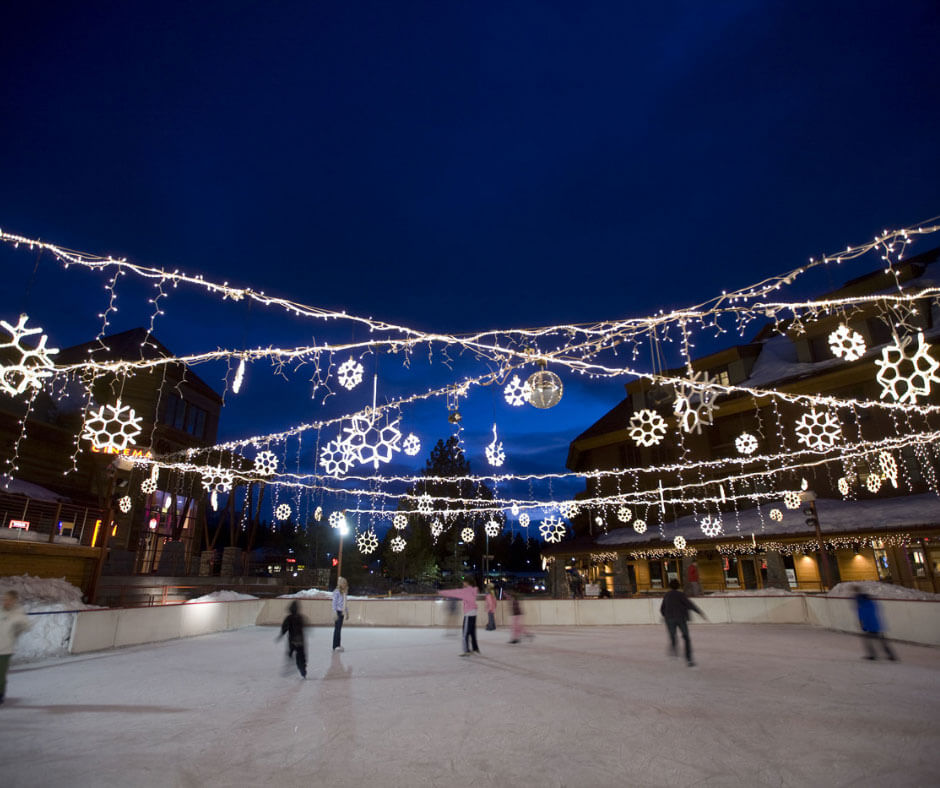 The ice skating rinks in the Heavenly Village and Edgewood Tahoe Resort are ready and waiting for you to lutz and loop to your heart's (or ankle's) content. December is all about family fun, so be sure to bring the little ones!
Get into the Christmas Spirit with the Filharmonic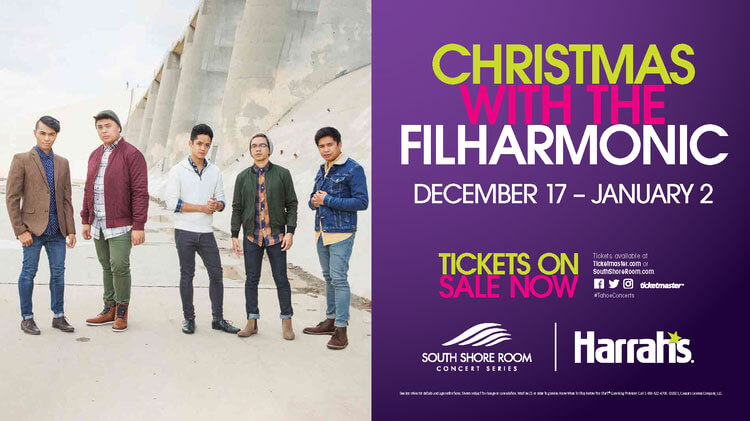 The Filharmonic, a Los Angeles-based Capella group of Filipino-Americans is set to take over the South Shore Room at Harrah's Lake Tahoe from December 17 to January 3. Featured in NBC's hit musical competition, The Sing-Off, this five-piece vocal group brings their unique blend of hip hop, pop, and 90's nostalgia to each show, including more than 150 college stages nationwide.
Catch a Magic Show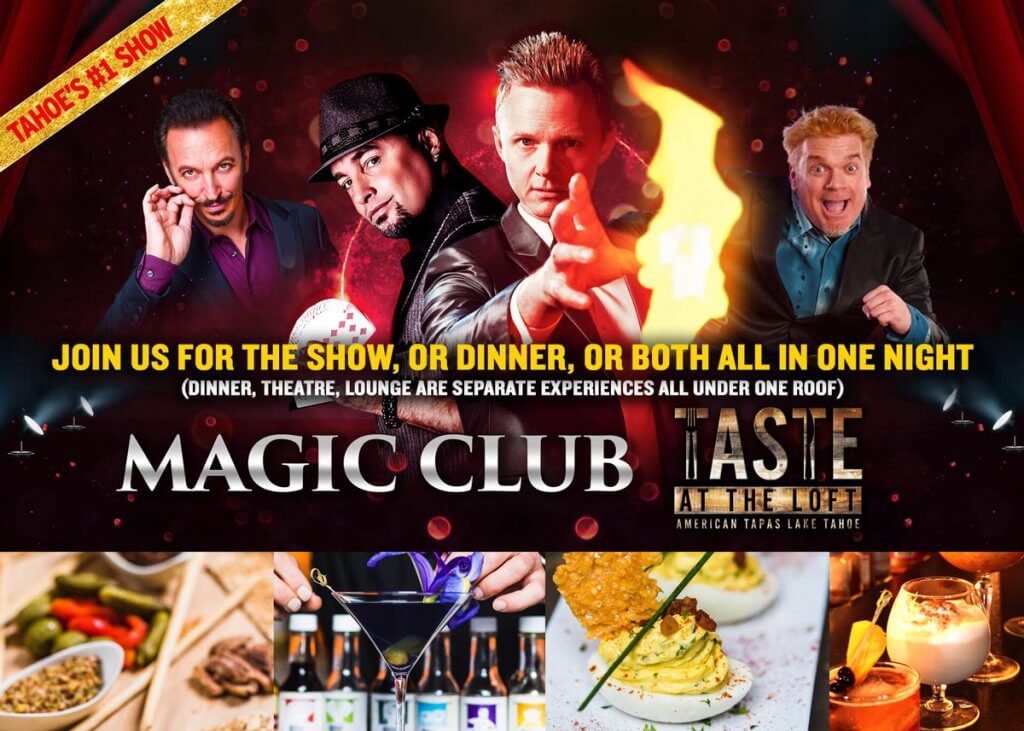 Magic Fusion is a perfect blend of intimate magic and comedy that the whole family can enjoy. Eat dinner, watch a show, and let your imagination soar with the help of world-class magicians from around the world. Visiting on a budget? Buy one adult ticket and get one children's ticket for free on Sundays at 4:30 pm.
Looking for an unforgettable magic experience? Magic After Dark is an irresistible window into the edgy, sexy, sophisticated, and sometime sick mind of award-winning magician-comedian, Robert Hall. This 75-85 minute journey of unique magic, hilarious comedy, and adult mind-games is reserved for everyone 18 and up.
Don't worry, there are plenty of ways to feel the magic for people of all ages. Alex Ramon will be performing Real Magic at the Hard Rock Hotel & Casino Lake Tahoe all month long. This show is great for ages 5 and up.
Meet Your Favorite Characters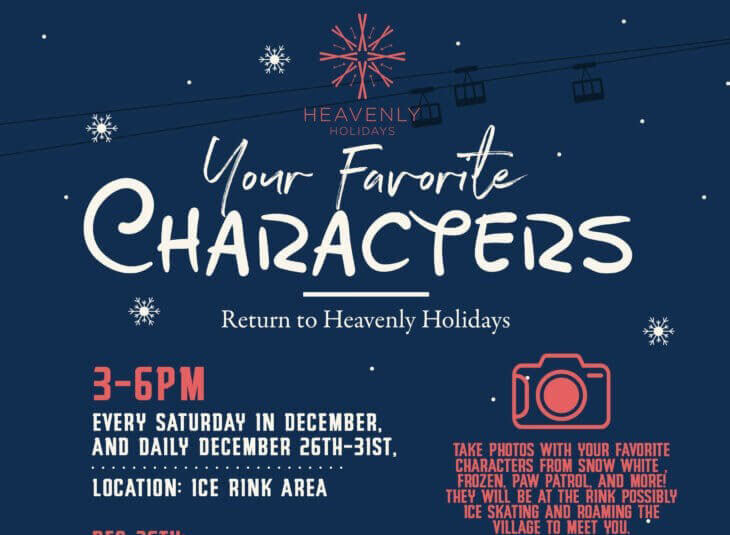 Have you always wanted to meet Ana, Elsa, or Olaf from Frozen? How about Woody and Buzz from Toy Story? Don't miss your chance to make memories and snap some photos with characters from Snow White, Paw Patrol, and more. You might catch a few characters on skates at the ice rink with more roaming the Heavenly Village to meet you.
This event runs from 3:00 to 6:00 pm every Saturday in December and runs Daily from December 26 through 31.
Take a Ride Around the Ferris Wheel in the Heavenly Village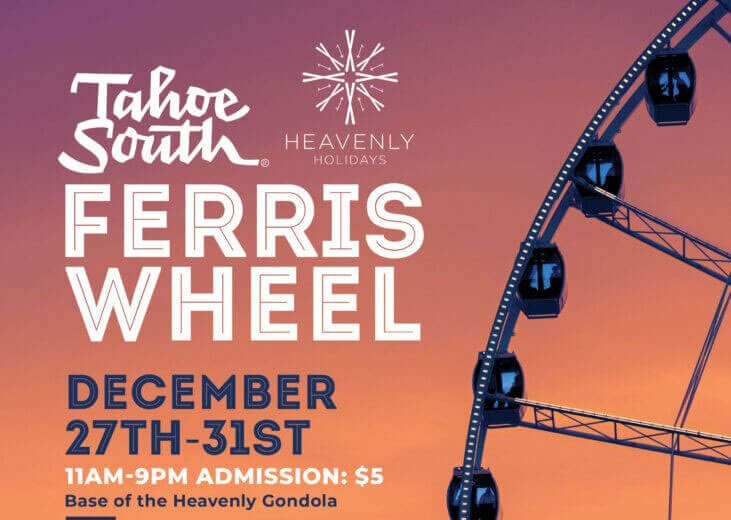 Enjoy spectacular views of the most wonderful time of the year high up in the mountains on the Giant Ferris wheel at the base of the Heavenly Gondola from December 27 through 31. The photo opportunities can only be matched by the memories. Admission is only $5 per person.
Find Yourself on Santa's "Nice List" Over Breakfast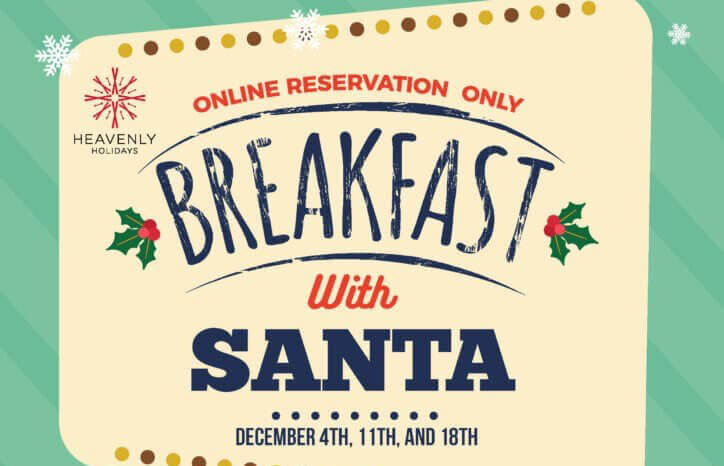 If you're worried that all you are getting for Christmas this year is a lump of coal, there is still time to smooth things over with the big guy in red over a hearty breakfast at Fire and Ice Restaurant each Saturday in December through December 18.
Access to Santa and Mrs. Claus is included with the purchase of an interactive breakfast, so make sure to pre-purchase tickets.
Want to learn more? Click here.
Ring in the New Year, Tahoe Style!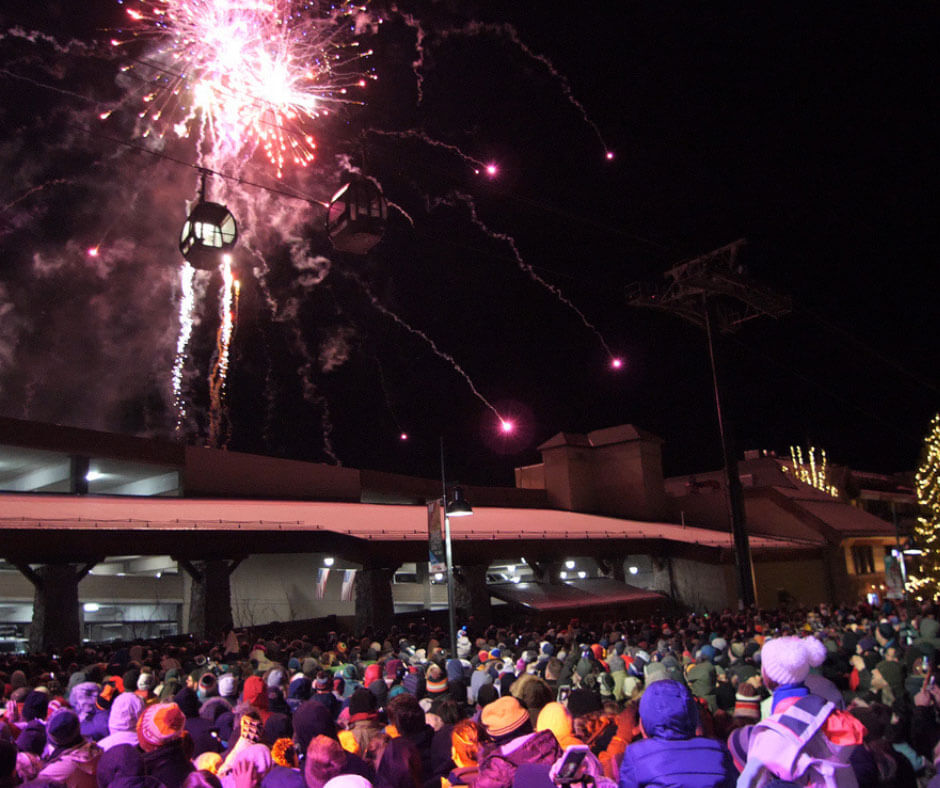 Heavenly Holidays reach their zenith on New Year's Eve when fire, lights, and music fill the air. 2:00 pm – 9:30 pm, Live music on the Main Stage with Tyler Rich on Thursday, December 30th. 
Ring in 2022 at Heavenly Holidays in the Village with a massive rock concert showcasing award-winning touring artists, guitarists, and songwriters from all ends of the music industry. Unfortunately, Gin Blossoms came down with COVID and had to cancel. Instead, a band of special guests who have played stadiums all over the world with staples like Lynard Skynard, Tim McGraw, REO Speedwagon, The Alan Parsons Project, and more will take the stage.
---
That's the end of our list but there are still plenty of things to do and places to visit when you take a trip to Tahoe during December. Looking for some inspiration to get the most out of next year? Be on the lookout for how to get 2022 started with a bang in South Lake Tahoe.