Tahoe's December Snowfall Headlines National Focus of TV Meteorologists Conference
25th anniversary of Operation Sierra Storm highlights destination's epic conditions; Reinforces messaging for season-long snow quality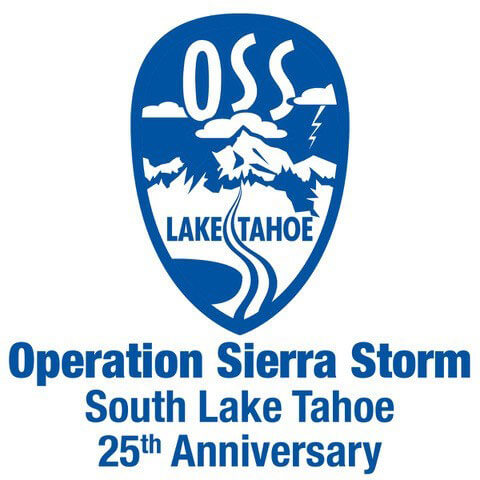 Jan. 19, 2022 (SOUTH LAKE TAHOE, Calif./Nev.) – Operation Sierra Storm, the television meteorologists' conference organized by the Lake Tahoe Visitors Authority, generated national attention and provided comprehensive broadcast coverage and social media results for South Lake Tahoe's historic December snowfall. (visitlaketahoe.com)
The 25th version of the conference, Jan. 9-12, 2022, thus far has generated 39 television reports/interviews, 97 social posts and reached an audience of 6 million with additional airings from major networks expected later this month.
"The national exposure of this event is comprehensive and positions South Lake Tahoe with desirable conditions for the remainder of the season," said Carol Chaplin, president and CEO of the Lake Tahoe Visitors Authority. "The coverage in various key drive and air markets helps reinforce our brand, South Shore's winter product and its ongoing reputation as a leading winter, ski destination."
Operation Sierra Storm, (www.osstahoe.com) is a prominent national forum and seminar for network television meteorologists from around the country. OSS featured renowned scientists and experts discussing newsworthy weather and science topics, while providing ongoing education, networking, and live broadcast opportunities. The conference reinforces South Lake Tahoe's reputation as a top winter destination through online, print, digital and TV outlets in major markets.
Attendees included television meteorologists representing The Weather Channel, ABC World News Tonight, New York, NBC Washington DC, Fox Boston, and stations in Cleveland, Denver, Miami, Minnesota, Orlando, Sacramento, San Francisco, Santa Barbara, West-Central Pennsylvania, Bakersfield, Charlotte, and Reno.
Interviews conducted from Heavenly Mountain Resort, Edgewood Tahoe, Heavenly Village, and the state line corridor exposed Tahoe's winter snowpack, quality skiing, the ski industry's current and future trends, as well as efforts to improve lake clarity.
OSS featured presentations by Chris Landsea, of the NOAA/NWS/NCEP/National Hurricane Center; Dr. Daniel McEvoy, Regional Climatologist, Desert Research Institute, Western Regional Climate Center; Chad Hecht, Center for Western Weather and Water Extremes, University of California, San Diego Scripps Institution of Oceanography; Dr. Ben Santer, atmospheric scientist at University of California Los Angeles; Dr. Deepti Singh, Assistant Professor, School of the environment, Washington State University Vancouver; and a panel discussion: West Coast Wildfires – including: Ryan Walbrun, Lead Meteorologist-National Weather Service San Francisco Bay Area; Stephen Volmer, Fire Captain, CAL FIRE, and John Rice, General Manager, Sierra-at-Tahoe. The latter two presentations are viewable via Facebook Live: https://www.facebook.com/LakeTahoeVisitorsAuthority. For more info: www.osstahoe.com/speakers,
Presented by the Lake Tahoe Visitors Authority & Tahoe Douglas Visitors Authority, OSS includes support from: Heavenly Mountain Resort, Harrah's & Harveys Lake Tahoe, Edgewood Tahoe, Lake Tahoe Resort Hotel, Bally's Lake Tahoe (formerly MontBleu Resort Casino & Spa), Hard Rock Hotel & Casino Lake Tahoe, Forest Suites Resort at Heavenly Village, South Tahoe Airporter, Ski California, The League to Save Lake Tahoe, Tahoe Regional Planning Agency, and Tahoe Fund.
Contact: Jenn Boyd or Phil Weidinger, Weidinger Public Relations, 775-588-2412 or jennifer@weidingerpr.com.
#####
About the Lake Tahoe Visitors Authority
Designated the "Best Ski Destination" by USA TODAY readers, Lake Tahoe combines the distinctive appeal of two worlds: spectacular natural beauty and a modern tourism destination with an array of outdoor recreation, entertainment, nightlife and gaming. That ageless splendor and an emerging economic diversity continue to define its inimitable personality. For information about lodging, recreation and family packages at Lake Tahoe, 1-800-AT-TAHOE (1-800-288-2463) or log onto www.VisitLakeTahoe.com