American Century Championship Distributes $85,000 Among 19 Tahoe Nonprofits

2021 celebrity golf tournament tradition assists groups affected by Caldor Fire
Oct. 14, 2021 (SOUTH LAKE TAHOE, Calif./Nev.) – Local nonprofits in the Tahoe area were presented with $85,000 in donations from the Lake Tahoe Visitors Authority and American Century Championship resulting from the 2021 celebrity golf tournament at Edgewood Tahoe. (visitlaketahoe.com)
Recipients from 19 charitable organizations were presented with the donations at the Lake Tahoe Visitors Authority's Oct. 14 board meeting.
"To be able to assist, particularly groups impacted by the Caldor Fire, was especially gratifying for the Lake Tahoe Visitors Authority and the Tahoe Douglas Visitors Authority," said Carol Chaplin, present and CEO of the Lake Tahoe Visitors Authority. "Our partnership with American Century Investments and NBC Sports continues to lend itself to the betterment of the area."
The challenges to the community presented by impacts of the Caldor Fire lent additional urgency to the distributions.
Grants were distributed to Bread and Broth 4 Kids, CASA El Dorado, Clean Tahoe Program, Clean up the Cayes, Friends of Ski Run, Heavenly Ski Patrol Fund, Hope Lutheran Church of the Sierra, Kiwanis Club of Lake Tahoe, Live Violence Free, South Lake Tahoe Cancer League, Suicide Prevention Network, Tahoe Area Mountain Biking Association, Tahoe Magic, Tahoe Prosperity Center, Tahoe Rim Trail Association, Tahoe Youth & Family Services, Whittell Boosters Club, Zephyr Cove Parents Club, and the Community Disaster Resource Center.
To be considered, local organizations were required to meet 501(c)3 certified nonprofit guidelines, provide an outline of their mission, and describe how the donation would be used and indicate its impact in the community.
The LTVA in partnership with NBC Sports, American Century Investments, Korbel and Edgewood Tahoe previously directed an additional $60,000 through on-site volunteer organizations and other efforts during tournament week. In total, tournament partners provided $145,000 to local nonprofits, agencies and organizations from the July tournament, South Tahoe's largest special event.
NBC, NBCSN and GOLF Channel coverage highlighted Lake Tahoe for more than 18 hours and reinforced the destination's appeal. The tournament followed strict health and safety standards outlined by the medical and governmental agencies – attendance was limited to approximately 25,000, or about half of previous years, and avoided any health-related incidents.
Since 2009, donations exceeding $1.65 million have been distributed to more than 120 local non-profits to assist 15,000+ individuals.
Since its inception in 1990, the American Century Championship has donated more than $5.6 million to local and national non-profits. The nation's longest running celebrity golf tournament captured the television spotlight with superstars Justin Timberlake, Stephen Curry, Patrick Mahomes, Tony Romo, Charles Barkley, Aaron Rodgers, Larry the Cable Guy, and Hall of Famers and All-Stars representing major sports.
The 33rd annual American Century Championship is July 6-10, 2022. For more information, visit: www.AmericanCenturyChampionship.com or www.TahoeSouth.com.
Contact: Phil Weidinger, Weidinger Public Relations, 775-588-2412, dinger@weidingerpr.com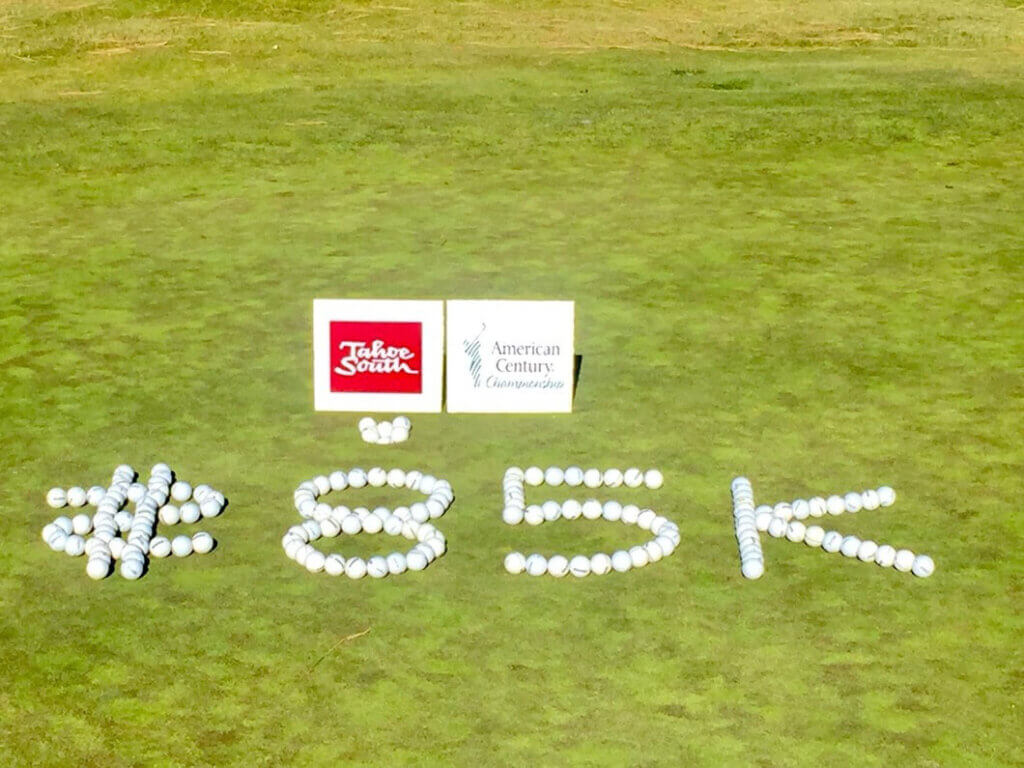 Tahoe nonprofits were presented with $85,000 in donations from the Lake Tahoe Visitors Authority and American Century Championship during the Lake Tahoe Visitors Authority Board meeting Thursday. Photo credit: Lake Tahoe Visitors Authority.
#######
About the Lake Tahoe Visitors Authority
Lake Tahoe combines the distinctive appeal of two worlds: spectacular natural beauty and a modern tourism destination with an array of outdoor recreation, entertainment, nightlife and gaming. Tahoe's timeless splendor and diversity toward health and wellness, green business practices and sustainability continue to define its inimitable personality. For information about lodging, recreation, packages, and healthy travel at Lake Tahoe, call 1-800-288-2463 or log onto www.TahoeSouth.com.
About American Century Investments – Tournament Title Sponsor
American Century Investments is a leading global asset manager focused on delivering investment results and building long-term client relationships while supporting research that can improve human health and save lives. Founded in 1958, American Century Investments' 1,400 employees serve financial professionals, institutions, corporations and individual investors from offices in New York; London; Frankfurt; Hong Kong; Sydney; Mountain View, Calif.; and Kansas City, Mo. Jonathan S. Thomas is president and chief executive officer, and Victor Zhang serves as chief investment officer. Delivering investment results to clients enables American Century Investments to distribute over 40 percent of its dividends to the Stowers Institute for Medical Research, a 500-person, non-profit basic biomedical research organization. The Institute owns more than 40 percent of American Century Investments and has received dividend payments of $1.7 billion since 2000. For more information about American Century Investments, visit www.americancentury.com.
About NBC Sports Group
When the Comcast – NBC Universal transaction was completed in January 2011, the sports assets of the two companies combined to form NBC Sports Group, which serves sports fans 24/7 with premier live events, insightful studio shows, and compelling original programming. The sports media company consists of a unique array of sports assets, including NBC Sports, NBC Olympics, NBCSN (NBC Sports Network), Golf Channel, 10 NBC Sports Regional Networks, NBC Sports Radio and NBC Sports Digital. NBC Sports Group possesses an unparalleled collection of television rights agreements, partnering with some of the most prestigious sports properties in the world: the International Olympic Committee and United States Olympic Committee, the NFL, NHL, NASCAR, PGA TOUR, PGA of America, Churchill Downs, Premier League, Tour de France, French Open, Formula One, IndyCar and many more.