Ask any local and they will tell you, it feels pretty amazing to be back on the lake, soaking up the warm sun, after a season of skiing and snowboarding. Besides being on a boat, the best way to explore the lake is on a kayak, canoe or stand up paddleboard.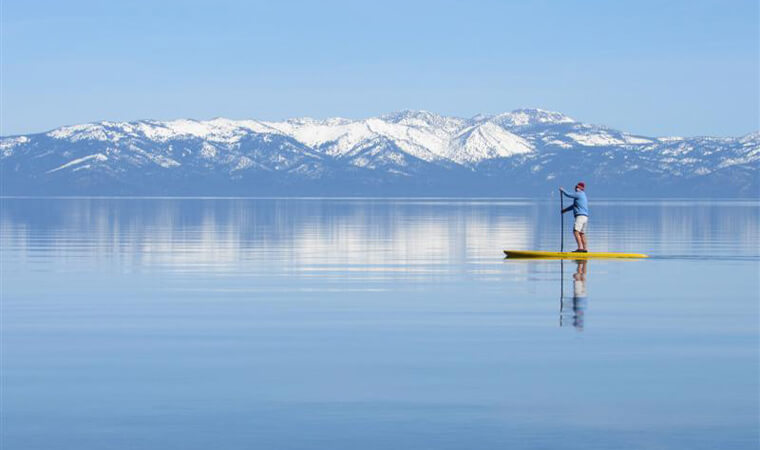 Whether you're setting out on an expedition by yourself or with friends, there's something very calming and peaceful about paddling across the glassy water.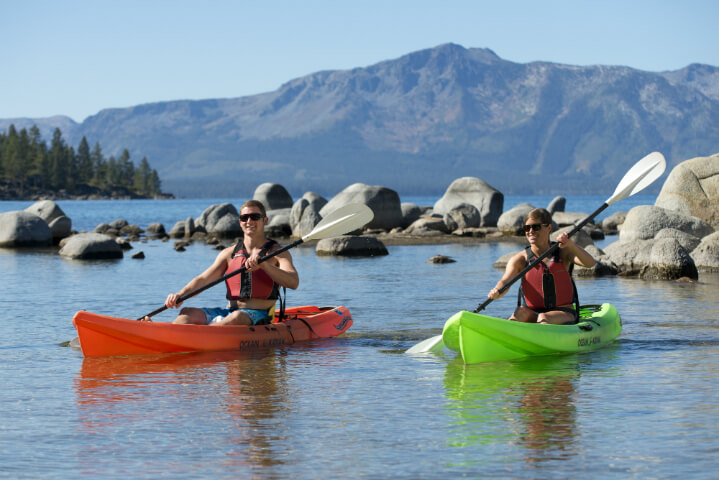 There are several places to access the lake. Here are my top three launch sites:
1. Lakeview Commons:  Located where Highway 50 meets the lake, this is the easiest place to access the beach. Bring your own equipment or rent a paddleboard from South Tahoe Stand Up Paddle right on the beach.  Lakeview Commons is the place to hang out on hot summer nights with Live at Lakeview Commons concert series (Thursdays), where you can enjoy the music from the water on your paddleboard or kayak.  Plus, the sunset views are incredible.
2. Camp Richardson: Explore the water for an hour or make it a day trip. Paddle 3-4 hours by kayak along mostly undeveloped shoreline to Emerald Bay. It's best to go early morning when the water is calm and the beach is less crowded. Tip: Pack a lunch and post up on the shoreline, where you can enjoy a snack while soaking in the views. And of course, remember to bring plenty of sunscreen.
3. Kiva Beach: Surrounded by mountain views, including Mount Tallac, Kiva Beach is a hidden jewel. It's a short walk from the (free) parking lot, but well worth the effort. The trail features marked signs with information about the vegetation and local history. Tip: Launch and explore Taylor Creek, located west of the beach access.
Other great launch spots include Regan Beach, Zephyr Cove and Timber Cove. Interested in longer runs? Try the Lake Tahoe Water Trail, where the entire lake is mapped out for daily and overnight getaways.
Check out Paddleboard and Kayaks at Lake Tahoe on Instagram