Sierra Safely Experience Trail Provides Insider's Guide to Navigating Carson Valley and Lake Tahoe, Nevada
More Than 40 Participating Businesses, Mobile Exclusives Instantly Delivered, No App Required
Stateline, Nev. (Dec. 29, 2020) – The Sierra Safely Experience Trail takes the guesswork out of the question, "where's a good place to eat?" and puts valuable resources into the hands of the traveler looking to take a deeper dive into Carson Valley and the South Shore of Lake Tahoe – all from a resident's point of view.
Eating at a favorite local hangout or finding that hidden gem is what makes travel exciting, even if it's just down the road. A number of locally-owned restaurants and shops are participating in the Sierra Safely Experience Trail to bring the community vibe to life and add to the cultural appeal that makes for lasting memories.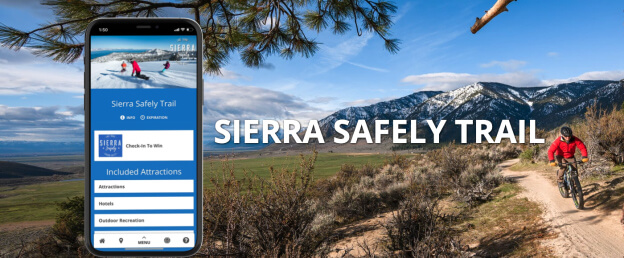 Register online or by using a smartphone to receive a passport providing access to curated content to 44 businesses, with new ones continually being added, including attractions, retailers, restaurants and more. A ready-to-use passport is delivered by text for immediate use. Mobile exclusives are provided by text without having to download a separate app. View locations for offers, deals or discounts then, simply show the passport ID at one of the participating locations to redeem the offer. Customers are eligible for swag and promotional giveaways based on the number of redemptions.
"The goal is to conveniently provide visitors with information on local hot spots to support local businesses," said Heidi Saucedo, marketing manager for Visit Carson Valley. "The Sierra Safely Trail Experience does that through a simple signup and fun offers. Whether you visit a business, order take-out, or check out one of the trailheads in the valley, you can check-in and even win cool prizes."
To sign up and for complete details, visit online at SierraSafely.com.
Sierra Safely supports restoring travel confidence and provides information about what businesses are doing to keep locals and visitors' health and safety top of mind. The effort, while providing needed safety messaging, plays off natural beauty and the inherent ability to be physically distant outdoors while encouraging responsible travel. The campaign continues into 2021. 
###
MEDIA CONTACTS
Ronele Dotson, For Carson Valley
775-323-6333 / media@radstrategiesinc.com
Jenn Boyd Lemming, For South Lake Tahoe
775-588-2412 / jennifer@weidingerpr.com