GO Local Tahoe Bonus Gift Card Program Maximizes Local Spending
City of South Lake Tahoe Funds Bonus Cards
The Tahoe Chamber and the City of South Lake Tahoe have partnered to launch the GO Local Tahoe Bonus Gift Card program to drive local economic recovery and support South Shore restaurants, retailers, and service providers through Covid-19 restrictions.
The community based, e-gift card allows recipients to spend their card at 40+ local businesses and rewards purchasers with bonus cards.
The South Lake Tahoe City Council invested $75,000 in the program to offer bonus cards up to $40 to purchasers to reward them for buying gift cards. The funding will also cover processing fees so that all money spent goes directly to the business.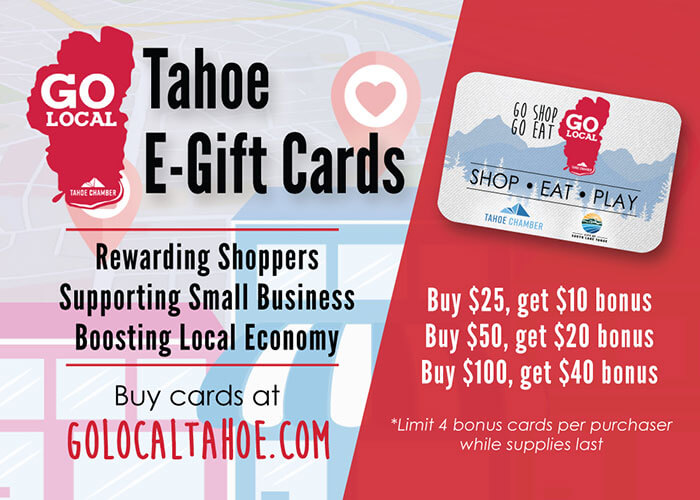 The bonus card promotion will gift buyers with a free $10 bonus for every $25 spent, $20 for every $50 spent, and $40 for every $100 spent.
This offer is valid while supplies last and limited to four bonus gifts per person, allowing buyers to earn a maximum of $40 in bonus cards.
Recipients can choose to spend their card at one of the participating merchants, or mix it up and spend flexibly at multiple locations.
All-digital and always available on your phone, the GO Local Tahoe Card makes it easy to redeem instantly and support local businesses when they need it most.
Purchase a GO Local Tahoe eGift Card at https://bit.ly/GoLocalTahoeCard.