Sample the Sierra, South Lake Tahoe's annual farm-to-fork festival originally scheduled Sept. 18, 2021, has been cancelled by event organizers. (www.samplethesierra.com)
Planners made the difficult decision based on numerous factors: recent impacts on businesses and the public from the Caldor Fire in El Dorado Country, a spike in COVID cases due to the Delta variant, and staffing concerns among numerous restaurant partners. All tickets will be fully refunded.
"We are all heartbroken, however with the many challenges beyond anyone's control, we were left with no choice," said Emily Abernathy, director of operations at the Tahoe Chamber. "The Tahoe Chamber team will continue to find ways to celebrate our local bounty and businesses through the year and ask our loyal followers to stay connected with us on social and stay tuned for better days to come."
Visitors and locals are encouraged to support Sample the Sierra restaurants, wineries/breweries, vendors and sponsors whenever possible, and to look for specific opportunities and promotions via Sample the Sierra and Tahoe Chamber's Facebook pages.
Sample the Sierra is the official kick-off to fall at Lake Tahoe, celebrating the best of the harvest season in the local region. The crowd favorite farm-to-fork festival brings together local food, wine, spirits, and brews showcasing the finest samplings from South Lake Tahoe and El Dorado County. Whether guests are first-time visitors or regular attendees, there is much to be enjoyed as local restaurants and establishments highlight their best dishes and beverages.
Sample the Sierra brings together local chefs/restaurants with neighboring growers/producers to turn out scrumptious samples craftily paired with the appropriate wine or brew. The festival marketplace includes locally made goods such as jam, soap, honey, and olive oil along with specialty products created right here in the county, such as fine art, jewelry, and crafts.
This year's event is designed to liven up an autumn afternoon and revel until sundown. Gather with your friends and family once again to enjoy great food, drinks, art, music, and company in Lake Tahoe's farm-to-fork festival. This year will be more intimate and elevated in its return to an in-person event.
TahoeChamber, the LTVA, El Dorado County, the City of South Lake Tahoe and the TDVA present "Sample the Sierra," a cooperative effort to increase awareness of the region's bounty, heritage, culture and activities through a farm-to-fork event featuring tastings from the Sierra Nevada's best chefs and restaurants–all created with local produce, and paired with tastings from local wineries and breweries. A regional marketplace, original art and handmade crafts show and live entertainment will be featured.
Additional information about Sample the Sierra can be found at www.samplethesierra.com and on Facebook and Instagram.
A crowd favorite event is the Sierra Chef Challenge, which is a "Masterchef" style cooking competition featuring the best talents in Lake Tahoe. The 45-minute mystery box challenge always leaves the crowd on their toes and in awe. Sample the Sierra also has live music from local bands providing the soundtrack for the event.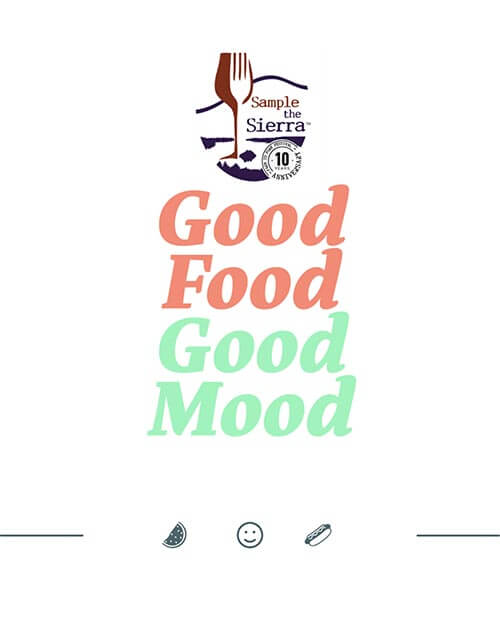 Both visitors and locals look forward to the Sample the Sierra weekend, planning a fun trip around it. Families can savor the lasting days of beautiful weather with a bike ride, hike or beach day to accompany the event at Bijou Community Park. Tickets are only $50 for adults for unlimited tastings and $40 for under 21 year-olds, while children under three can attend free. Tickets can be purchased at SampletheSierra.com
Check out Sample the Sierra on Instagram