Free Virtual Workshops on Growing Vegetables in Lake Tahoe
May 18, 2021
5:00 pm - 6:30 pm
If you grow food in Lake Tahoe or are thinking about it, a seven-part virtual series on high elevation gardening may be just what you need!
UC Davis TERC, Slow Food Lake Tahoe, UCCE Master Gardeners of Lake Tahoe, and the Tahoe Heritage Foundation are bringing back the Grow Your Own: High Elevation Gardening Series Workshops for the 2021 gardening season. They are all held on Tuesdays from 5:00 p.m. to 6:30 p.m.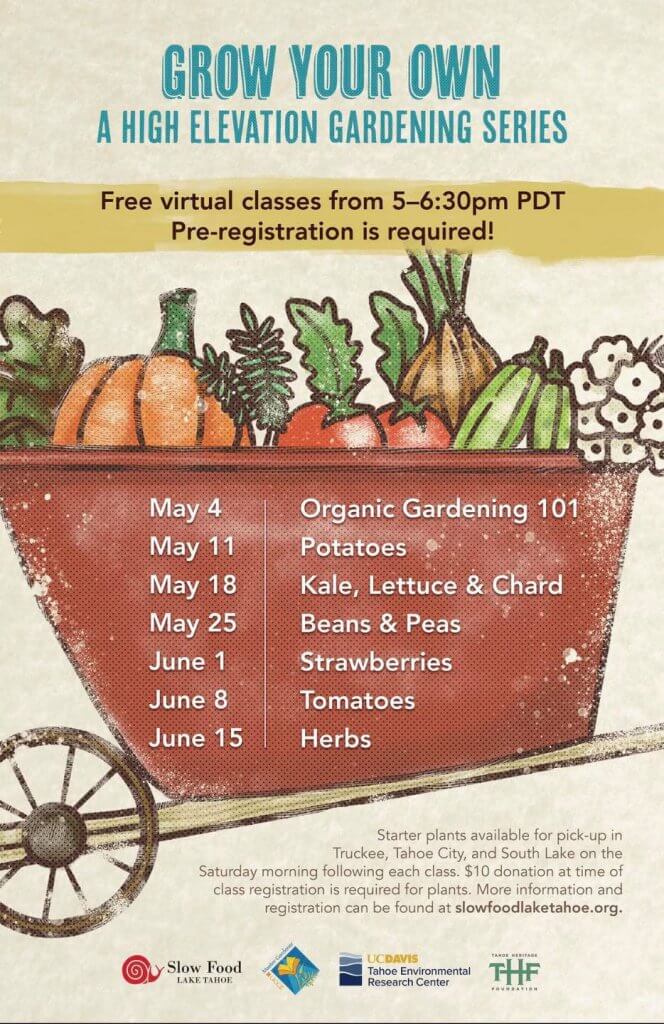 High elevation gardening can be tricky! Enjoy instruction from an expert who will cover planting, harvesting, river/lake-friendly gardening techniques, biology discussions, and information on the history of this group of food crops. The virtual class is FREE. Starter plants are available after most classes for $10, payable during the registration process.
The schedule this spring:
May 4 at 5:00 p.m. – The first one is Organic Gardening 101 with an emphasis on watershed-friendly gardening. Heather Adams will provide in-depth gardening expertise for gardeners of all skill levels, while Anne Graham from UC Davis TERC will teach the importance of maintaining watershed health through gardening and the science to support our gardening strategies. Anne's presentation is geared to describe the impacts nutrients used in gardening have on water quality. Register HERE.
May 11 at 5:00 p.m. – Grow Your Own – Potatoes – Register HERE
May 18 at 5:00 p.m. – Grow Your Own – Kale, Lettuce, & Chard – Register HERE
May 25 at 5:00 p.m. – Grow Your Own – Beans & Peas – Register HERE
June 1 at 5:00 p.m. – Grow Your Own – Strawberries – Register HERE
June 8 at 5:00 p.m. – Grow Your Own – Tomatoes – Register HERE
June 15 at 5:00 p.m. – Grow Your Own – Herbs – Register HERE
For more information, visit https://www.slowfoodlaketahoe.org/. Registration is being managed by Slow Food Lake Tahoe this year, so be sure to check your junk mailbox and mark them as a safe sender to ensure you will receive all communication!