Chanukah Celebration at Ski Run Marina
November 29, 2021
4:30 pm - 5:30 pm
Monday, November 29, 2021, 4:30-5:30 pm,  Chanukah Celebration at Ski Run Marina.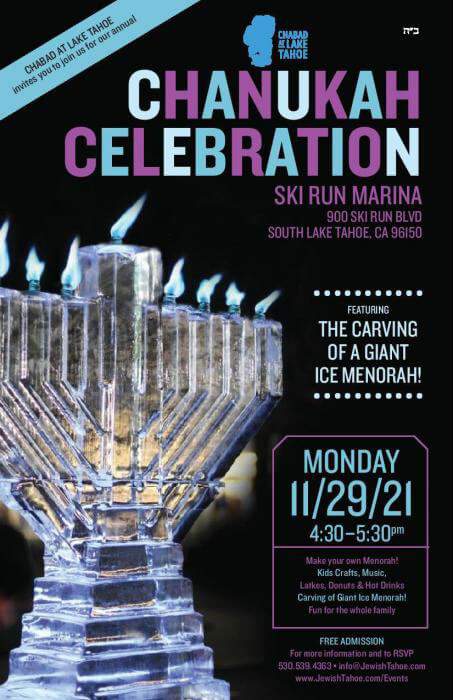 Lake Tahoe's Chanukah celebrations will receive a significant boost this year with the carving and lighting of a large Ice Menorah at the Ski Run Marina. A sculptor will use a chainsaw and carving tools to carve blocks of ice into a four-foot ice menorah.
Chanukah, The Festival of Lights- for many brings back fond memories of childhood years and serves to renew our sense of identity. The Chanukah lights provide us with warmth, joy, strength, and inspiration. Such is the purpose of a community-wide celebration to be held at the Ski Run Marina.
The Chabad Jewish Center of Lake Tahoe is inviting the entire community to celebrate the Festival of Lights at a public Menorah kindling ceremony. The grand Chanukah celebration will take place on Monday, Nov. 29, 4:30 p.m. at the Ski Run Marina in South Lake Tahoe. The program will feature Chanukah treats, crafts, music, and more.
Chanukah, a celebration for all time, is highlighted by the kindling of the Menorah each night of the holiday. "It is a holiday that enriches our lives with the light of tradition," said Rabbi Mordey Richler, director of the Chabad Jewish Center. "In ancient times our ancestors rededicated the Temple in Jerusalem with the Menorah. Today, we rededicate ourselves to making this world a better and brighter place."
Chanukah also propagates the universal message that ultimately good will prevail over evil, freedom over oppression, and light over darkness.
In its Chanukah outreach campaign, Chabad at Lake Tahoe joins thousands of Chabad centers across the globe that are staging similar public displays of the Menorah and its symbolic lights. From Australia to Africa, Columbia to Hong Kong and the White House lawn, hundreds of thousands will experience the joy of Chanukah with Chabad.
Join Chabad in a public display of unity at this exciting Menorah Lighting Ceremony. Bring the kids and make this your special Chanukah celebration.
For more information and to RSVP (free of charge) please visit www.JewishTahoe.com/Events or contact Chabad at Lake Tahoe at 530.539.4363.