Alex Ramon Magician - Free Virtual Event
March 5, 2021
6:00 pm - 7:00 pm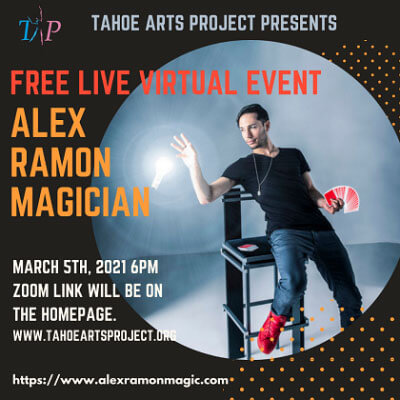 In a time when live performances are not possible, the Tahoe Arts Project (TAP) is bringing illusionist Alex Ramon to local school children and to the public with a special virtual performance.
Friday, March 5, TAP is hosting a free, live virtual community performance via ZOOM at 6:00 p.m. This link will be posted on the nonprofit's website at www.tahoeartsproject.org.
Alex Ramon is a recipient of the "Illusionist Award" becoming 1 of 20 magicians in history with this recognition. Alex had his full illusion show in South Lake Tahoe for 3 years and has worked with Grammy Award Winner Taylor Swift creating a piece of magic for her world tour. Alex recently received a CBS "Sunny Award" for Creativity during Shelter in Place for his Virtual Magic Shows.