Afroman at Whiskey Dick's Saloon
February 19, 2022
9:00 pm - 11:00 pm
Late-Nite Productions is proud to present "The World's Highest Rapper" Afroman! This is happening Saturday, February 19th at Whiskey Dick's in South Lake Tahoe, CA. Advance tickets are available for $20 online at www.Ticketweb.com / $25 Day of Show. 21 years and older to enjoy this show.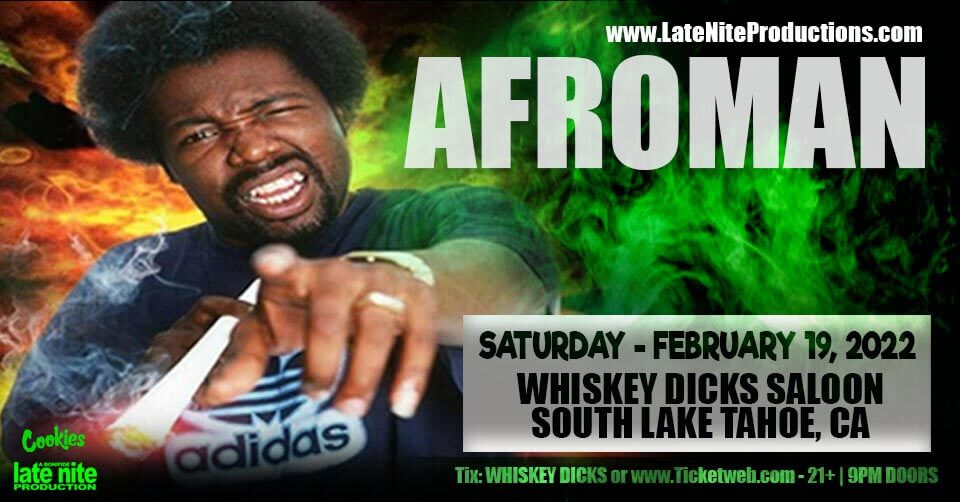 Born Joseph Foreman, Afroman is a Southern rapper best known for his hit stoner classic "Because I Got High." Citing influences like Too $hort, Big Daddy Kane, and 2 Live Crew, he began his rap career in the eighth grade, when he started making homemade tapes of his own songs and passing them out to his classmates. He got his start as a performer at church, where he played drums and eventually moved on to playing guitar. For a while, he even worked as an airport baggage handler while trying to make an impression with his songs.
In 1999, while he was still living in East Palmdale, Los Angeles, Afroman released his first album, Sell Your Dope, and played parties, sidewalks, and contests. Not finding L.A. to his liking, he moved to Hattiesburg, Mississippi, where he teamed up with drummer Jody Stallone and keyboardist/bassist Daryl Havard. In the spring of 2000, he recorded his breakout LP, Because I Got High, with producer Tim Ramenofsky. He distributed it at shows with the help of T-Bones Records in Hattiesburg. As word spread about his live shows, demand for his music increased. At the time, online file-sharing service Napster had just kicked off the MP3 revolution, which turned out to be a boon for Afroman. A fan managed to acquire a copy of his album in digital form and posted the track "Because I Got High" to Napster. Howard Stern also boosted the popularity of the track by playing it on his radio show. "Because I Got High" went on to become a huge worldwide hit by the end of 2001. It was nominated for a Best Rap Grammy in 2002.
Afroman eventually attracted the attention of Universal Records, which signed him to a six-album deal. His first Universal album, The Good Times, was a compilation of his first two LPs and a few new tracks. "Because I Got High" was also included on the soundtrack to Kevin Smith's film Jay and Silent Bob Strike Back starring Matt Damon and Ben Affleck. After parting ways with Universal, Afroman became an independent artist and self-released a string of follow-ups. When he returned, he did so in a big way, releasing a whopping four albums in 2004. He started with the double-disc Afroholic…The Even Better Times, released on April 20th. Free of Universal, he wrote, produced, and recorded Afroholic on his own, marketed it largely online, and toured with a live band. He followed with 4RO:20, the holiday album Jobe Bells, and his fifth studio album, The Hungry Hustlerz: Starvation Is Motivation, which featured rappers like Po Boy, Mr. Mixx, Strainj, and Blaq. Two more albums arrived in 2006: Drunk'n'High and his second-holiday album, A Colt .45 Christmas.
In 2008, Afroman released Waiting to Inhale, the Greatest Hitz Live collection, and Frobama: Head of State. After a prolific four-year stretch, Afroman remained relatively quiet until 2013. That year, he released the aptly titled Marijuana Music, which featured his nephew on multiple tracks. The vaguely G-funk album The Frorider was released the following year before he unveiled a pair of EPs in 2015: the self-aware One Hit Wonder and his socially conscious statement The N-Word. ~ Ed Nimmervoll & Neil Z. Yeung, Rovi.