Adam Sandler at the Tahoe Blue Event Center
October 19
8:00 pm - 10:00 pm
Thursday, October 19, 2023, 8:00 pm, Adam Sandler: The I Missed You Tour at the Tahoe Blue Event Center.
Get tickets to see Adam Sandler as part of the Grand Opening Celebration before they go on sale to the public. Ticketmaster.com Presale, Thursday, September 14th 12:00-10:00 pm. Use code LAUGH.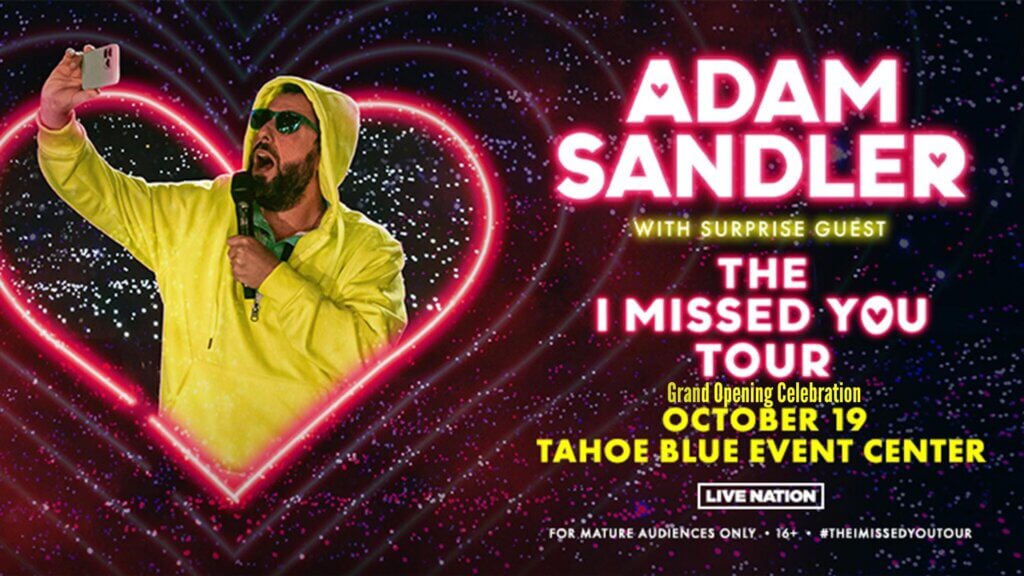 Adam Sandler, the iconic comedian, actor, and producer, has left an indelible mark on the world of entertainment. With a career spanning decades, he's known for his infectious humor and versatile talent.
Born in Brooklyn, New York, in 1966, Sandler began his journey into comedy on "Saturday Night Live," where he became a household name with memorable characters and sketches.
Sandler's film career skyrocketed with hits like "Happy Gilmore," "The Waterboy," and "The Wedding Singer," establishing him as a comedy legend. He's not only graced us with laughter but also impressed with his dramatic chops in films like "Punch-Drunk Love."
As the founder of "Happy Madison Productions," he's been the driving force behind countless comedic classics. His multi-movie deal with Netflix has brought his humor to a global audience.
Beyond acting, Sandler is a musician with popular comedy albums, and his iconic "The Chanukah Song" remains a favorite.
Join us in celebrating the comedic genius and enduring legacy of Adam Sandler at the Tahoe Blue Event Center. Get ready to laugh, reminisce, and appreciate the man behind the laughter.
Take Lake Link Shuttle to the Tahoe Blue Event Center
Lake Link is a FREE, on-demand shuttle that takes you to South Shore beaches, trails, entertainment, and nightlife. Catch the service between 7am and 9pm on weekdays and 7am and 10pm on weekends. Download the app to book your ride!