Thirty five years ago I came to South Lake Tahoe because I knew my soul would be right the more time I spent in the forest. Hiking and skiing were sufficient modes initially, but then a few of us started trying to ride bikes on some of the dirt roads and a few trails to travel further out. There was no such thing as a mountain bike at the time, and road bikes didn't work so well on the dirt, although we tried.
It was 1979 when three of us started modifying beach cruisers to ride in the dirt. It didn't take long for that small group to expand, and trails with names like Mr. Toad's Wild Ride were born. I still have one of those original "Clunkers", a name coined by the mountain bike pioneers in Marin who were charging ahead at the same time. Then, in 1980, my passion for riding inspired me to open a bike and ski shop, which is still in its original location 30 years later.
To this very day, Mr. Toad's Wild Ride remains one of my favorite local rides that people come from all over the world to enjoy. Along with Mr. Toad's, another favorite South Tahoe mountain bike ride is Corral Loop and the new Armstrong Connector Trail.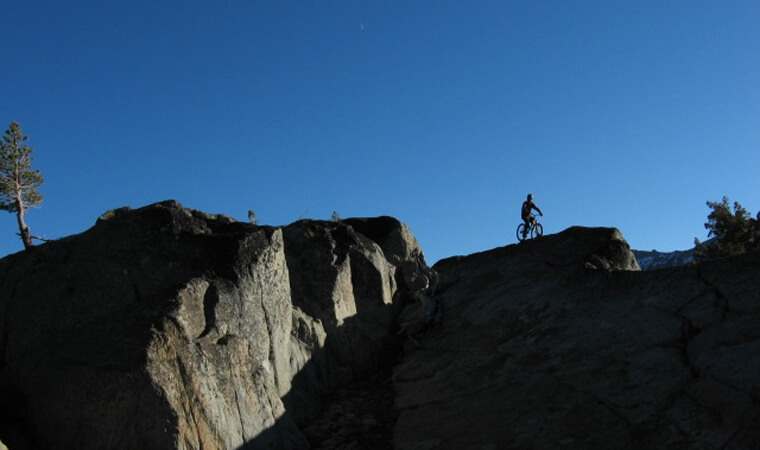 Lake Tahoe mountain biking is famous for its wide range of trails for all abilities from gentle rolling trails meandering through pine forests to exhilarating, technical single track. Gravity and granite play a big role in the allure of riding in Tahoe along with the lack of poison oak and ticks thanks to our elevation. Endless single track trails, and miles of connecting trails can turn a 5-mile ride into a full day epic.
Stop by Sierra Ski and Cycle Works in the middle of town and we'll be happy to outline an entire week of classic Tahoe riding on a new trail every day.