Teach your kids to love the outdoors now and they'll appreciate it for a lifetime.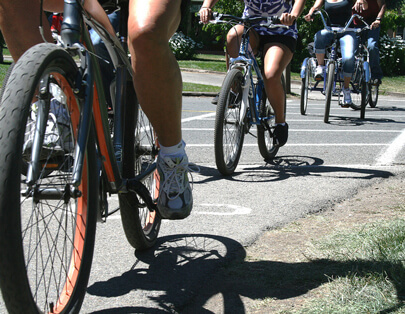 In the years since picking up my first used mountain bike, I've had the opportunity to familiarize myself with nearly all the local trails — even those I don't choose to "bomb down."
Get Started
If you lack experience or trail knowledge, visit any of our amazing local shops and they will happily assist with information, gear, or encouragement. I personally vouch for Wattabike in Meyers, but we have so many great local shops that treat you as a fellow rider. I cannot tell you how many times these locals have selflessly helped me with minor repairs and even parts.
Involve the Entire Family
Biking can be a solo sport, but I urge you to bring your kids along—even if you have to borrow bikes! I have one tip for parents of young reluctant riders: enroll them in LTCC's outstanding Kids Connect mountain biking program. It's a week of riding with other kids, free from parental judgment and frustration, and they come out with confidence and eagerness.
Family Cruising and Bike Accessible Activities
A family favorite is the bike path that extends from 15th street out to Spring Creek Rd near Baldwin Beach. This path meanders past some of our best beaches and the Camp Richardson Ice Cream Parlor — a great stop along the ride.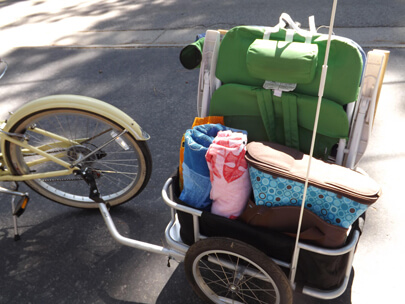 Off the Path
The South Shore also boasts plenty of family-style trail rides (aside from the single tracks we're known for) — from the Flume Trail to the High Meadows/Saddle Rd connector, to the network of trails between Sierra Tract and Pioneer Trail and the Upper Truckee River/airport meadow trail linking town to Elks Club Drive. If you'd rather not survey maps, the local shops will gladly point you in the right direction for your desired outing.
3 Keys to Family Riding Fun:
Have a destination: the younger the kids, the more important
Go prepared: trailer or backpacks for water, sunscreen, cash, bike lock, beach basics, and other essentials
Keep 'em wanting more: take them on a fun, challenging route they can conquer
Now put down your tech gadgets, take advantage of the day and go outside for a scenic RIDE!